I'm back from my vacation. Where did I go? Well: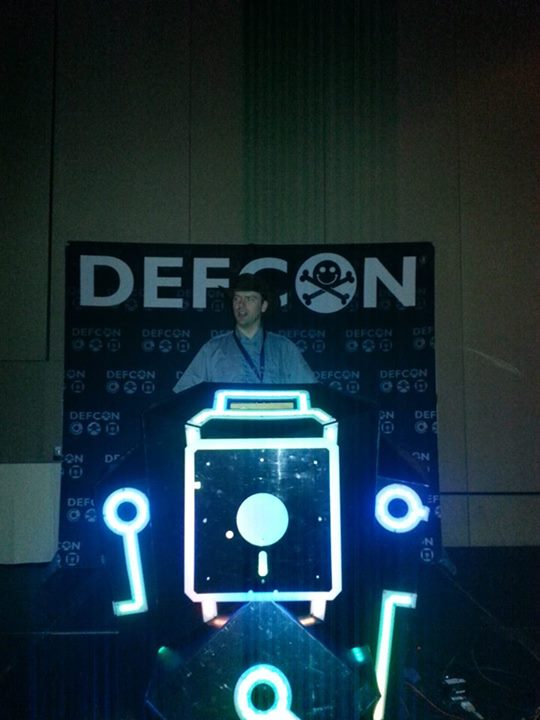 That's me at the podium in Track Two giving a rousing presentation about the need for hackers all around the world to use their skills to break into and sabotage government all government networks. Just kidding. That picture of me was taken by a friend when we gained access to Track Two after it was locked up for the night.
Defcon 22 was a blast. Things started off on a good foot when the room I had booked at the Palms was unavailable so they had to upgrade me to a better room for free. The room had living room separate from the bedroom and two bathrooms. It was a shame to have such a nice room and not spend much time in it but Defcon itself was packed with things to do. I got in line for my badge a few minutes before eight and proceeded to slowly make my way towards the registration desk for the next two and a half hours. During that time I made a few friends and learned some interesting things. After obtaining my fancy electronic badge I attended a handful of talks and met up with some friends.
Friday, when Defcon really begins, was packed with great talks. Defcon was also packed with people. I felt as though the number of attendees this year was at least 50 percent higher than last year (later I talked to a goon who said that the number of attendees wasn't actually that much higher than last year but agreed that it felt much higher). As usual the convention was an exercise in controlled chaos. The villages proved to be interesting but the Social Engineering Village didn't have nearly as much space as it needed and the Hardware Hacking Village was shoved off into a corner that was only accessible by going through the competition area. New this year were the Crypto Village and the Industrial Controllers Village. I walked through the latter but didn't spend much time in it. The Crypto Village was interesting as they had some excellent presentations. It was there that I learned the Fifth Amendment doesn't protect your biometric data. While you may be protected from giving the police the decryption key for your hard drive you cannot refuse to give your fingerprint (at least under the Fifth Amendment, technically you could refuse to do so until they decided to murder you). So securing your data with a fingerprint probably isn't the best idea (I'm looking at your iPhone 5S users).
During the evening a few friends and myself hung out in Track One where several electronic music performers were doing their thing. One of the groups to play was Anamanaguchi. Their album sounds like it was made on an old Nintendo Entertainment System, which is pretty cool. But their live performance didn't, which was disappointing. I still had fun though likely thanks to the alcohol.
Saturday was basically Friday all over again. Lots of good talks and fun things to do. During the evening a few friends and I went to Hacker Jeopardy. In years prior there was a woman on stage who would remove an article of clothing whenever a team got a Double Jeopardy question correct. That wasn't the case this year. This didn't surprise me too much since Defcon does get a lot of flak for being a sexist event (and much of that flak is justifiable). After Jeopardy we went to the party out by the pool. That started off pretty poorly since the girl performing was, well, fucking horrible. So my friends and I found ourselves in Track One again where the music was a marked improvement.
Sunday, being the last day of Defcon, was much more somber. Most of us were exhausted from back-to-back all-nighters. A couple of Sunday's talks were very interesting. Deviant's talk about elevators was fascinating. The closing ceremonies were as usual (which for me means kind of boring) except for the announcement at the end. Defcon 23 will be held at the Paris and Bally's casinos. I'm not sure whether we outgrew Rio or if Rio simply refused to renew our contract. Hosting Defcon is kind of a pain in the ass since things all over the hotel get compromised and I could see the Rio simply refusing to renew our contract. Either way a new venue will be nice since Rio felt too small.
Defcon 22 was a blast. The only thing that wasn't a blast was the flight home. Red eye flights aren't fun and I don't like touching ground in Minnesota at 05:30. Getting to bed at 07:30 is not my idea of a fun time. But that's a pretty minor thing to complain about. I can't wait for Defcon 23.
I've been completely out of the loop since Wednesday so I don't have any other posts prepared for today. Catching up on a week's worth of news and events isn't easy, especially when your sleep schedule has been thoroughly fucked up by a red eye flight. Normal posting should resume tomorrow.