Sometimes I become complacent in my assumption that gun owners as a whole are a pretty cool group. This is probably because most of my friends who own guns are really awesome people. But then a social issue hits the headlines and I'm reminded that a lot of gun owners are just as big of assholes as a lot of anti-gunners. This post is about one of those gun owners.
Target reiterated its bathroom policy, which is a sensible policy that allows transgender individuals to use the facilities of their gender, and now a bunch of social conservatives are announcing their plan to boycott the store. I have no issues as far as that goes since everybody should be free to associate or disassociate with anybody they choose for whatever reason they choose. But a handful of these social conservatives seem to be having a competition over who can be the biggest asshole about it.
The current winner of this competition may be Anita Staver. Staver felt the need to make a special announcement to alert the world that she will be carrying her firearm into a very specific place:
After Target announced its transgender customers and employees can use store bathrooms that correspond with their gender identity, Orlando-based Liberty Counsel president Anita Staver said she would be taking her Glock .45 into Target's restrooms, saying the gun "identifies as my bodyguard."
Most of us who carry a firearm don't feel the need to specifically announce every single place we're going to carry it. In fact when one go out of their way to make a special announcement that they're going to carry a gun into a place that is currently being featured in heated debates — especially when that announcement contains language that belittles one side of the debate — it might come off as a bit threatening. Just maybe.
If you want to carry a gun, just carry the damn thing. Don't be an asshole about it. And especially don't make statements about the fact you carry that could very easily be perceived as threatening to a group of people you openly hold distain for. In other words, don't be this asshole.
One thing that marks this presidential election is the complete absence of a mainstream anti-war candidate. In 2008 and 2012 Ron Paul was the predominant anti-war candidate for the Republicans and Obama pretended to be anti-war in his 2008 campaign. But this year not a single major candidate is even pretending to be anti-war. When I point this out somebody inevitably brings up Bernie Sanders but even he isn't hiding his murderous desires:
QUESTION: Senator Sanders, you said that you think that the U.S. airstrikes are authorized under current law, but does that mean that the U.S. military can lawfully strike ISIS-affiliated groups in any country around the world?

SANDERS: No, it does not mean that. I hope, by the way, that we will have an authorization passed by the Congress, and I am prepared to support that authorization if it is tight enough so I am satisfied that we do not get into a never-ending perpetual war in the Middle East. That I will do everything I can to avoid.

(APPLAUSE)

But the President, no President, has the ability willy-nilly to be dropping bombs or using drones any place he wants.

HAYES: The current authorization which you cite in what Miguel just quoted which is the authorization to use military force after 9/11. That has led to the kill list. This President — literally, there is a kill list. There is a list of people that the U.S. government wants to kill, and it goes about doing it. Would you keep the kill list as President of the United States?

SANDERS: Look. Terrorism is a very serious issue. There are people out there who want to kill Americans, who want to attack this country, and I think we have a lot of right to defend ourselves. I think as Miguel said, though, it has to be done in a constitutional, legal way.

HAYES: Do you think what's being done now is constitutional and legal?

SANDERS: In general I do, yes.
So he's hoping, as president, he'll receive authorization to continue doing what Bush and Obama have already been doing. But even more concerning is his support of the kill list.
I've discussed the kill list several times but I'll summarize the problem with it for the benefit of newer readers. The names that appear on the kill list aren't people who have been found guilty through due process. In fact we only know a little bit about the secret criteria used to justify adding names to the list and that information only came from an unauthorized leak. Sanders believes murdering foreigners without due process is both constitutional and legal.
To put this as diplomatically as I can, fuck Sanders. Anybody who claims he's an anti-war candidate is either a liar or ignorant.
A court ordered the Federal Bureau of Investigations (FBI) to reveal the exploit it used to reveal the identities of systems that accessed a Tor hidden service that was serving child pornography. The FBI has responded by saying, "Nah, brah!"
In yet another case, the one involving Jay Michaud — his lawyers have now told the court that the DOJ has made it clear that despite the court ruling earlier this year that the FBI must reveal the details of the NIT/hacking tool, it will not do so (first revealed by Brad Heath).
This refusal is nothing new. The FBI has refused to turn over information about Stingray interceptors as well:
The filing goes on to point out how the FBI has similarly been refusing to reveal details of its Stingray mobile phone surveillance tools (something we've discussed here quite a bit), leading to convictions being overturned. As Michaud's lawyers point out, the situation here is basically the same. If the FBI refuses to obey a court order, then the case should be dropped.
While the article does note that the Stringray case was dropped I think it's important to note the stark difference between the way the king's men are treated compared to regular individuals. If a court orders somebody like you or me to do something and we refuse we're held in a cage until we decide to comply. When the FBI refused to obey a court order they go unpunished. For the sake of consistency I believe the judge should order the agents involved in the case and the heads of the FBI to be locked in a cage until they comply with the court order.
Democracy has been deified in our society and any dissent is treated as high treason. But I'm here to tell you that democracy sucks.
Democracy is built on the idea that whatever a majority of a voting body decides is somehow just. But what happens when the majority of a voting body decides your so-called rights are mere privileges and furthermore have deemed you no longer need those privileges?
A survey commissioned by the BBC suggests that 63 per cent of UK university students believe the National Union of Students (NUS) is right to have a "no-platform" policy, whereby individuals or groups with opinions deemed to be offensive can be banned from speaking on student union premises.

More than half (54 per cent) of students surveyed also thought the policy should be actively enforced against people who could be found intimidating.
The National Union of Students (NUS) is a democratic organization and a majority of the designated voting body decided to allow censorship on campus student unions. With that simple majority vote, which is also backed up by a majority of surveyed university students, anybody deemed to be supporting an offensive platform is barred from speaking at a location that their tax dollars may very well have funded.
Freedom of speech is a concept used to protect the minority from government censorship. But democracy is a concept that relies on the idea that the will of the majority is correct. The two concepts are opposed to one another because a democracy is oppositional to the minority.
I've been busy finishing up and editing my short story for the Agorist Writers Workshop so I don't have much for you today… except stupidity.
The idiots that command the State have tried once again to use war as an analogy for hacking and it sounds just as stupid this time as it has every time before:
Defense Secretary Ashton B. Carter is among those who have publicly discussed the new mission, but only in broad terms, and this month the deputy secretary of defense, Robert O. Work, was more colorful in describing the effort.

"We are dropping cyberbombs," Mr. Work said. "We have never done that before."
Cyberbombs? Why not cyberclusterbombs? Isn't the United States government dedicated to wiping out CyberISIS? How many megabytes are these cyberwarheads anyways? I hope we're not using too little data to get the jobs done!
It's hard to come up with new jokes at the State's expense. The people working within it end up taking all of my good material by actually doing what I planned to joke about them doing.
I haven't posted any Korpiklaani in a while, which is a shame. I'm correcting that this week with A Man With a Plan:
The Treasury has announced that Andrew Jackson will be replaced with Harriet Tubman on the $20 bill. And this is hands down the best possible design for it.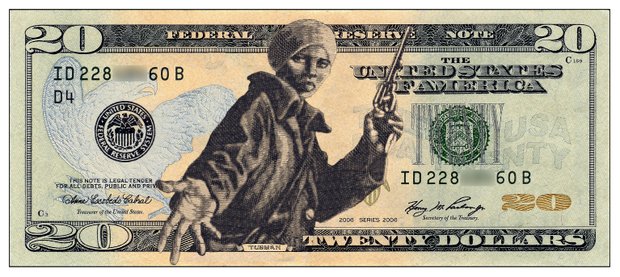 Harriet Tubman holding one hand out as if to say, "Come on you son of a bitch, do you want to be free or not?" and holding a pistol in her other hand to demonstrate she will not be fucked with.
Too bad the Treasury won't use this design in all likelihood.
Does the boogeyman exist? Most people would say he doesn't. But some might point out that there's no way to prove with absolute certainty that he doesn't exist. Technically that would be a true statement. However, few people would change the way they live their lives based on the infinitesimal possibility that the boogeyman may exist.
The arguments in favor of these bathroom restriction bills sounds an awful lot like arguments in favor of creating laws to ban the boogeyman. Most of the arguments in favor of these bills are based on the hypothetical threat that a cisgender male will pretend to be a transwoman to gain entry into the women's restroom for the purpose of committing sexual assault.
I call the threat hypothetical because there hasn't been a notable number of such crimes being perpetrated. In fact I've only found one instance of such a crime and it occurred in Canada and only after this debate started making headlines (which is important to note because it's quite possible the perpetrator wouldn't have attempted to use such an excuse had the politicians not been waging this war). That's two less incidents than the number of Republicans arrested for misconduct in bathrooms.
The arguments in favor of these bathroom bills are no more valid than arguments in favor of passing legislation to ban the boogeyman. Both are built on a foundation of unfounded fear mongering.
What gets me is the hypocrisy of some of the proponents of these bills. Some of the people supporting these bathroom bills on the grounds of a hypothetical threat were also the ones arguing against restricting people from carrying firearms on the grounds that the anti-gunners' hypothetical threats were never been realized. If hypothetical threats aren't a valid foundation to build laws off of for one thing then they shouldn't be valid for anything.
Elizabeth Nolan Brown, one of the few remaining writers at Reason worth reading, wrote an article discussing a particular pebble that has been in my shoe as of late — cultural libertarianism:
Today's "cultural libertarians" claim to be concerned, first and foremost, with free speech and fending off the "illiberal" or "regressive left." Where they succeed, from a libertarian-no-qualifier perspective, is in igniting the passions of young people toward the protection of civil liberties. Where they fail is by turning off more people in the process than they win over, delighting in the kinds of tactics and stunts that provoke but little else. Going to a feminist rally and holding up signs saying "there is no rape culture" may seem edgy when you're 20, but most people realize that intruding on private events just to throw shade simply makes you an asshole, not a radical for free expression.
That paragraph sums up my feels quite concisely. While libertarianism certainly allows for individuals to make complete asses of themselves and I would never use coercive force to stop somebody from making an ass of themselves, I do get tired of these libertarians who seem hellbent on making asses of themselves.
Whenever a feminist, social justice advocate, or any other person these libertarian reactionaries have deemed leftists make a statement they are quick to respond. And by respond I mean with as offensive of statements as possible, not anything that would lead to constructive conversation. In addition to make these reactionaries look like asses their behavior is also counterproductive. There is a lot of common ground between libertarianism and feminism, social justice advocacy, and other so-called leftist philosophies.
Consider racism. If you try to discuss the issue of racism you'll inevitably have one of these reactionaries calling you a social justice warrior and saying various racial slurs over and over in a pathetic attempt to be edgier than my Benchmade. But the fact of the matter is, many laws in the United States do institutionalize racism even though they claim to be neutral on the matter of race. This is a topic libertarians and advocates of social justice could work together against the State.
An important question to ask yourself, if you're a libertarian, is whether you actually want to move society towards libertarianism. If you do then being edgy isn't going to cut it (I'm not apologizing for that pun, it's a damn good pun). The only way we'll move society towards libertarianism is by making libertarianism appealing (it's that damn market rearing its head again). This is where socialists tend to succeed over libertarians. A socialist can tell somebody facing oppression that their oppression will be a thing of the past because the socialist government will come down on their oppressors like a bag of hammers… and sickles (seriously, these are good puns, don't try to tell me otherwise). Libertarians needs to explain how the State, by legislating oppression, is the biggest enabler of oppression. That requires actually listening to people's stories and working with them to figure out a way libertarian principles can solve or at least reduce their problems.
I, like many libertarians, am a contrarian by nature so I understand that telling a group of feminists discussing rape culture that rape culture isn't a real thing can sound amusing. But it's also counterproductive (and a really shitty thing to do). What is far more productive, and I know this because it's what I've done, is to listen to them and try to work with them to achieve mutual goals (which is why I invest so much time in advocating self-defense, because rape is a real problem and everybody should be able to defend themselves against rapists).
I find almost nothing redeemable about Ted Cruz. The same goes for his competitors — and his party — and the opposing party — and its candidates. But somebody has finally given a valid reason to support Cruz as the Republican nominee:
Just when it seems that Rep. Peter King must have exhausted his venom for Ted Cruz, he fires off another poisoned dart.

"I hate Ted Cruz, and I think I'll take cyanide if he ever got the nomination," the New York Republican told MSNBC's "Morning Joe" on Tuesday, as voters prepared to cast ballots in the state's primary.
I admit that the thought of Peter King voluntarily consuming cyanide fills my heart with joy.