Archive for July, 2018
A popular meme amongst socialists is "Capitalism is having to," followed by something that one needs to do to survive. For example, capitalism is having to enslave yourself to a corporation just so you can eat. This meme would be a lot more effective if the alternative was actually better but as Robert Higgs points out, the alternative sucks:
All honest people recognize that when push comes to shove, state functionaries will kill people who steadfastly refuse to pay the tribute ("taxes") that the rulers demand. Yet people whose very survival hinges on their paying what amounts to rent on their own lives persist in calling themselves free.
Under a capitalist system you have to sell your labor to an employer, become an entrepreneur, appeal to a patron, or find some other means of obtaining the means of survival. Under a socialist system the State is supposed to provide your means of survival but it needs the resources to do so since nobody has figured out how to conjure food, water, shelter, and clothing from ether. It acquires those resources through a system of taxation. The difference between the capitalist and socialist systems is that the capitalist system puts your survival in your own hands whereas the socialist system requires you to first pay rent on your very life and only then can you hope that the State will deem you worthy of receiving the resources you need to survive.
It is fortune for the United States government that it rules over such dimwitted and malleable sheep for if it wasn't, it might suffer some kind of resistance whenever it inserted itself further into their everyday lives:
Federal air marshals have begun following ordinary US citizens not suspected of a crime or on any terrorist watch list and collecting extensive information about their movements and behavior under a new domestic surveillance program that is drawing criticism from within the agency.

The previously undisclosed program, called "Quiet Skies," specifically targets travelers who "are not under investigation by any agency and are not in the Terrorist Screening Data Base," according to a Transportation Security Administration bulletin in March.
Fortunately for the United States government, this new infringement on its subject's supposed rights will meet with at most a few days of people making statements about how outraged they are before they roll over like the docile domesticated animals they are.
You find some wonderful words of wisdom on Twitter:
If we don't scream and yell, any person will be able to start printing 3D guns this Wednesday, August 1st.
As opposed to what we can print now, which are apparently only 2D guns!
Jeff sessions can stop this.
Oh, my sweet summer child.
If you're caught burgling a house, claiming that you just wanted to use the Wi-Fi network is as good of an attempt to talk your way out of jail time as any:
A 60-something couple in Palo Alto got an unpleasant surprise on Sunday when they woke up in the middle of the night to find a masked intruder in their bedroom. He said he wanted to use the couple's Wi-Fi network.

[…]

Remarkably, this wasn't the suspect's only legally dubious attempt to get Wi-Fi access that weekend. Just before midnight the previous night, police say, the same young man was found prowling around outside another Palo Alto home. When the house's residents came out and confronted him, he "asked to use their Wi-Fi network because he was out of data."
He should have said that he just wanted to use the bathroom.
I always thought that entering the black market would require selling drugs or guns. It turns out that I can just sell plastic straws:
A California coastal city has become the latest municipality to ban plastic straws, enacting what is potentially the strictest plastic prohibition in the country.

Santa Barbara earlier this month passed the ordinance authorizing hefty fines and even a possible jail sentence for violators who dole out plastic straws at restaurants, bars and other food establishments.
That lowers my initial capital costs significantly!
Everytown for Gun Safety is not happy about Cody Wilson's recent court victory and have started a campaign asking its members to write Secretary Pompeo to encourage him to "stop the release of downloadable files that will allow people, including convicted felons and terrorists, to make untraceable guns on their 3D printers."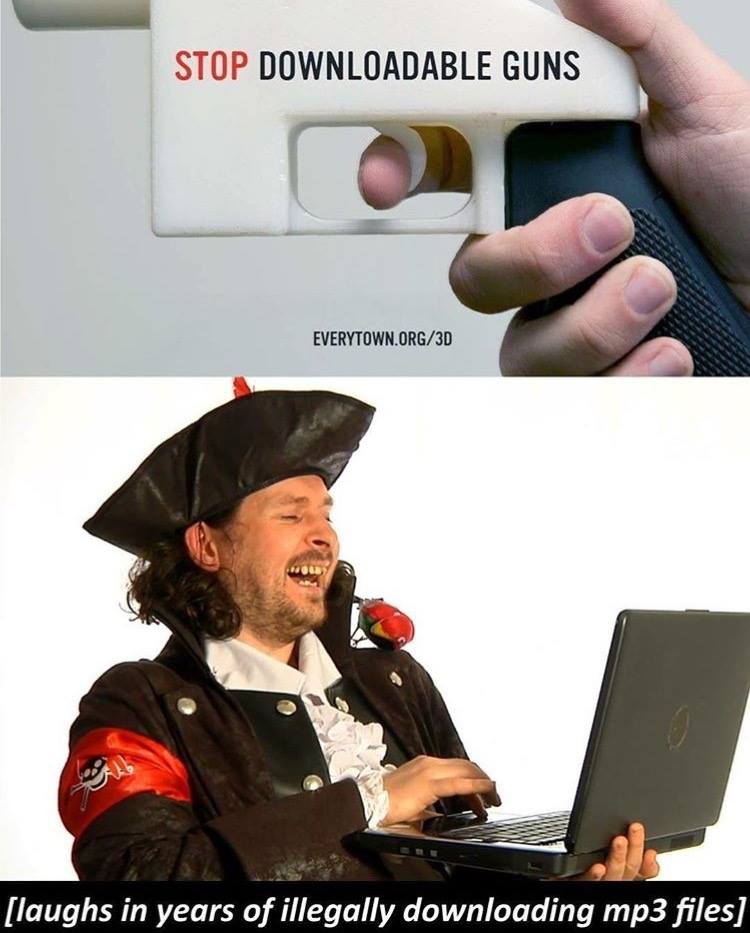 Image courtesy of the Anarchopirateball Facebook page.
It's fun watching a gun control organization screech ineffectively. There is literally no way that any government official can stop the release of something that has already been released. Cody Wilson didn't sit on the files he used to print the original Liberator, he released them to the Internet and a lot of people, myself included, downloaded a copy. Even if Pompeo could issue a decree to make downloading and sharing the files illegal, it wouldn't stop the file's proliferation. As we've seen with other illegal content, namely pirated music and movies, laws have no power to stop illegal downloading. The battle against the spread of 3D printer files for firearms is a battle that cannot be won.
Think about the most embarrassing thing to which you've ever publicly admitted. Now breathe a sigh of relief because no matter how embarrassing it was, it wasn't this embarrassing:
The founder and owner of CustomMousePad.com, Jennie Stewart, came forward yesterday with what she believed was a promise from a Republican congressman to save net neutrality. Last month, Stewart alleges that she was assured by Rep. Don Young (R-AK) that he would sign the Democrat-led discharge petition to force a vote in the House, which would reverse the Federal Communications Commission's December vote to revoke the rules.
Why would anybody publicly claim that they believed a political promise? I have a hard time believing that there is a single person above the age of six who isn't aware that politicians lie for a living and that everything they say should be treated as total malarkey. What really blows my mind though is that anybody published this story as if it were news. The only time a political promise is newsworthy is when it is kept.
Gun control advocates have a problem with simple English. Consider the text of the Second Amendment:
A well regulated militia being necessary to the security of a free state, the right of the people to keep and bear arms shall not be infringed.
The words "shall not be infringed" are straight forward. Somehow gun control advocates can read that and come to the conclusion that the text means that any and all restrictions can be placed on gun ownership. Oftentimes their belief is taken to an absolutely absurd level. For example, the government of Hawaii believed that that text meant that an individual is only allows to carry a firearm in their home. A United States appeals court didn't buy it:
(Reuters) – A federal appeals court ruled on Tuesday that the U.S. Constitution's Second Amendment guarantees a right to openly carry a gun in public for self-defense, finding that Hawaii overstepped its authority to regulate firearms possession outside the home.

[…]

In a 2-1 decision on Tuesday, the panel found Hawaii infringed on the rights of plaintiff George Young when it twice denied him a permit the state requires to openly carry a gun in public.

"We do not take lightly the problem of gun violence," Judge Diarmuid O'Scannlain wrote in Tuesday's ruling. "But, for better or for worse, the Second Amendment does protect a right to carry a firearm in public for self-defense."
Cue the gun control advocates screaming that blood will soon be flowing through the streets of Hawaii even though the exact same prediction has failed to come true every single time they have made it.