Archive for October, 2017
A friend of mine posted the following picture on Facebook: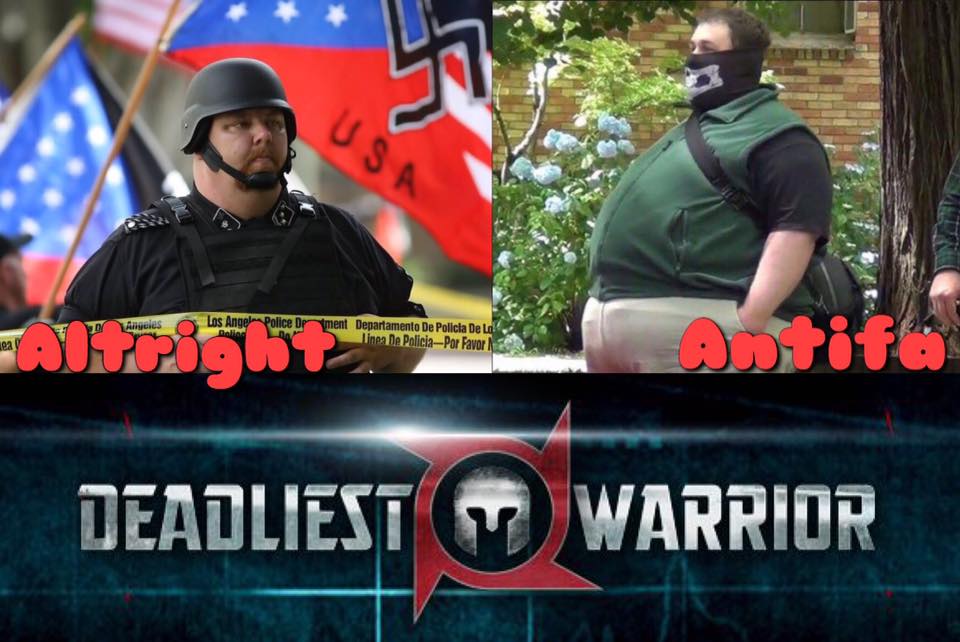 It really does illustrate a first world problem. Between the militias, III%ers, Neo-Nazis, Antifa, and a handful of other groups there are a lot of Americans who want to be militants. However many (if not most) of these individuals have enjoyed an overabundance of food and a luxurious lifestyle that has allowed them to avoid physical labor so they're too obese to fight anybody besides other obese Americans.
The Pentagon has begun pushing for a policy to require women to also register for the draft. Why would the United States even bother with continuing the draft now that it's using mercenaries for so much of its fighting? Because mercenaries want to get paid and the Pentagon wants to have the option of free labor available to it:
Not surprisingly, the Pentagon, the report reminds us, wants the Service Program to continue indefinitely. No surprise there. But now, the Pentagon wants to expand draft registration so it can include millions of young people who had not previously been eligible.

This proposed change will be couched in a variety of irrelevant issues like "gender equality" and "women in combat." At the heart of the matter, however, is the fact that the Pentagon wants an even larger list of potential forced laborers who can be paid below-market wages. In other words, draft registration offers — and has always offered — a list of people who can be forced to pay higher taxes in the form of mandatory "service":

"Conscription is slavery," Murray Rothbard wrote in 1973, and while temporary conscription is obviously much less bad — assuming one outlives the term of conscription — than many other forms of slavery, conscription is nevertheless a nearly-100-percent tax on the production of one's mind and body. If one attempts to escape his confinement in his open-air military jail, he faces imprisonment or even execution in many cases.
When you stop paying a mercenary, they go home. When you enslave draft an individual and fail to pay them or pay them below the market rate, they can't go home because they'll be arrested for desertion. The other downside with mercenaries is that you can't force them to do anything. They're contracted for a specific type of work. Drafted individuals, on the other hand, can be forced to perform any task:
Should the American state decide that it's necessary to finally make use of the Selective Service lists, the new draftees won't be people sent to carry rifles on the front lines. The military doesn't want poorly trained conscripts in combat, anyway. But this fact by no means precludes the potential usefulness of conscription to the federal government.

What the US state does want — especially in case of dropping revenues due to economic crisis — is cheap labor to build military bases, drive trucks, prepare food, load cargo, mop floors, and perform the countless non-combat tasks that are required to further expand military prerogatives both at home and abroad. Yes, the US government can pay people to do all those things now. But conscripts could be much cheaper.
The Pentagon can have its cake and eat it too. By paying mercenaries to fight its wars, the Pentagon can have access to professional soldiers. By drafting people into slavery, the Pentagon can save money by having the infrastructure required to fight the war built for less than the market going rate.
Requiring women to register for the draft would offer the Pentagon an even larger pool of potential slave laborers, which would give it the option to expand itself further than it currently could without having to invest a lot more money.
My dismal opinion of democracy is no secret. Part of the reason I have such a low opinion of democracy is because voters are handed an artificially restricted list of options and told that that list enables them to voice their opinion. However, if your opinion is that a governmental officer should be disbanded a ballot doesn't give you the ability to voice your opinion. Moreover, if the people decided to voice an opinion that isn't on an artificially restricted list of options, their act of voting is declared treason, sedition, or rebellion:
Spain's chief prosecutor has called for charges including rebellion – which carries a maximum 30 year jail term – to be brought against Catalan leaders.

José Manuel Maza said they should also face sedition charges following the region's declaration of independence.
When voting actually matters, i.e. when it causes actual radical change, it's suddenly declared illegal by the government. Catalonia isn't a unique example in this regard. Almost every attempt by a people to vote themselves out of a governmental body has been declared illegal by said governmental body.
As Max Stirner pointed out, "Whoever will be free must make himself free. Freedom is no fairy gift to fall into a man's lap." There is no checkbox on a ballot that will grant you your freedom. If you want to be free, you must overcome any attempt to curtail your freedom.
The new Doom is one of my favorite games of all time. id Software managed to pull of an almost perfect balance of fast paced action, satisfying weaponry, enemy variety, and over-the-top violence while leaving behind most of the features that have displeased me about modern shooters such as having to reload, not being able to carry more than two guns, and the ability to recover health by not getting hit for several seconds. But yesterday I discovered a video that showed me that Doom could be made even better.
Eluveitie released a new music video featuring the band's new lineup. Anytime there is a major lineup change in a band I like I get nervous because it opens the door for a significant shift in musical style. Since Eluveitie is one of my favorite bands I was concerned that its future music was going to take a significant nosedive in regards to quality. But Rebirth has set aside my concerns. The song is reminiscent of old school Eluveitie and if other songs follow its direction I think we're going to see a lot more great music.
Be careful when you file a Freedom of Information Act (FOIA) request, it might put you in the sights of the National Security Agency (NSA):
Declassified documents in the Central Intelligence Agency's archives show that while the CIA was looking to include the Freedom Of Information Act in its war on leaks, the National Security Agency was seriously considering using the Espionage Act to target target Puzzle Palace author James Bamford for using FOIA.

While Bamford has briefly discussed this on a handful of occasions, the declassified memos and briefings from NSA confirm that this was more than just an intimidation tactic or a passing thought – the NSA had truly wanted to jail a journalist for his use of public records. When the Agency determined that this was unlikely to happen, they moved on to exploring other legal avenues which could be used to punish Bamford for his FOIA work.
The passage of FOIA made it appear as though the federal government wanted to make itself accountable to the people. However, as with all government promises, what appeared to be the case and what actually ended up being the case were two different things. While FOIA appeared to give lowly plebs a mechanism to request information from the federal government, the most common results of filing a FOIA request seemed to be either a denial of the request or a heavily redacted version of the request. In the case of Bamford the result was first an attempt to imprison him and then an attempt to intimidate him.
We're fortunate that the federal government still feels the need to appear at least somewhat legitimate. If it didn't, I guarantee Bamford would have ended up charged under the Espionage Act. But anybody who is paying attention to the news realizes that the federal government is less and less concerned about appearing legitimate. I won't be surprised if some poor soul who files a FOIA request ends up being charged and found guilty under the Espionage Act.
It must get lonely being a Transportation Security Administration (TSA) officer. They stand in line for hours making the lives of passengers who are just trying to get from one place to another miserable. Needless to say, there isn't a lot of love for TSA officers. To help alleviate their loneliness, higher ups have implemented new security measures that will require people entering the country to make small talk with the agency's flunkies:
New security measures including stricter passenger screening take effect on Thursday on all U.S.-bound flights to comply with government requirements designed to avoid an in-cabin ban on laptops, airlines said.

Airlines contacted by Reuters said the new measures could include short security interviews with passengers at check-in or the boarding gate, sparking concerns over flight delays and extended processing time.

They will affect 325,000 airline passengers on about 2,000 commercial flights arriving daily in the United States, on 180 airlines from 280 airports in 105 countries.
Now we know what the laptop ban was all about, making the intended security policy look better by comparison. This change in policy will also do nothing to improve airline security. I know that the agency is going for the Israeli system but that requires having people who know what they're doing asking passengers questions. The TSA isn't renowned for hiring competent individuals and any encounter with one of their officers will give anybody who has watched Idiocracy flashbacks.
A lawsuit has been brought against Georgia election officials because of the sordid state of the election system they utilize. Apparently some people are a bit touchy about using an election system that is insecure and could enable tampering. Coincidentally, shortly after the lawsuit was file, the server in question was wiped:
A computer server crucial to a lawsuit against Georgia election officials was quietly wiped clean by its custodians just after the suit was filed, The Associated Press has learned.

The server's data was destroyed July 7 by technicians at the Center for Elections Systems at Kennesaw State University, which runs the state's election system. The data wipe was revealed in an email — sent last week from an assistant state attorney general to plaintiffs in the case — that was obtained by the AP. More emails obtained in a public records request confirmed the wipe.

[…]

Wiping the server clean "forestalls any forensic investigation at all," said Richard DeMillo, a Georgia Tech computer scientist who has closely followed the case. "People who have nothing to hide don't behave this way."
Weird.
And, of course, nobody is sure who ordered the server to be wiped and I won't be surprised if the culprit is never discovered. Then again I'm a cynic who assumes the lack of security of Georgia's election server was seen by officials as a feature, not a bug.
The number of complaints against police since the large scale adoption of body cameras by law enforcers has obviously plummeted, right? And the officers caught doing unlawful things by their body cameras have lead to a lot of corrupt officers being arrested and tried, right? As it turns out, not so much:
But what happens when the cameras are on the chests of police officers? The results of the largest, most rigorous study of police body cameras in the United States came out Friday morning, and they are surprising both police officers and researchers.

For seven months, just over a thousand Washington, D.C., police officers were randomly assigned cameras — and another thousand were not. Researchers tracked use-of-force incidents, civilian complaints, charging decisions and other outcomes to see if the cameras changed behavior. But on every metric, the effects were too small to be statistically significant. Officers with cameras used force and faced civilian complaints at about the same rates as officers without cameras.
While this study is interesting I think it's a bit unfair to judge body cameras by criteria they were never designed to address. Were body cameras meant to address police abuses the officers wouldn't have control over when they record and the video wouldn't be uploaded to servers controlled by the departments. Instead the cameras would be record constantly and the video would be streamed and saved to a server controlled by an independent third-party charged with holding officers accountable.
The reason law enforcement agencies have been willing (and often enthusiastically willing) to adopt body cameras is because they recognized that such devices would prove useful for collecting evidence. If an officer wants to collect evidence, they just need to press the record button and video will be uploaded to a service like Evidence.com that their department has full control over. If the video is evidence of a crime, it is saved so it can be used in court. If the video records something that might embarrass the officer or the department, it can be tossed down a memory hole.
Proving once again that there is no way to actually control the proliferation of simple mechanical devices, law enforcers in Brazil discovered a factory that was producing illegal submachine guns:
Coincidentally, the day before TFB published Part 1 of a photo report on DIY weapons seized in Brazil (http://www.thefirearmblog.com/blog/2017/10/17/bunch-diy-weapons-seized-brazil-part/), news broke that the São Paulo State Civil Police had just busted a small – but very active – illegal weapons factory in the Ferraz de Vasconcellos suburb of São Paulo, the capital city. Although clandestine firearms manufacture is not something unusual in the country, this particular facility called the attention not only due to the fact that its main product, a 9x19mm stockless submachine gun, shows a somewhat decent general finish and apparent (hand-operated by agents) smooth functioning of components, but also that the type has for long (four years, at least) been found in criminal hands in different parts of Brazil.
Some anti-gunners will probably point out that the discovery and shut down of the factory by law enforcers shows that gun control does work. While they desperately grasp at straws I will point out that this factory has either been running for four years, isn't the only factory producing illegal submachine guns, or both because the article notes that the type of submachine gun that was being manufactured at the factory has been found in criminal hands for at least that long.
If you follow the link, you'll find that the submachine guns, although crude, are actually pretty decent looking for a gun that is probably manufactured largely by hand. This shouldn't come as a surprise though. If the model has been manufactured for at least four years, there has been a lot of time to improve and polish the design. More refined versions of these submachine guns are likely to crop up as other illegal factories continue to crank them out in spite of the law.