Archive for the 'Side Notes' Category
Many socialists like the say that advocates of capitalism only advocate capitalism because they see themselves not as members of the lower and middle classes but as future millionaires.
Of course, most of the socialists who say that don't see themselves as members of the lower and middle classes but as future members of the politburo.
August 6th was the anniversary of the atomic bombing of Nagasaki. Many people posted about it. Many people pointed out that it was a heinous act because an estimated 39,000 to 80,000 people, most of whom were civilians, were killed.
Meanwhile the firebombing campaign against Tokyo, which resulted in the death of approximately 100,000 civilians, is seldom mentioned.
My point here isn't to judge people for mentioning one without mentioning the other. It's to illustrate that the psychological impact of the atomic bomb was so great that we still feel compelled to discuss the matter today even when we don't have the same compulsion towards other acts that lead to even great losses of life.
I was attending the Reddit Moderator Roadshow last night and didn't have an opportunity to get any posts written.
If you have the opportunity to attend one of their other events, take it. It was a ton of fun.
I imagine that MGM's public relations people are having a rough day:
The owner of the Mandalay Bay hotel in Las Vegas has filed a lawsuit against more than 1,000 victims of a mass shooting that killed 58 people in 2017.
It turns out that MGM Resorts International is being sued by groups of victims of the Las Vegas shooter and this lawsuit is an attempt to establish that it is not liable for the harm caused by the shooter. Good luck to MGM's public relations people on explaining that though.
If there was an annual award for worst analogy, this article would win it hands down:
Venezuela's inflation hits more than 40,000% as everyone dumps its currency 'like a hot potato'
The last thing anybody in Venezuela is going to drop at the moment is a potato.
When two parties have a disagreement and provide opposing explanations for the disagreement, how do you determine which is giving an accurate explanation and which is giving an inaccurate explanation? If you're watching the situation from the outside, you often can't. However, that doesn't stop individuals from reacting. A good example of this is the recent spat between the National Rifle Association (NRA) and Yeti:
The stunt followed a letter to NRA members sent by the NRA Institute for Legislative Action announcing that Yeti had severed ties with the NRA Foundation, following the lead of other companies in the wake of the Feb. 14 Parkland, Fla., shooting massacre at Marjory Stoneman Douglas High School.

The letter, sent by former NRA president and current lobbyist Marion P. Hammer, said the company "declined to do business with The NRA Foundation" without prior notice and "refused to say why."

"They will only say they will no longer sell products to The NRA Foundation," Hammer wrote. "That certainly isn't sportsmanlike. In fact, YETI should be ashamed."

But on Monday, just as the backlash and calls for boycott picked up steam, Yeti said in a statement to The Washington Post, also posted on Yeti's Facebook account, that the NRA letter was "inaccurate." The Austin-based retailer said it notified various organizations, including the NRA Foundation, that it was eliminating a "group of outdated discounting programs" from which the organizations benefited.

The NRA was not specifically targeted, Yeti said.

"When we notified the NRA Foundation and the other organizations of this change, YETI explained that we were offering them an alternative customization program broadly available to consumers and organizations, including the NRA Foundation," Yeti said. "These facts directly contradict the inaccurate statement the NRA-ILA distributed on April 20."
According to the NRA, Yeti severed business times without prior notification. According to Yeti, it discontinued a group of discounts for multiple organizations and offered a more customization option to those organizations. The NRA then said that Yeti was lying and Yeti in turn said that the NRA was lying. Who should be believed and why?
This is one of the arguments currently being had on numerous online communities. One side claims that the NRA is telling the truth while the other side claims that Yeti is telling the truth. Some of those who believe that the NRA is telling the truth have reacted by destroying Yeti products that they previous purchased. Meanwhile, some of those who believe that Yeti is telling the truth have called those destroying their Yeti products dumbasses.
Realistically, there is no way for those of us outside of the decision making apparatuses of these parties to know the truth. We don't have access to the agreements between the NRA and Yeti. We don't have access to the reason why Yeti discontinued its discount program. We don't have access to the list of other parties that were also supposedly impacted by the discontinuation of the discount program. What we do have are statements made by two disagreeing parties. Trying to determine which of the two is giving an accurate summary of events is like trying to determine which spouse in a messy divorce is giving an accurate summary of the events that lead to the divorce.
Unfortunately, in these situations people tend to side themselves with whichever party they like better. Diehard supporters of the NRA will likely side with the NRA whereas diehard supporters of Yeti will likely side with Yeti. Likewise, people who hate the NRA may side with Yeti whereas people who hate Yeti may side with the NRA. Both sides will justify their position as being made by something other than their personal feelings but those justifications will almost certainly be based on statements made by the party they're siding with.
I would argue that a better default position would be to side with neither party in a disagreement. Instead of a knee jerk reaction, why not be patient and wait for more information to possibly come to light? After all, what benefit is there from picking a side in an disagreement that doesn't directly involve you?
Over the weekend I proposed to my girlfriend and, for some reason, she accepted. Here's an obligatory engagement photo of us. Please excuse the fact that I'm not photogenic.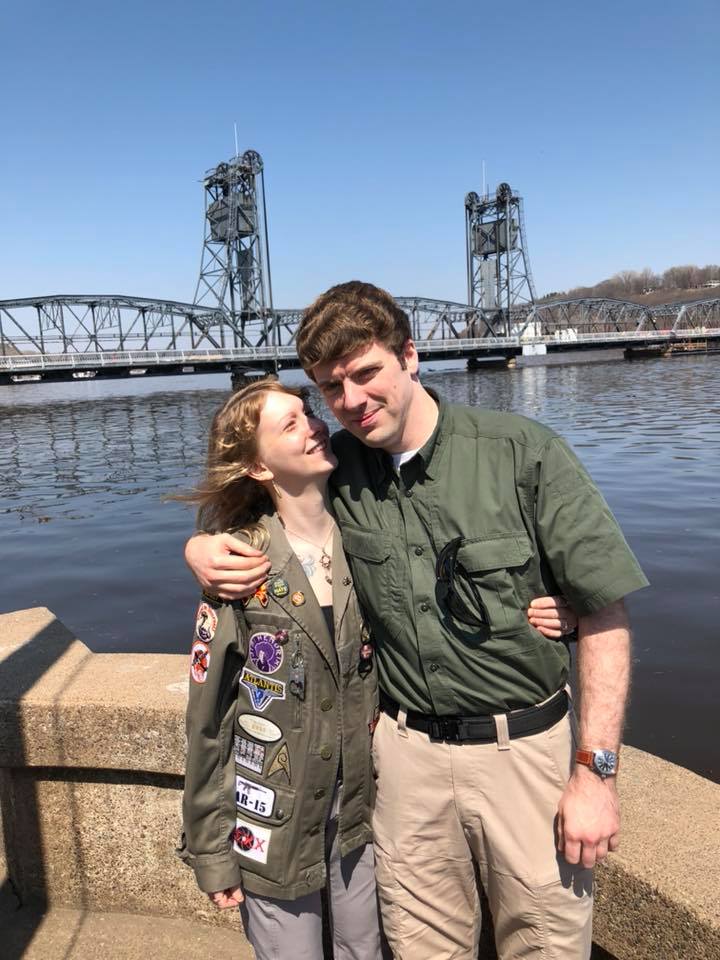 This was a rough weekend. It opened with a blizzard, struck in the middle with the death of Art Bell, and finished with the death of R. Lee Ermey. Hopefully the universe got all of its terrible shit out of its system for a while.
I had hoped that all of the outrage over Facebook doing exactly what it said it would do in its license agreement would have encouraged people to read the license agreements to which they agree.
Then I was snapped back to reality when I remembered that I live in a society that is rapidly approaching post-literacy so I can't expect anybody to read anything.
One phenomenon that continues to fascinate me is the habit of individuals to take on outside programming seemingly without conscious thought.
For example, if you ask people whether Nazis should be punched, you will likely receive one of two responses: yes or no. This become interesting when you press either side to explain their reasoning.
Those who are against punching Nazis will explain that they oppose using violence in response to mere speech. However, if you press them by submitting scenarios where speech an lead to deadly consequences and ask them where the line is drawn, they usually won't be able to provide much in the way of a response.
Those who are in favor of punching Nazis will explain that Nazis are dangerous individuals and therefore must be dealt with before they obtain power. However, if you press them by asking them why they only want to punch such deadly people instead of outright kill them, they usually won't be able to provide much in the way of a response.
Both sides are usually regurgitating programming they've received from others. One side is regurgitating the ideal of free speech whereas the other side is regurgitating the ideal of using force preemptively to prevent a more dangerous situation from arising.
All of us unconsciously accept programming to some extent. But we are capable of rational thought and therefore capable of overcoming programming (or deciding whether the programming is actually beneficial and keeping it). However, employing rational thought to overcome programming seems to be uncommon and some people even actively push against doing so. It's almost like people enjoy the fact that they've unconsciously accepted programming.