Archive for the 'Liberty' Category
Here's an idea for something you can do right now to help fight law enforcer brutality.
Stop calling the cops over stupid shit like your neighbor's grass being too tall, an individual openly carrying a firearm walking around and minding their own business, a voluntary transaction of cash for illicit drugs happening in a parking lot, or kids playing at a playground without parental supervision.
Interactions with law enforcers always carry the risk of turning violent. Reducing the number of interactions will reduce the number of opportunities for harmless activities turning into violent encounters.
Do your part, don't be a snitch.
Over the last year I've done a lot of thinking about statism. I think that it's safe to say that statism is the predominant ideology of our time. Most so-called revolutionaries don't talk about eliminating the state, they talk about replacing current states with a more idealistic ones. Even a lot of so-called anarchists fall into this trap. For example, if you talk to an anarcho-communist, they'll tell you that humanity won't be truly free until every worker enjoys the same democratic control over their workplace. However, are you really free if your actions are decided by a majority vote? I would argue that you aren't.
My thinking has lead me to look for historical alternatives to modern statism. If you read enough about human history, you'll likely come across the fact that until very recently there has been two widespread societal ideologies: sedentary and nomadic. As James C. Scott notes in his book Against the Grain sedentary societies gave rise to statism. Throughout most of human history nomadic people tended to be healthier, happier, and, obviously, overall less centralized.
The health aspect likely comes from the fact that humans only recently figured out how to keep a lot of tightly packed people sanitary (it turns out we're a filthy species). Until our species figured that out, disease was rampant in cities (COVID-19 was nothing compared to the plagues that frequented cities just a short while ago). Happiness is a harder thing to define and understand. However, nomadic people were able to pick up their entire lives and migrate elsewhere quickly, which made them much harder to oppress. If a tribe on the Asian Steppe didn't like the conditions they were living under, they could pack up and move to greener pastures. It's easy for me to see how that would make people happier.
So what happened? If nomadic people were healthier and happier, how did sedentary societies become the dominant societal form? I can't answer that question authoritatively (I don't think anybody can), I can only provide some hypotheses. I think the largest contributor to the domination of sedentary societies was the Industrial Revolution. Factories were necessarily centralized and factory jobs during the Industrial Revolution were often the highest paying jobs. It is also easy to see how the state was able to become more authoritarian as more and more people migrated into tightly packed cities (there's a reason the most authoritarian regimes tightly control travel) and as the state claimed monopoly powers over critical infrastructure such as electricity, power, and sanitation. If you live in a city, the very things you depend on to survive are likely entirely controlled by the state and that gives it literal power of life and death.
However, I do have some home that the situation we find ourselves in is an anomaly. Due to the COVID-19 scare, I am working from home for the indefinite future. This hasn't cause me any trouble since technology has evolved to the point where I can do my work from anywhere that has an Internet connection. Many people are in the same boat as I am. Moreover, technology is advancing in factory automation. In a few years factory employees might be able to do their job, which will likely evolve into programming the machines that do the actual manufacturing, remotely as well. Amazon is already experimenting with automated grocery stores and delivery drones. If drone technology evolves sufficiently, it may become easy to get even highly perishable goods in the middle of nowhere.
As technology improves nomadic societies may make a resurgence. If that happens, it might reestablish the greatest historical alternative to statism.
James Webb came across a law enforcer expropriating wealth from a motorist and did what any red blooded American would do, he cranked up NWA's Fuck the Police. The officer, having no self awareness or sense of humor, cited Webb for violating the city's noise ordinance. Instead of paying, Webb decided to take the matter to court. The jury quickly decided that the case was ">stupid and ruled in Webb's favor:
A man facing jail time for blasting the song "F the Police" and allegedly violating Pontiac's noise ordinance was found not guilty by a jury.

[…]

"The police officer's reasoning was that he said this music was vulgar. And part of the vulgarity was that it used the F word, but we had on the video that the first man the officer had pulled over; the officer is dropping F-bombs with him. So why is it OK for this man to hear the F-word but not other people?" said Nicholas Somberg, who represented Webb in court.

Webb chose not to pay the fine for allegedly violating the noise ordinance and instead chose to take the case to trial. The jury took all of nine minutes to come back with a not guilty verdict.
Kudos to Webb for taking the citation to court rather than paying it. Kudos to the jury for only taking nine minutes to decide that the accusation against Webb was stupid. And kudos to the officer whose argument was based on the vulgarity of Webb's music while he was on camera using vulgarities himself.
Score one for the freedom of expression.
I've enjoyed pointing out the absurdities that the concept of intellectual property enables. Now I want to address the matter from a more pragmatic angle.
Gun rights activists like to point out the fact that gun control laws are ineffective and thus passing them is pointless. Advocates for drug legalization like to point out the fact that drug prohibitions are ineffective and should thus be repealed. Both are sound arguments. Investing resources into enforcing ineffective laws is a waste. Those resources would be better redirected at effective means of addressing problems. Many of the people who make those two arguments are surprisingly inconsistent with their logic when it comes to intellectual property laws though.
Intellectual property laws are ineffective. I can pirate almost any creative work right now with a few keystrokes thanks to numerous piracy websites. The most notorious of these sites is The Pirate Bay. Governments around the world have attempted to use intellectual property laws to shutdown The Pirate Bay for more than a decade but the site remains online. Even when governments are able to shutdown a piracy site, several new ones appear in their place. And those are clearnet sites whose server locations and operators are, for the most part, easily found. There is a whole world of "darknet" piracy sites hidden with Tor Hidden Service, I2P, and similar protocols.
Piracy can't even be thwarted in the physical world. Everything from counterfeit designer clothing and fashion accessories to counterfeit electronics can be readily had. Even the government of the United States can't reliably distinguish counterfeit components from authentic ones.
Advocates of intellectual property continue to claim that intellectual property laws protect inventors and authors of creative works but the evidence indicates otherwise.
Intellectual property is a fairly modern concept. Before it came into being inventors and authors came up with other strategies to protect their works. The same is still true today even with intellectual property laws on the books. Coca-Cola, for example, doesn't have a patent on its formula. Instead it relies on keeping it a secret. Kentucky Fried Chicken relies on the same strategy. Many online content creators make a living on content that they release for free. How do they accomplish this? By urging their fans to support them through services like Patreon. For a fee Twitch viewers can subscribe to the channels of creators they enjoy to support them. YouTube allows creators to monetize videos through advertising. Many inventors and authors utilize crowdsourcing services such as Kickstarter to get paid upfront before releasing their latest product.
Netflix, Spotify, and iTunes Music have also demonstrated that piracy can be reduced by offering a product in a convenient package at a reasonable price. Why bother searching through various pirating sites for a song when you can pay $10 a month to Spotify or Apple to access a vast all-you-can-consume buffet of music? Your time is worth money after all and for many people $10 a month isn't a lot of money.
None of these strategies would likely exist if intellectual property laws were effective. If gun control laws and drug prohibitions are argued to be pointless because they're ineffective, then so should intellectual property laws.
Nintendo believes it can use its intellectual property claims to prevent you from monetizing any footage you make of its video games. Restrictions like this are generally only presented in the end user license agreement (EULA) after you've purchased the game. But what happens when the restriction is implemented retroactively?
Today it's understood that when you purchase a software package, you will be presented with pages and pages of legalese when you first attempt to use it. That wasn't always the case. When you purchased old Nintendo Entertainment System (NES) or Super Nintendo Entertainment System (SNES) games, the boxes didn't include contracts that you had to sign and send off to Nintendo before receiving an actual copy of the game nor did the games themselves present you with a EULA to which you had to agree before playing.
Nintendo is a notoriously litigious company and a few years ago was using the Digital Millennium Copyright Act (DMCA) to have footage of things like altered Super Mario World levels removed from YouTube. Because of the conditions I mentioned above, nobody who purchased a copy of Super Mario World for the SNES agreed to not alter the contents of the cartridge. They didn't agree to any restrictions whatsoever. But through the magical process of intellectual property, namely the copyrights granted to Nintendo by the government over the characters that appear in Super Mario World as well as the software itself, Nintendo is able to change the rules way after the sales occurred.
This absurdity is compounded by the fact that copyrights can remain valid for the life of the creator plus 70, 95, or 120 years after their death [PDF] depending on the type of work. Compounding the absurdity even more is the fact that copyright terms that were already ridiculously long were extended whenever the copyright for Micky Mouse was about to expire (hence why it is often called the Mickey Mouse Law). If we go by precedent, the stupidly long terms we're currently suffering under will likely be extended again and again. That means Nintendo could continue adding new restrictions to old NES and SNES games for decades to come.
Imagine if this characteristic of copyright law was applied to physical property. Let's say you purchased a Ford F-150 today. Now let's fast forward two decades. You still own the F-150 and have had to resort to having new parts custom fabricated because all of the major replacement parts manufacturers stopped producing new parts. One day you receive a letter in the mail from Ford, which is a cease and desist order for installing custom fabricated parts in the truck. Ford decided to pull a John Deere by claiming its copyrights to the software on the truck grant it the right to restrict you from maintaining your 20-year-old truck. It sounds pretty absurd, doesn't it? But that's the reality people are facing with NES and SNES games that they purchased two decades ago.
As I noted last week, the concept of intellectual property is an oxymoron. Today I want to expand on that by pointing out another absurdity of intellectual property.
Let's consider a hypothetical situation where I own an electronics store and you just purchased a laptop from me. There was nothing unusual about the transaction. You didn't have to read any contracts or sign any papers. You handed me cash and I handed you a laptop. The laptop is yours, right? Not so fast.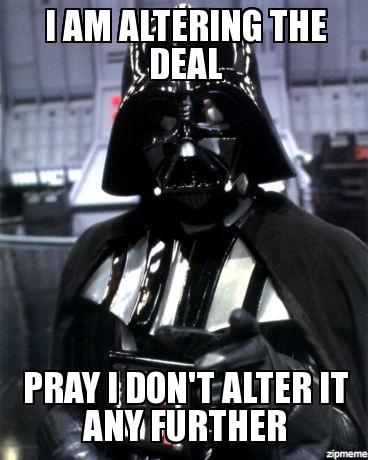 When you get home and power up your new laptop for the first time, you are presented with a legal contract that says you can't make any modifications to the laptop's hardware, install any operating system other than the one that came with the laptop, or install any software not distributed by the manufacturer's app store. If you don't agree with the contract, you can't use the computer.
What I just described is a slightly hyperbolic version of a shrink wrap license. When you purchase a piece of software, you usually aren't presented with the end user license agreement (EULA), the document that lays out what you can and can't do with the software, until after the sale. No big deal, you may think, because if you don't agree with the post-sale EULA, you can just return the software, right? You may find that easier said than done. Most stores won't take back copies of software that have been opened and if you read the EULAs for online app stores, there are often severe restrictions in place in regards to returning purchases. But even if you can return the software, why should that be considered your only form of recourse? Why should you be bound to any terms presented after the transaction has been concluded?
This is yet another characteristic of intellectual property that I doubt most people would so willingly accept if it were applied to physical property. If you purchased a car and the dealer decided to foist a bunch of restriction on you after you paid for the vehicle but before you drove it off of the lot (i.e. it's your property but you haven't gotten into the car since it became your property), would you take them seriously? Most people probably wouldn't. I certainly wouldn't. So why is such a practice considered acceptable for intellectual property?
A popular meme amongst socialists is "Capitalism is having to," followed by something that one needs to do to survive. For example, capitalism is having to enslave yourself to a corporation just so you can eat. This meme would be a lot more effective if the alternative was actually better but as Robert Higgs points out, the alternative sucks:
All honest people recognize that when push comes to shove, state functionaries will kill people who steadfastly refuse to pay the tribute ("taxes") that the rulers demand. Yet people whose very survival hinges on their paying what amounts to rent on their own lives persist in calling themselves free.
Under a capitalist system you have to sell your labor to an employer, become an entrepreneur, appeal to a patron, or find some other means of obtaining the means of survival. Under a socialist system the State is supposed to provide your means of survival but it needs the resources to do so since nobody has figured out how to conjure food, water, shelter, and clothing from ether. It acquires those resources through a system of taxation. The difference between the capitalist and socialist systems is that the capitalist system puts your survival in your own hands whereas the socialist system requires you to first pay rent on your very life and only then can you hope that the State will deem you worthy of receiving the resources you need to survive.
I lamented about living in a postliterate society when the Supreme Court ruled in favor of Jack Phillips. Nobody read the fucking article so they decided that the Supreme Court ruled in favor of religious rights when it actually ruled in regards to procedural shenanigans. The American Institute for Economic Research has a good summary of what the ruling entails:
Reading this case literally, we can conclude the following. If you want to exercise property rights and behave as if you are free, according to the Supreme Court, you need to get religion right away and hope that the bureaucrats adjudicating your case put you down as a monster for that very reason. Then you can narrowly escape prosecution.

Otherwise you must comply. If you take the majority opinion on face value, had the deliberations in Colorado been undertaken with no invidious discrimination against the faith of the baker, the decision would have gone the other way.
In other words, you don't have any rights.
I've discussed this matter before but it's worth repeating. Questions regarding rights, such as whether or not you have the right to refuse to provide a good or service due to your personal religious convictions, are pointless. Why? To pull out one of my favorite George Carlin quotes, "Folks I hate to spoil your fun, but there's no such thing as rights. They're imaginary. We made them up. Like the boogie man. Like Three Little Pigs, Pinocchio, Mother Goose, shit like that. Rights are an idea. They're just imaginary."
You can claim that you have the right to freely express yourself or the right to own firearms or the right to not incriminate yourself but you only actually have those rights if you can exercise them. Consider Jack Phillips's case. He believed that he had the right to refuse to bake a cake for a same-sex marriage because his religious beliefs are at odds with such a union. When he tried to exercise his perceived right, government goons came down on him. Even after his Supreme Court victory, he doesn't have the right to refuse to bake cakes for same-sex weddings because he failed to convince the Supreme Court, and by extent the various levels of government in the United States, that he had such a right. When (and it will be a matter of when, not if, because it's human nature to push boundaries) another same-sex couple comes into his bakery wanting a cake for their wedding and he refuses, he'll find himself in court all over again.
You only have the rights you can take and hold. How you take and hold them is irrelevant. If you are able to convince a group to respect your perceived rights, then you have taken and held those rights. If you have enough firepower at hand to scare people away from infringing on your perceived rights, then you have taken and held those rights. But if you can't take and hold them, even if they're written down on a fancy piece of paper, they don't exist.
The early days of the Internet were akin to the myth of the Wild West. There was no rule of law. First tens then hundreds and eventually thousands of little experiments were running simultaneously. Some experiments attracted users and flourished, other experiments failed to attract users and floundered. It didn't matter much because it didn't require a lot of capital to put a server online.
Some of the successful experiments became more and more successful. Their success allowed the to push out or buy up their competitors. Overtime they turned into multimillion and even multibillion dollar websites. Slowly but surely much of the Internet was centralized into a handful of silos. Much like the Wild West of mythology, the Internet gradually became domesticated and restricted.
There's nothing unique about the story of the Internet. New frontiers have a tendency to slowly become "civilized." The rule of law is established. Restrictions are put into place. The number of experiments continue to approach zero. However, "civilization" is never the end of experimentation. Experimenters simply need to move to a new frontier.
Innovation slows to a crawl and can even stop entirely without frontiers. The Internet is mostly "civilized" at this point. A handful of successful experiments such as Amazon, Facebook, and Google exercise a tremendous amount of control. With a simple statement they can make or break other experiments and amplify or silence voices. Moreover, the rule of law has been established by various national governments and they will only tighten their grips. In order for innovation to continue on the Internet, the next frontier must be explored.
Fortunately, there are several frontiers. The most popular are "darknets," networks that bake anonymity in by default. If clients and servers are unable to identify each others' locations, they can't enforce rules on one another. Other frontiers are mesh networks. While mesh networks are able to access the Internet, they are also able to operate independently. Being decentralized, it's far more difficult to enact widespread censorship on a mesh network than on the traditional Internet whose users depend on a handful of Internet Service Providers (ISP) for their connection. But the most exciting frontiers are the ones that remain entirely unexplored.
Of course the cycle will repeat itself. The next frontier will become "civilized," which is why there must always be a new frontier if innovation is to continue.
There are always vultures swooping down after a mass shooting to pick at the corpses. Here in Minnesota the vultures, after gorging themselves on the dead in Florida, have introduced one doozy of a gun control bill.
The bill contains it all. Mandatory registration of firearms, a ban on aesthetically offensive firearms, a ban on purchasing ammunition online, banning people who owe child support from owning firearms (which is rather random), etc. The bill has obviously been sitting on the back burner waiting for a tragedy to exploit.
I think the bill is an excellent example of the arbitrary nature of laws in general. If this laws is passed, I would be declared a criminal. Not because I hurt anybody but because some politicians decided to change the rules on a whim.
That's ultimately the biggest problem with government. It's impossible to do any long term planning when the rules can changed arbitrarily. Consider the seemingly simple prospect of buying a home. A home is generally a long term investment. However, a single change of the rules one evening could force you to flee the state less you be arrested for violating the new rules. Suddenly your long term investment becomes a liability that needs to be offloaded so you can regain some capital to acquire a place to live in another state. Moreover, unless you live near the border of a friendlier state, you will likely have to find a new job and social circle.