In all regions of the planet having sex is legal. But in many regions being paid to have sex is illegal. Some of those areas to have a caveat where you can legally be paid for sex but you have to be filmed doing it. Either way, governmental restrictions on sex work have made the trade more dangerous. Many sex workers have been relegated to operating under the authority of abusive pimps. However, technology is changing that:
Soon after Kate ran into trouble at the nightclub—like many other fresh-faced high school girls in Hong Kong today—she discovered online forums to run her own business as a sex worker. On HK Big Man and HK Mensa, where ads are proliferating everyday, so-called "compensated daters" offer their services without the help of a middleman.

Bowie Lam Po-yee, who runs an organization called Teen's Key that provides outreach for these girls, says that it's common for one girl to find an ad she likes, and then copy it—with just minor adjustments. Then, girls leave their contact information and negotiate where they'll meet and how much they'll charge. It's easier to evade the cops that way: they're less likely to be caught for solicitation if they've checked a client out to see if he's legitimate. Police can be obvious as to their identity when it comes to brokering a deal over a chat app.
The job of a pimp has been to market out sex workers and they often use their position abusively. Ubiquitous communication technology allows sex workers to market themselves. Forums, smartphones, and chat applications allow sex workers to cut out the middle man, which allows them to keep all of the profits as well as not be reliant on an abusive individuals.
This isn't just true for sex workers. Online communication technology has also made the drug trade safer. Technology often acts as a balance to the State. When the State makes a market more dangerous by declaring it illegal technology helps make it safe again.
More and more people are jumping onboard the idea that Trump is part of Clinton's campaign:
How would Donald Trump assess Donald Trump's candidacy? As he might put it: A lot of people are saying his campaign is an operation on behalf of the Democratic Party to destroy the Republicans.

"A lot of people are saying"? That's not a very high evidentiary standard. What else?

Well, to start there is the photo. You know the one, where Trump and his new bride Melania are rubbing elbows with the Clintons. Bill Clinton spoke with Trump right before Trump announced his candidacy. Trump has of course contributed to Clinton campaigns in past years as well. This doesn't even get into the fact that Ivanka Trump and Chelsea Clinton are friends.
Previous evidence leads me to believe that Trump isn't an idiot. He has raked in a ton of cash over his lifetime and became prominent enough to rub elbows with powerful political figures. Yet he seems to have become entirely incompetent overnight, which leads me to think he might be part of his good friend Hillary's campaign.
Why do I care? The only reason I care is because I want this to be true so I can rub it in the faces of all those so-called gun rights activists telling gun owners they need to support Trump even though he has a long history of being anti-gun. If Trump is part of Hillary's campaign they're actually providing material support to her campaign and that would amuse me to no end.
The people are starving in the paradise of central planning known as Venezuela. Starving slaves tend to be uppity slaves so the Venezuelan government has decided to attempt to secure its power by redoubling its efforts to disarm the slaves:
Venezuelan police crushed and chopped up nearly 2,000 shotguns and pistols in a Caracas city square on Wednesday, as the new interior minister relaunched a long-stalled gun control campaign in one of the world's most crime-ridden countries.

Interior Minister Nestor Reverol said the event marked the renewal of efforts to disarm Venezuelans, through a combination of seizures and a voluntary program to swap guns for electrical goods.
What's rather entertaining through is the source of the slaves' firearms:
Gangs often get weapons from the police, either by stealing them or buying them from corrupt officers, experts say.
I'm sure the police love this renewed effort since it will create more opportunities for them to sell more firearms.
Venezuela is fucked. Anybody living there should do everything in their power to get out. Things are only going to get worse as the slaves become more desperate and the government responds by becoming more tyrannical.
User byutamu over at /r/guns created a nice image illustrating the absurdity of gun laws.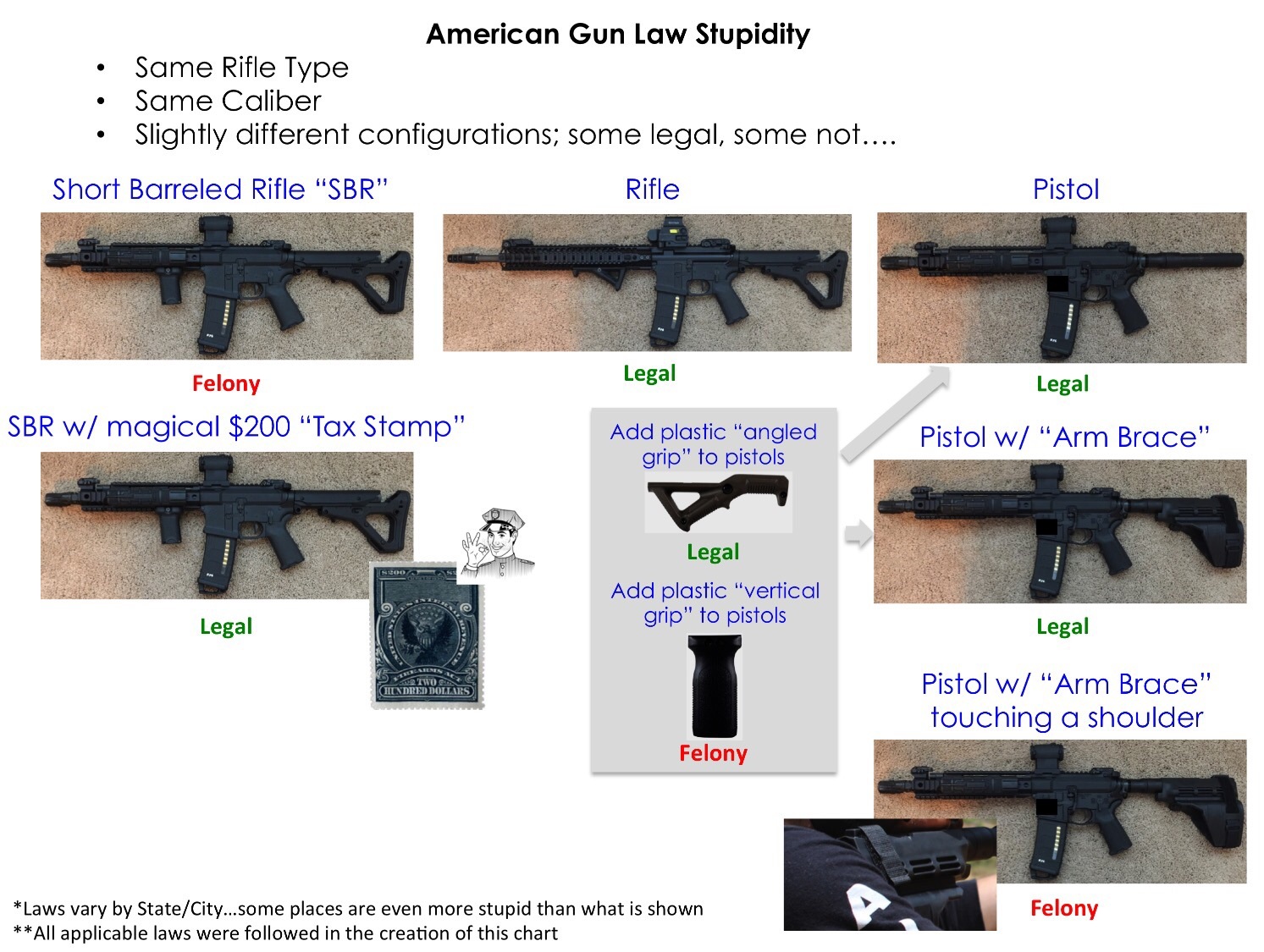 It's like laws are arbitrary. Weird.
The federal government put a lot of resources into shutting down the Silk Road. Was it worth it? Has the online drug trade stopped or at least been reduced? Of course not! People want access to recreational drugs and the market always provides. Since the death of Silk Road the online drug trade has actually flourished:
The successors to Silk Road, the darknet drug market shut down by the FBI in 2013, are raking in tens of millions of pounds in total revenue every month, according to a new report.

British dealers apparently have a serious finger in the pie, taking home roughly 16 percent of the global revenues, or around £1.75 million, between an estimated 338 vendors.
The State, however, can never admit failure. Through the magic of statistics it has declared itself victorious over the online drug trade:
The report, commissioned by the Dutch government to gauge the growth of darknet markets in the years following the demise of Silk Road, found some good news for beleaguered law enforcement: "cryptomarkets have grown substantially in the past few years, but not explosively," though the numbers of vendors and hosting sites have grown. In fact, researchers found around 50 of these markets in total, however, the total volume of listings is now only six times larger than in 2013.
The volume of listings has only grown six times larger! It would have obviously grown even more if it wasn't for the State's efforts! This reminds me of the national debt, specifically when a politician claims that they have shrunk the debt because their efforts ensured it only grew twice as fast as it would have otherwise. If you're very careful with your statistical definitions you can make any defeat appear to be a victory.
What's the lesson here? Easy, the State is powerless against the forces of the market. While the State does win temporary victories it is always defeated in the long run. After all, how can a handful of people ever hope to defeat the entirety of humanity? When seven billion people are thinking of new and interesting ways to get their fellows the goods and services they want there's nothing a handful of people wearing suits and sitting in marble buildings can do.
Here's a heads up, everybody. If you're planning on attending the Minnesota State Fair, and I don't know why anybody would, be prepared for longer than usual lines to get in because every attendee is going to be treated like a criminal:
Going to the Minnesota State Fair this year? Make sure you have your ticket in hand and your bag open.

The State Fair says bags, purses, coolers and packages will now be subject to search at each of the fair's 11 entrances. Prohibited items include weapons and fireworks but also alcoholic beverages, drones, bikes, skateboards, skates and hoverboards. Other items may also be refused at the discretion of fair management or police.
Of course this is being done under the guise of security. Realistically it's nothing but security theater though. Searching bags won't, for example, find any weapons being concealed on a person's body (although that's something they cannot legally prohibit if a person has a carry permit but the law has never stopped the State from violating people's rights). Also notice that alcoholic beverages are prohibited, which will greatly boost the profits of the State Fair alcohol vendors. Drones, bicycles, skateboards, and hoverboards aren't a security risk to anybody so giving officers discretion to ban them in the name of security is nonsense.
There's something else worth noting here. The Minnesota Agriculture Society, which runs the Minnesota State Fair, is a public corporation [PDF], which is a fancy way of saying a government created and owned corporation. The Stair Fair grounds are owned by the State of Minnesota. In other words the Minnesota State Fair is a government event run by a government corporation that happens on government property. If the Bill of Rights actually meant anything these bag searches would be a violation of the Fourth Amendment since warrants aren't being issued against each fair attendee. But the Bill of Rights, like all government laws, doesn't actually apply to the State so it can violate your rights with impunity and if you complain it might investigate itself and determine it did nothing wrong.
When a suspect attempts to flee from the police should the officers pursue? Most people will instinctively say they should. But one has to ask whether it's more dangerous for the police to enter into a high-speed chase with a suspect or allow the suspect to flee. Oftentimes in the zealous pursuit of suspects the police end up putting a lot of lives in danger:
More than 5,000 bystanders and passengers have been killed in police car chases since 1979, and tens of thousands more were injured as officers repeatedly pursued drivers at high speeds and in hazardous conditions, often for minor infractions, a USA TODAY analysis shows.

The bystanders and the passengers in chased cars account for nearly half of all people killed in police pursuits from 1979 through 2013, USA TODAY found. Most bystanders were killed in their own cars by a fleeing driver.

Police across the USA chase tens of thousands of people each year — usually for traffic violations or misdemeanors — often causing drivers to speed away recklessly. Recent cases show the danger of the longstanding police practice of chasing minor offenders.
5,000 people killed primarily in the pursuit of revenue from traffic violations and misdemeanors. This is especially ridiculous when you consider that ever car has a government mandated unique identifiable number bolted to the vehicle. An officer could just call in the make, model, and license plate number and wait for a safer time to deliver the citations.
Whenever somebody argues that the police do something to keep us safe we must ask whether the tactics being used by the police are more dangerous than whatever they're supposedly combatting. Is heroine really more dangerous than no-knock raids leading to dead pets or family members? Are people who exceed the arbitrarily posted speed limit really more dangerous than having a police car with bright flashing lights on the side of the road causing chaos on the highway? If the tactics are more dangerous than the activity being policed then the police aren't keeping anybody safe, they're needlessly putting them in danger.
It's nice to know there are still forces out there willing and able to challenge the State's revenue generators. Police officers in Scotland apparently learned that demons don't care about their truncheons or guns:
A mother and her teenage son were said to be "extremely distressed" after experiencing what the Daily Record describes as "violent and unexplained circumstances".

The family, who live in South Lanarkshire, called police on Monday and Tuesday.

"The officers attended expecting it to be a mental health issue but they witnessed the lights going off, clothes flying across the room and the dog [the family's pet Chihuahua] sitting on top of a hedge," a police source said.

"The officers called their superiors, who also attended, thinking the cops were perhaps being a bit silly. But it's being taken very seriously."

A priest is understood to have blessed the house in Rutherglen after officers got in touch with the Catholic Church.
Perhaps I've been playing Doom wrong all along. Instead of slaughtering demons it may be beneficially to encourage their presence on this planet to challenge the power of the State. Granted, the demons would probably want to establish their own government but once they've taken care of the current governments we could exorcise them back to Hell. At this point I'm willing to entertain any ideas for eradicating statism.
Several people have asked me about my thoughts regarding the rioting in Milwaukee. Truth be told, I'm only superficially aware of what happened. I know the police shot somebody, which was the spark that lit this fire but I haven't had time to learn the details surrounding the shooting.
I will say this though. You should have a plan of action in case civil unrest developers in your area. Be it hunkering down and defending your home or evacuating to someplace safe, you should have a plan of what you will do if worst comes to worst. Then you should have a backup plan in case your primary plan fails.
This week we'll be listening to Call Me by PAIN. Judging by the music video I assume this band is one of Doctor Rockzo's side projects because there is a ton of co-co-co-cocaine, baby!