Archive for the 'Law and Disorder' tag
Statists always ask, in the absence of government who will protect us? I want to know, in the presences of government who will protect us? The State commits murder on a massive scale but it also finds time to murder little guys as well. Consider the case of Terrill Thomas. He ended up in jail because of an undiagnosed mental illness. His kidnappers then turned the water off to his cell and let him slowly die of dehydration over the next eight days:
Terrill Thomas spent seven straight days holed up in a solitary confinement cell with no running water, slowly withering away.

Thomas started the weeklong stretch at the Milwaukee County Jail belligerent and loud, the result of an untreated mental illness, prosecutors said. But as the days wore on, he grew weak and dehydrated. He lost nearly 35 pounds and turned quiet, never asking for or receiving medical attention.

Barely two hours into his eighth day in solitary, jail staff found Thomas, 38, dead on his jail cell floor, the result of profound dehydration.

[…]

In his opening statement, Assistant District Attorney Kurt Benkley said surveillance videos show three corrections officers cut off the water in Thomas' cell – a disciplinary measure after Thomas flooded another cell – and never turned it back on. The same officers never documented the water cutoff or notified supervisors, leaving fellow corrections officers in the dark.
Based on the history of how these kinds of incidents are handled, the officers who cut off the water probably won't face any real disciplinary action. If there is a trial, the officers might receive a paid vacation for the duration of the trail. If they're found guilty, they might even be fired. But then their union representative will step in and strong arm the prison into reinstating them.
And people wonder why I have no faith in government.
Occupational licenses are sold to the public as a mechanism for protecting consumers from fraudulent providers. Licenses don't actually provide such protections since they're just pieces of paper. More importantly, they can actually reduce protections since their existence convinces people that actual protections, such as regular inspections by private independent inspection organizations, aren't as necessary. So what purpose do occupational licenses server? They serve as a source of revenue for the State as well as a mechanism for it to lash out at its critics:
In September 2014, Mats Järlström, an electronics engineer living in Beaverton, Oregon, sent an email to the state's engineering board. The email claimed that yellow traffic lights don't last long enough, which "puts the public at risk."

"I would like to present these facts for your review and comments," he wrote.

This email resulted not with a meeting, but with a threat. The Oregon State Board of Examiners for Engineering and Land Surveying responded with this dystopian message:

"ORS 672.020(1) prohibits the practice of engineering in Oregon without registration … at a minimum, your use of the title 'electronics engineer' and the statement 'I'm an engineer' … create violations."

In January of this year, Järlström was officially fined $500 by the state for the crime of "practicing engineering without being registered."
How dare he practice engineering without a license? The audacity of this criminal scum!
You almost have to admire the vindictive nature of the State. An individual came forward offering information that could potentially lead to the correction of a bug in a system and the State slaps him with a fine for daring to question its authority. Welcome to America, the freest goddamn country on Earth!
Last year the government granted itself permission to widen the scope of warrants when any form of anonymity tools is involved in a case. This expansion, commonly referred to as Rule 41, allows government agents to acquire a warrant that authorizes them to remotely access any computer using, for example, Tor to conceal either its physical location or its users physical locations. Needless to say, the privacy community wasn't thrilled when news of this expansion broke.
But the privacy community is, unfortunately, relatively small. The government doesn't really care about it. It's far more interested in convincing the masses that this expansion of power is a good thing. To demonstrate the value of this power the Federal Bureau of Investigations (FBI) requested and received a warrant to remotely access systems that were infected with a botnet so it could clean the malware:
Mass hacking seems to be all the rage currently. A vigilante hacker apparently slipped secure code into vulnerable cameras and other insecure networked objects in the "Internet of Things" so that bad guys can't corral those devices into an army of zombie computers, like what happened with the record-breaking Mirai denial-of-service botnet. The Homeland Security Department issued alerts with instructions for fending off similar "Brickerbot malware," so-named because it bricks IoT devices.

And perhaps most unusual, the FBI recently obtained a single warrant in Alaska to hack the computers of thousands of victims in a bid to free them from the global botnet, Kelihos.

[…]

The FBI sought the 30-day warrant to liberate victims through a new procedural rule change that took effect in December amid worries among privacy advocates that the update would open a new door for government abuse. But the first use of the amendments to Rule 41 of the Federal Rules of Criminal Procedure has assuaged fears, at least for the moment, because the feds used their power to kill a botnet.
How benevolent of the FBI!
This is, of course, a purely propagandistic move. Now when some pesky privacy advocate brings up the heinous nature of Rule 41 the federal government can point to this case and berate the advocate for wanting to help botnet operators. It's a classic maneuver with a proven track record.
What's worse than a government? A government that is made up exclusively of governments. A lot of criticisms have been made about the United Nations (UN) by both advocates of limited government (I realize the term is an oxymoron but bear with me) and anarchists. Statists have written off these criticisms as conspiracy theories but the crimes of the UN are becoming so grand in scale that they're now impossible to sweep under the rug:
United Nations peacekeepers in Haiti sexually abused nine children over a period of three years, an Associated Press investigation has found. It's the latest in a long series of sex abuse scandals to plague U.N. peacekeeping missions worldwide.

From 2004 to 2007, 134 peacekeepers from Sri Lanka operated a child sex ring, luring children on the poverty-stricken island with candy and bits of cash, according to the AP. After a U.N. report incriminated them, most were sent home, but none faced jail time.

One victim told U.N. investigators, "I did not even have breasts," according to the AP. Over a period of three years, beginning when she was 12 years old, she was forced to have sex with over 50 peacekeepers, the AP said.
And people wonder why I fucking hate the UN.
Mind you, this type of behavior isn't unusual for invading military forces. In fact, the UN is supposed to act as a check against national militaries performing crimes like this. But when you're an unaccountable organization you tend to attract the most wretched people and eventually, no matter how good the people who started the organization were (in the case of the UN, not that good), your organization turns into a criminal gang.
Since the establishment of the Westphalian sovereignty, national governments have existed basically unchallenged by everything except other national government. The UN is made up primarily of some of the most powerful government, meaning it is also almost entirely unchallenged. So long as this state continues the crimes of national governments, at least the ones strong enough not to be preyed on by other national governments, and the UN will go almost entirely unchallenged. Fortunately, the Westphalian sovereignty is starting to wane. Nongovernmental organizations, private military companies, freedom fighters, terrorist organizations, multinational companies, and other groups are gaining power while national governments are losing it. There may come a time once again where national governments can be held accountable by other organizations and shit like this UN child sex rings can finally be dealt with swiftly and harshly.
Just a reminder, today is the last day for you to submit your voluntary war effort contribution without having to worry about men with guns kicking down your door and kidnapping you.
Much of the Middle East is currently engaged in a war with a government that has a penchant for broadcasting videos of a guy talking while masked men stand behind him looking all serious. While the location makes it obvious that I'm talking about the Islamic State of Iraq and the Levant (ISIS), the description of the organization alone would apply equally to the Lake County Sheriff's Department:
Florida Sheriff Peyton Grinnell has a no-nonsense take on handling America's heroin epidemic.

In a widely-shared video posted on the sheriff's Facebook page, Grinnell appears at a lectern, flanked by the rest of Lake County's "community engagement unit" — four Kevlar-clad deputies in face masks.
Here's an image of Sheriff Peyton Grinnell and his gang of merry men: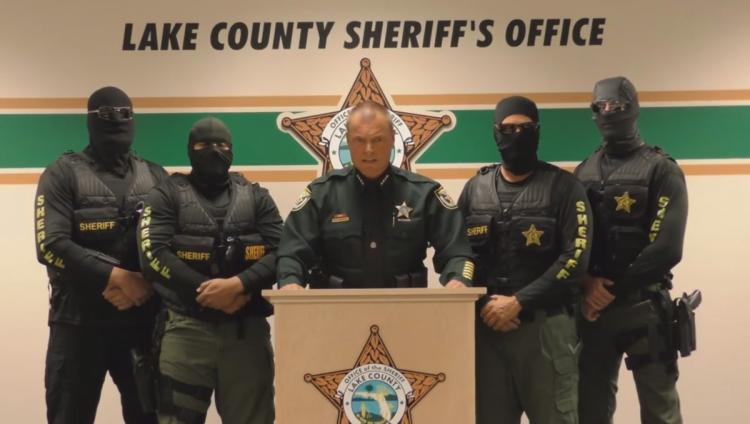 Tell me, without the badges and word "Sheriff" plastered on their uniforms, would you be able to tell the difference between them and ISIS? I'd certainly be hard pressed to do so.
The reason ISIS uses this kind of imagery is because it's intimidating, which makes sense since that government's goal is to scare people into submission. Supposedly a sheriff's office is tasked with protecting and serving a community so why would one project an image of intimidation? Perhaps it's not interested in protecting and serving. Perhaps it's interesting in subjugation.
Here we go again, another story of corruption at the Bureau of Alcohol, Tobacco, Firearms, and Explosives (ATF)! This time the agency that likes to sell guns to Mexican drug cartels was caught using an off the books bank account for some rather luxurious expenditures:
WASHINGTON — Agents with the Bureau of Alcohol, Tobacco, Firearms and Explosives used a secret, off-the-books bank account to rent a $21,000 suite at a Nascar race, take a trip to Las Vegas and donate money to the school of one of the agent's children, according to records and interviews.

Agents also used the account to finance undercover operations around the country, despite laws prohibiting government officials from using private money to supplement their budgets, according to current and former government officials and others familiar with the account.
Before you make the mistake of assuming that those expenses were related to an investigation:
Other expenses, such as renting a 16-person suite at Bristol Motor Speedway in Tennessee, had no obvious connection to law enforcement operations. A.T.F. agents, along with some community members, used the suite in 2012 for the Irwin Tools Night Race, a Nascar event, according to two people who worked closely with the bureau at the time. A receipt obtained by The Times shows the suite cost $21,000.

Agents also donated money from the account, according to documents and interviews, including thousands of dollars to the high school and volleyball team of the daughter of an A.T.F. agent in Bristol. The agent, Thomas Lesnak, is now retired and did not respond to messages seeking comment. He has previously dismissed suggestions that anything was done improperly.
It's good to be the king's men and family of the king's men!
Although every government agency is corrupt, the ATF seems to excel at corruption. There doesn't seem to be a year that goes by where the agency isn't caught in some kind of major scandal. The story notes that this latest incident shows the lack of ATF oversight but this is really a minor offense when it comes to the shenanigans of the agency. And if arming Mexican drug cartels didn't result in more agency oversight this certainly won't.
What this story really illustrates is how ineffective it is to give an organization a monopoly on holding itself accountable. The government maintains such a monopoly. The consequences of this have become obvious. When an agency is caught doing something corrupt no punishment, or at least no noteworthy punishment, is dispensed. Usually a hearing happens before Congress. During the hearing some members of Congress pretend that they're shocked to find corruption within the agency in question. The hearing will be followed by a few days of government officials appearing on news channels berating the corrupt agency. Then, after the week's news cycle is over, the entire matter vanishes from the headlines and people's memories.
The road to Hell is paved with good intentions. Oftentimes people will discuss the intent of a law versus the letter of a law. This discussion usually happens when it comes to light that a law that was passed with good intentions ends up being abused by enforcers following the letter.
In an effort to thwart tax evaders (which qualifies as good intentions to statists although I'm not sure why), a law was passed that required individuals and businesses to report all bank deposits greater than $10,000. It's a little known law, which means many small business have been running afoul with it. Since the intention of the law was to catch tax evaders you would think that these accidental violations would result in little more than a notice being sent to the offending businesses alerting them of the law's existence so they wouldn't violate it in the future. But the Internal Revenue Service (IRS), not surprisingly, has been following the letter of the law, not the intent:
While structuring is technically a crime, it's something of a secondary one. The reporting requirements were enacted to detect serious criminal activity, such as drug dealing and terrorism. They "were not put in place just so that the Government could enforce the reporting requirements," as the IG's report puts it.

But according to the report, that's exactly what happened at the IRS in recent years. The IRS pursued hundreds of cases from 2012 to 2015 on suspicion of structuring, but with no indications of connections to any criminal activity. Simply depositing cash in sums of less than $10,000 was all that it took to arouse agents' suspicions, leading to the eventual seizure and forfeiture of millions of dollars in cash from people not otherwise suspected of criminal activity.

The IG took a random sample of 278 IRS forfeiture actions in cases where structuring was the primary basis for seizure. The report found that in 91 percent of those cases, the individuals and business had obtained their money legally.
Structuring is the crime of breaking up bank deposits over $10,000 into multiple deposits under $10,000. That's right, breaking up larger deposits is a crime in the United States because of the "good intentions" of a few politicians.
But the IRS doesn't care what the intention of the law was, it only cares about the letter of the law. Instead of using the Bank Secrecy Act to pursue individuals and organizations trying to conceal illegal activities by breaking up larger bank deposits, the IRS has been pursuing individuals and organizations who have been performing perfectly legal activities. By doing this the IRS has managed to seize millions of dollars from innocent people.
Is there any reason why the IRS is despised by basically everybody? Is there any reason why libertarians flip out whenever a seemingly innocent law is passed?
I doubt the IRS will suffer any punishment for this since it was technically doing its job by enforcing the law. But this story should serve as a warning to people who often let the intention of a law cloud their judgement. When it comes to enforcement the intention of a law doesn't matter, only the letter.
A few police departments have finally started firing officers who have committed especially egregious acts. Is this a trend towards holding police accountable? Not so much. As I've mentioned before, the system has many redundant defenses against change. While a few police departments are finally stepping up to the plate, at least when it comes to the especially bad cases, the police unions are ensuring those few departments remain unsuccessful:
A St. Paul police officer fired for kicking an innocent bystander three times while a K-9 dragged him in circles should be allowed back on the force, an arbitrator has ruled.

The decision, dated April 3 and disclosed Wednesday, came on the same day that the St. Paul City Council voted to approve a record $2 million settlement with the man who was attacked, 53-year-old Frank A. Baker.
Police unions getting bad cops reinstated isn't new. In fact, police unions are one of the biggest roadblocks between police officers and accountability. No matter how heinous an officer's actions are, a police union will step in to protect them from meaningful discipline.
Is there any question about why I'm so cynical?
One of the more bizarre concepts in the United States legal system is that one can go to jail for providing a means for other people to commit crimes. Take Taylor Huddleston, for example. He was arrested because he wrote some tools used by malicious hackers:
The visitors were from the FBI, and after a 90-minute search of his house, they left with his computers, only to return two months later with handcuffs. Now free on bond, Huddleston, 26, is scheduled to appear in a federal courtroom in Alexandria, Virginia on Friday for arraignment on federal charges of conspiracy and aiding and abetting computer intrusions.

Huddleston, though, isn't a hacker. He's the author of a remote administration tool, or RAT, called NanoCore that happens to be popular with hackers. NanoCore has been linked to intrusions in at least 10 countries, including an attack on Middle Eastern energy firms in 2015, and a massive phishing campaign last August in which the perpetrators posed as major oil and gas company. As Huddleston sees it, he's a victim himself—hackers have been pirating his program for years and using it to commit crimes. But to the Justice Department, Huddleston is an accomplice to a spree of felonies.
Brian Krebs offered a bit more legal analysis than the Daily Beast article. If you're wondering why the Federal Bureau of Investigations (FBI) went after Huddleston for writing a remote administration tool and not, say, TeamViewer, it's because he advertised his product on a hacker forum:
Huddleston makes the case in Poulsen's story that there's a corporate-friendly double standard at work in the government's charges, noting that malicious hackers have used commercial remote administration tools like TeamViewer and VNC for years, but the FBI doesn't show up at their corporate headquarters with guns drawn.

But Nixon notes that RATs sold on Hackforums are extremely dangerous for the average person to use on his personal computer because there are past cases when RAT authors divert infected machines to their own botnet.
Now that you have the history of the case and the legal analysis, I'm going to provide the libertarian analysis.
Let's assume the FBI's accusation that Huddleston build a remote administration tool specifically for the malicious hacker market is true. Under libertarianism a crime doesn't exist unless a victim exists so who were Huddleston's victims? The people whose computers were hacked? While they were victims, they were victims of the malicious hackers, not Huddleston.
"But, Chris," I hear some statist exclaim, "he built a tool used by hackers?!" That doesn't matter. The existence of the tool itself is not a crime. A gun manufacturer isn't charged with conspiracy and aiding and abetting a murderer when one of its guns is used by a murderer. An automobile manufacturer isn't charged with conspiracy and aiding and abetting a bank robbery when one of its automobiles is used as a getaway car for a gang of bank robbers. So why are software tools treated differently?
I can hear our statist interrupting us again, "But, Chris, guns and automobiles have legitimate purposes! Hacker tools don't!" First of all, that's not true. Hacker tools have legitimate purposes. They're often used by penetration testers. Second of all, that doesn't matter. Every tool can be used for legitimate and illegitimate purposes. A gun can be used to defend an innocent life or to take one. An automobile can be used to drive to work or as a getaway vehicle for a crime. A remote administration tool can be used by a support technician to fix a user's problem remotely or to configure a computer for botnet activities. Tools have no morality, only users do.
Under the arbitrary legal system us denizens of the United States suffer, manufacturers of certain tools can be charged for aiding and abetting criminals who used those tools while manufacturers of other tools can't be. The only thing that determines whether a manufacturer can or can't be charged is the opinion of a body of politicians. If they believe that the tools you manufacture have legitimate purposes, you might enjoy legal protections. If not, you might find yourself being arrested by the FBI because somebody used one of the tools you made to commit a crime. Under libertarian principles, a person can only be charged with a crime when a victim can be directly tied to their actions. What I can't figure out is why most people seem to find an entirely arbitrary legal system more favorable than a consistent one.