Archive for the 'Your Government Doesn't Love You' tag
Facebook performed another purge. Amongst the disappeared were a number of anarchist groups:
Today Facebook deleted a variety of far-Right militia and Qanon accounts along with anarchist and antifascist pages, including It's Going Down and CrimethInc. The following is a joint statement in response.
This follows on the heels of Biden saying anarchists should be prosecuted and Trump taking a swipe at anarchists.
There's nothing surprising about these events. Anarchists are a threat to the very system that Biden and Trump depend on for power and Facebook is usually quick to demonstrate its loyalties to the political class by banning whatever they're criticizing at the moment. What is more fascinating to me are the anarchists who start going down the those aren't real anarchists wormhole. Shortly after Facebook finished its purge I started seeing a number of anarchists, mostly those who identify as voluntaryists, posts memes saying, "Real anarchy is," followed by any number of nonviolent but illegal or quasi-legal activities such as buying raw milk, homeschooling children, and dodging taxes. This is the same reaction I see whenever violence is attributed to anarchists by the mainstream media.
I take umbrage with this response for two reasons. My first reason is that it ignores a huge part of anarchist history. Anarchists have participated in revolutions, political assassinations, bombings, and other acts of violence. There is even a term amongst anarchists for such actions: propaganda of the deed. Anarchism shouldn't be treated as a single unified philosophy, but as a number of different philosophies that share the common cause of opposing statism.
The second reason I don't like this response is because it strikes me as pleading. Trump, Biden, and Facebook are not friends or allies to anarchists. Anarchists shouldn't give two shits what any of them say about anarchists. Anarchists should setup and use their own social media platforms if for no other reason than to avoid having all of their personal information handed over to law enforcers by Facebook, Twitter, and other social media household names. Instead of telling them to go pound sand, the anarchists making these statements are effectively saying, "Your criticisms are fair, but I want you to know that my friends and I are not like that. We're real anarchists! Please like us!"
When politicians or Silicon Valley companies say something disparaging about anarchists, I'd rather give them the finger than people who at least agree with me on a foundational level about the need to abolish government. I understand that an anarcho-communist is unlikely to agree with a vast majority of my individualist anarchist views, but I certainly have more common cause with them than I do with the likes of Trump, Biden, or Facebook.
Most people don't realize the power that the Bureau of Alcohol, Tobacco, Firearms, and Explosives (ATF) wields. The agency can make an arbitrary decision and it effectively becomes law. What makes this matter worse is that the agency isn't bound by previous decisions. It can (and frequently had) change its mind whenever it wants.
Case in point, the ATF previously decided that using an arm brace to shoulder a pistol was a felony. It later changed its mind. Now…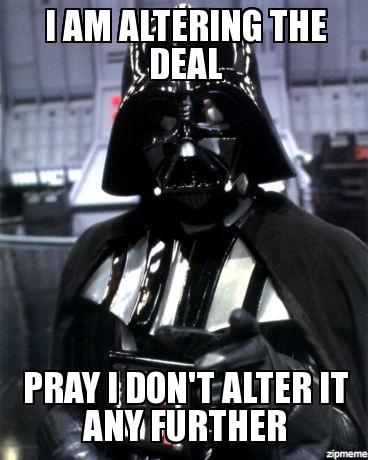 It sounds like the ATF is secretly (another problem with its ability to arbitrarily change its mind is that the process can happen behind closed doors) changing its mind about arm braces again:
Congressman Matt Gaetz announced today on his podcast the ATF is crafting secret rules restricting the possession of certain pistol braces by American citizens, and that he has sent them a letter demanding they stop.

"We understand that ATF is currently considering restricting one arm brace model owned by over 700,000 Americans," Congressman Gaetz writes along with six other members of Congress. "We strongly urge ATF to cease taking any actions and reconsider or rescind any secret determinations which call into question the legality of firearms owned by millions of law-abiding Americans."
If the ATF decides that possessing some or all arm braces is a felony, then possessing them becomes a felony. No bills have to be written, no laws have to be passed or signed. One day you own a perfectly legal firearm and the next you're a felon because you possess of a short barreled rifle. The only difference between the day that you became a felon and the day prior is that somebody in a government agency changed their mind.
A law enforcer killed a black man in Atlanta and is being charged. This has ruffled the feathers of many other law enforcers in the city and now they're coming down with the blue flu:
Hours after the Fulton County district attorney announced felony murder and other charges against the former Atlanta police officer who fatally shot Rayshard Brooks, a 27-year-old black man, in the back, a number of Atlanta police officers called in sick just before a shift change Wednesday evening.
A lot of people argue that nobody needs tools to protect themselves because if they're in danger, they can call the police. I along with many (probably most) other advocates for gun ownership have argued that you can't rely on other people to protect you. This argument often falls on deaf eras. Even when you point out that law enforcers have no duty to protect you, gun control advocates will argue that a cop isn't going to just stand by and let something bad happen to an innocent person.
The recent civil unrest that started in Minneapolis has done a wonderful job of illustrating that law enforcement departments can easily become overwhelmed and when they're overwhelmed they don't send resources to protect you or your business. Atlanta is now illustrating the fact that there are circumstances where law enforcers will refuse to show up for work. As with Minneapolis just a short while ago, it appears that the people of Atlanta are on their own.
This is why defense in depth is such an important concept. You want redundant self-defense plans in case any single plan fails. This is especially true if any of your plans rely on anybody but yourself to execute (the only person you can 100 percent rely on is yourself because that's the only person whose actions you can control).
Here's an idea for something you can do right now to help fight law enforcer brutality.
Stop calling the cops over stupid shit like your neighbor's grass being too tall, an individual openly carrying a firearm walking around and minding their own business, a voluntary transaction of cash for illicit drugs happening in a parking lot, or kids playing at a playground without parental supervision.
Interactions with law enforcers always carry the risk of turning violent. Reducing the number of interactions will reduce the number of opportunities for harmless activities turning into violent encounters.
Do your part, don't be a snitch.
Yesterday morning saw another unarmed black man added to the Minneapolis Police Department's (MPD) body count. In a surprisingly short period of time it was announced that four officers were fired from the department over the situation. However, that failed to assuage the masses who are all too familiar with the cycle of law enforcers being fired only to be reinstated after their union argues that the firing was unwarranted. During the evening the inevitable happened. Protesters made their feelings clear to the law enforcers.
The protest, which I followed courtesy of the live streamers at Unicorn Riot, was larger than previous protests against MPD's brutality. Eventually the protesters made their way to the Third Precinct in Minneapolis and went to town. The protesters surrounded the Third Precinct, tagged it with graffiti, smashed many of its windows, and messed up a couple of law enforcer vehicles. The evening festivities culminated with MPD reinforcements arrived and clashing with protesters for quite some time.
Not surprisingly online viewers were arguing about whether or not the protesters' were villains or heroes. I think that argument missed the most important point. The morality of the protesters' actions depends on your personal views, but what happened last night was inevitable.
MPD has a sordid history with unarmed black men dying in its custody. The decision makers in the MPD, City of Minneapolis, Hennepin County, State of Minnesota, and federal government have blocked any justice for the families of those killed by MPD. The officers involved seldom receive any meaningful punishment and are almost never charged with a crime. When they are charged, they are almost always found not guilty because the law give law enforcers, unlike the rest of us, tremendous leeway in the use of deadly force.
If you take away all forms of recourse that we like to consider civil, wronged individuals will eventually resort to violence. What happened in Minneapolis yesterday evening was the direct result of government personnel continuously protecting MPD officers from punishment for their wrongdoing. The fact that such a situation hadn't happened earlier is rather miraculous. Likewise, the fact that the situation wasn't far worse is also miraculous.
The truth is MPD was damn lucky. The protesters massively outnumbered the officers in the Third Precinct. They could have easily overrun the building and killed every officer inside. They didn't, but if the status quo with MPD continues, the next incident will likely be worse and eventually a spark will light the powder keg that is the city and a lot of people will die. I hope that last night's conflict puts enough fear into the decision makers to convince them that the status quo is no longer viable. Unfortunately, I doubt it did. It may take citywide rioting before the decision makers are finally scared enough to stop shielding MPD's officers from justice.
Late last week I pre-ordered the UBports Community Edition PinePhone. It's not ready for prime time yet. Neither of the cameras work and the battery life from what I've read is around four to five hours and there are few applications available at the moment. So why did I pre-order it? Because UBports has been improving rapidly, my iPhone is the last closed platform I run regularly (I keep one macOS machine running mostly so I can backup my iPhone to it), and open platforms may soon be our only option for secure communications:
Signal is warning that an anti-encryption bill circulating in Congress could force the private messaging app to pull out of the US market.

Since the start of the coronavirus pandemic, the free app, which offers end-to-end encryption, has seen a surge in traffic. But on Wednesday, the nonprofit behind the app published a blog post, raising the alarm around the EARN IT Act. "At a time when more people than ever are benefiting from these (encryption) protections, the EARN IT bill proposed by the Senate Judiciary Committee threatens to put them at risk," Signal developer Joshua Lund wrote in the post.
I used Signal as an example for this post, but in the future when (it's not a matter of if, it's a matter of when) the government legally mandates cryptographic back doors in consumer products (you know the law will have an exception for products sold to the government) it'll mean every secure communication application and platform will either have to no longer be made available in the United States or will have to insert a back door that allows government agents and anybody else who can crack the back door complete access to our data.
On an open platform such a Linux this isn't the end of the world. I can source both my operating system and my applications from anywhere. If secure communication applications are made illegal in the United States, I have the option of downloading and use an application made in a freer area or better yet developed anonymously (it's much harder to enforce these laws if the government can't identify and locate the developers). Closed platforms such as iOS and Android (although Android to a lesser extent since it still allows side loading of applications and you can download an image built off of the Android Open Source Project) require you to download software from their walled garden app stores. If Signal is no longer legally available in the United States, people running iOS and Android will no longer be able to use Signal because those apps will no longer be available in the respective United States app stores.
As the governments of the world continue to take our so-called civil rights behind a shed and unceremoniously put a bullet in their heads closed platforms will continue to become more of a liability. Open platforms on the other hand can be developed by anybody anywhere. They can even be developed anonymously (Bitcoin is probably the most successful example of a project whose initial developer remains anonymous), which makes it difficult for governments to put pressure on the developers to comply with laws.
If you want to ensure your ability to communicate securely in the future and you haven't already transitioned to open platforms, you should either begin your transition or at least begin to plan your transition. Not all of the pieces are ready yet. Smartphones remain one area where open platforms are lagging behind, but there is a roadmap available so you can at least begin planning a move towards open an smartphone (and at $150 the PinePhone is a pretty low risk platform to try).
St. George Carlin once said, "Rights aren't rights if someone can take them away. They're privileges. That's all we've ever had in this country, is a bill of temporary privileges. And if you read the news even badly, you know that every year the list gets shorter and shorter." While our temporary privileges are in a constant state of erosion, they seem to erode the fastest during emergency situations. During this COVID-19 outbreak we've seen our rights erode even faster than they did immediately after the 9/11 attacks. Now you can't even leave your home without permission:
Citations for violating Gov. Tiim Walz' orders to stay at home and halt business operations have started trickling in across the state, including a few in the metro area.

As of Monday, eight people were charged with violating the emergency orders. The orders require bars and restaurants to halt dine-in services as well as having residents largely stay at home. Violating the order is a misdemeanor with a fine of up to $1,000 or 90 days in jail.
I'm not going to discuss the danger of COVID-19 because it's irrelevant. Instead I'm going to argue that no matter how dangerous COVID-19 is, fascism is more dangerous.
What we've seen in the last few weeks is most major governments in the world descend further into fascist ideology. This descent has been happening with alarming speed here in the United States. Not only is a majority of the population under a stay at home order imprisoned in their homes, but the national borders are closed, some state borders are being closed, passports aren't being issued or renewed, the federal government is telling private companies what to produce, and the Federal Reserve is considering buying stakes in private companies. And this is just the United States. Other countries are following suit. For example, France is nationalizing businesses and Spain is nationalizing private hospitals. Disregard the claims of the nationalizations being temporary. In the government thesaurus temporary is a synonym for permanent.
So we now need permission to leave our homes, the borders are closed, nobody can get papers to travel outside of the country, and private businesses are being controlled by the state. This is a recipe for bad times to come, because these are all planks in the ideology of fascism. Anybody who had read even a base level of history of the consequences of fascism should be aware that the death toll was higher than even the most bleak COVID-19 projections. Moreover, people living under fascist regimes were in a constant state of anxiety because they could disappear at any moment for the transgression of angering a random government goon… or a neighbor.
The world is moving in a dangerous direction and COVID-19 is the emergency being exploited to justify it. If people continue to accept their governments grabbing for more and more power, they will soon wake up to a world far more dangerous and frightening than one where nobody took any precautions against COVID-19. Unfortunately, I know most of the world will ignore this warning because the majority of people are more scared of the threat they see than the threat they don't see.
If COVID-19 has accomplished nothing else positive, it has been doing a wonderful job of illustrating the fragile nature of the centrally planned system under which we suffer.
At the tail end of last year the City of Minneapolis, for the good of Mother Gaia, required stores to charge a nickle for every plastic bag. This policy was put into place to encourage people to use reusable bags. Now many stores are banning reusable bags because they can spread disease.
The City of Minneapolis has also been waging a war against personally owned automobiles. I guess when you spend over $2 billion on trains you really want people to use them. But cramming a bunch of people into a small train car or bus is an ideal environment for a spreading contagion. To mitigate this problem, Metro Transit has asked people to avoid getting onto buses and train cars with 10 or more passengers. Oh, did I mention that Metro Transit also reduced service and suspended it entirely between 11 p.m. and 4:30 a.m.? So don't wait too long for the next bus or train!
Another centralized system that is under a great deal of stress is, as you might guess, the unemployment application system. Some people in Minnesota who have applied for unemployment benefits aren't getting their checks and are unable to get a hold of anybody in the bureaucracy who can help them. To help alleviate the pressure, Minnesota is asking people to apply for unemployment benefits on specific days based on their social security number. Hopefully you don't need your benefits right away!
In addition to a stressed unemployment system, Minnesota is also facing a lack of intensive care beds. Perhaps the State of Minnesota shouldn't have put a moratorium on the construction of new hospitals into law.
These are just a handful of local examples. On a national scale the system is falling to pieces. The Federal Reserved has announced that it will print infinite money to alleviate the crisis brought on by national and state level economic shutdowns. Everybody will receive money, but they won't be able to buy anything with it for very long.
I'm going to start this post by quoting myself from yesterday:
It is also easy to see how the state was able to become more authoritarian as more and more people migrated into tightly packed cities (there's a reason the most authoritarian regimes tightly control travel) and as the state claimed monopoly powers over critical infrastructure such as electricity, power, and sanitation. If you live in a city, the very things you depend on to survive are likely entirely controlled by the state and that gives it literal power of life and death.
I think the universe may be conspiring to prove my point:
The mayor went on to announce the "business ambassadors program" — an effort to get nonessential businesses to close.

"This behavior is irresponsible and selfish," he said of those that remain open.

He said the Department of Water and Power will shut off services for the businesses that don't comply with the "safer at home" ordinance.
If you ask a random Joe on the street why the state usually claims a monopoly on providing utilities like power and water, the odds are extremely good that they will claim that those things are natural monopolies. It's a bullshit claim because natural monopolies don't exist. The real reason the state claims a monopoly on those things is because those things provide it tremendous power. A lack of power and water will cripple most businesses (and residences) this day and age.
Remember Minneapolis's Hooverville? As usual the overlords of the city wanted to sweep their homeless problem under the rug but were hampered by the fact that the media was giving heavy coverage to the camp. So instead of the usual tactic of sending the police in under the auspice of "public health" to breakup the camp, Minneapolis's overlords had to go through the work of setting up a homeless shelter. Now that the media coverage has subsided, the homeless individuals who were brought to the shelter are being kicked to the curb:
On Monday, officials in Minneapolis capped a yearlong effort to clear the state's biggest homeless encampment by closing the temporary emergency shelter on Cedar Avenue, where they had forced residents of the camp to move roughly five months ago.
Won't this result in another Hooverville popping up? Of course it will and the city official know that:
Officials are aware of plans for another tent settlement this year and are working on a plan for responding to it.
I'm betting the plan involves nipping the Hooverville in the bud before it gets national coverage. Nobody involved in the Minneapolis government wants a repeat of last year's embarrassment (which wasn't the existence of the Hooverville but the media coverage that prevented the government from sending in law enforcers to confiscate the tents and crack some homeless skulls in the hopes of convincing them to go be homeless somewhere else).