Much of the Middle East is currently engaged in a war with a government that has a penchant for broadcasting videos of a guy talking while masked men stand behind him looking all serious. While the location makes it obvious that I'm talking about the Islamic State of Iraq and the Levant (ISIS), the description of the organization alone would apply equally to the Lake County Sheriff's Department:
Florida Sheriff Peyton Grinnell has a no-nonsense take on handling America's heroin epidemic.

In a widely-shared video posted on the sheriff's Facebook page, Grinnell appears at a lectern, flanked by the rest of Lake County's "community engagement unit" — four Kevlar-clad deputies in face masks.
Here's an image of Sheriff Peyton Grinnell and his gang of merry men: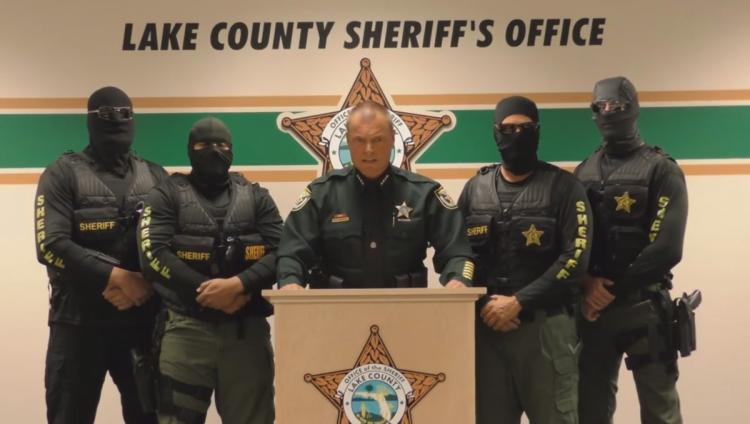 Tell me, without the badges and word "Sheriff" plastered on their uniforms, would you be able to tell the difference between them and ISIS? I'd certainly be hard pressed to do so.
The reason ISIS uses this kind of imagery is because it's intimidating, which makes sense since that government's goal is to scare people into submission. Supposedly a sheriff's office is tasked with protecting and serving a community so why would one project an image of intimidation? Perhaps it's not interested in protecting and serving. Perhaps it's interesting in subjugation.