Archive for the 'Agora! Anarchy! Action!' tag
Facebook performed another purge. Amongst the disappeared were a number of anarchist groups:
Today Facebook deleted a variety of far-Right militia and Qanon accounts along with anarchist and antifascist pages, including It's Going Down and CrimethInc. The following is a joint statement in response.
This follows on the heels of Biden saying anarchists should be prosecuted and Trump taking a swipe at anarchists.
There's nothing surprising about these events. Anarchists are a threat to the very system that Biden and Trump depend on for power and Facebook is usually quick to demonstrate its loyalties to the political class by banning whatever they're criticizing at the moment. What is more fascinating to me are the anarchists who start going down the those aren't real anarchists wormhole. Shortly after Facebook finished its purge I started seeing a number of anarchists, mostly those who identify as voluntaryists, posts memes saying, "Real anarchy is," followed by any number of nonviolent but illegal or quasi-legal activities such as buying raw milk, homeschooling children, and dodging taxes. This is the same reaction I see whenever violence is attributed to anarchists by the mainstream media.
I take umbrage with this response for two reasons. My first reason is that it ignores a huge part of anarchist history. Anarchists have participated in revolutions, political assassinations, bombings, and other acts of violence. There is even a term amongst anarchists for such actions: propaganda of the deed. Anarchism shouldn't be treated as a single unified philosophy, but as a number of different philosophies that share the common cause of opposing statism.
The second reason I don't like this response is because it strikes me as pleading. Trump, Biden, and Facebook are not friends or allies to anarchists. Anarchists shouldn't give two shits what any of them say about anarchists. Anarchists should setup and use their own social media platforms if for no other reason than to avoid having all of their personal information handed over to law enforcers by Facebook, Twitter, and other social media household names. Instead of telling them to go pound sand, the anarchists making these statements are effectively saying, "Your criticisms are fair, but I want you to know that my friends and I are not like that. We're real anarchists! Please like us!"
When politicians or Silicon Valley companies say something disparaging about anarchists, I'd rather give them the finger than people who at least agree with me on a foundational level about the need to abolish government. I understand that an anarcho-communist is unlikely to agree with a vast majority of my individualist anarchist views, but I certainly have more common cause with them than I do with the likes of Trump, Biden, or Facebook.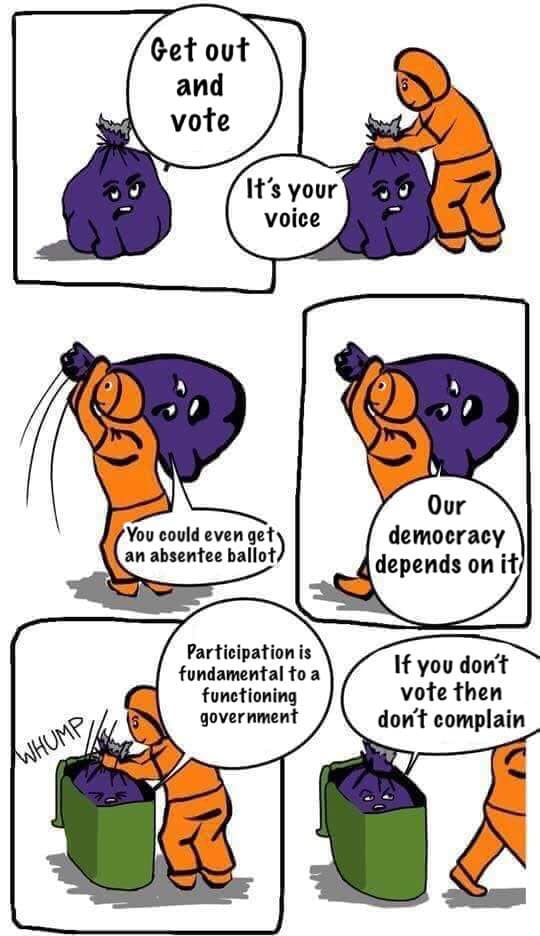 Unceremoniously stolen from the Agoristball Facebook page.
I initially hesitated to post this article because I didn't want to face a bunch of agorists crowding into my brilliant underground business plan but after considering how many vape shops existed before the Fascist Drug Administration (FDA) initiated its first crackdown (seriously, it's almost as if there were two on every street corner), I realized that there was plenty of room in the market for literally everybody. So if any agorists are looking for a hustle, the (FDA) may have an opportunity lined up for you:
The agency has hardly ignored the issue. It is reviewing more than a half million public comments as it mulls whether to restrict or even ban flavors in the liquid and is investigating youth marketing by Juul, which attracts young vapers with its nicotine-packed products, easily hidden USB size and alluring social media presence.
Vape juice is dead simple to make and the handful of ingredients necessary are dirt cheap. The process is so easy and the ingredients are so cheap that I never understood how vape shops remained in business. If the FDA outright banned flavored vape juice, it would create an underground market where anybody could play. Best of all, judging by the number of vape shops that used to exist, there is obviously a massive market.
I'm sure any "concerned individual" who reads this will think that I'm the devil incarnate because I'm openly advocating for the sale of a product that they view is the embodiment of all that is wrong with this world. But I don't care what a bunch of teetotalers think. Inhaling flavored vape juice isn't my thing but if somebody wants to do so, they should be free to do so. It's your body so you can put whatever you want into it.
I always thought that entering the black market would require selling drugs or guns. It turns out that I can just sell plastic straws:
A California coastal city has become the latest municipality to ban plastic straws, enacting what is potentially the strictest plastic prohibition in the country.

Santa Barbara earlier this month passed the ordinance authorizing hefty fines and even a possible jail sentence for violators who dole out plastic straws at restaurants, bars and other food establishments.
That lowers my initial capital costs significantly!
The City of Hamilton's bureaucrats have declared that the anarchy symbol is a hate symbol in the same league as the Nazi swastika:
The City of Hamilton has forced a local anarchist group to remove the circle A anarchy symbol from its headquarters, saying it is "hate material" similar to the swastika.

City officials say they're taking direction from Hamilton police on the issue, but police say that's not the case.
Since anarchists want to abolish government, I understand why a bunch of government parasites would find the anarchy symbol hateful.
When people bring up the topic of hate speech, I like to point out that hate is a subjective idea. This rankles a lot of people because the topic of hate is often emotionally charged and most individuals seem to believe that hate is an objectively provable thing. They also seem to believe that hate is objectively whatever they believe hate to be.
I don't consider the anarchy symbol to be a symbol of hate. In fact, I consider symbols of government to be symbols of hate. Am I right? That depends on whom you ask.
What I really want to know now is whether or not I as an anarchist qualify as an oppressed person in Hamilton.
Have you heard the news? Prohibitionism is trendy again! It shouldn't surprise anybody that alcohol has landed in the crosshairs of world governments again. After all, these governments have been waging a multiple decade war against every chemical substance that brings an ounce of joy to people's lives. The latest strike by neoprohibitionists is Scotland's decisions to set a minimum legal alcohol price:
It is the first country in the world to implement such a law, with the Scottish government believing its introduction will save lives.
The new legislation sets a 50 pence (approximately 70 cents) minimum price per unit of alcohol. Anyone licensed to serve alcohol in the country — in shops as well as bars and restaurants — will need to follow the new pricing laws.

One unit is 8 grams of alcohol, which in terms of drinks is equal to a 25-milliliter shot of 40% alcohol, such as whiskey, or 76 milliliters of wine at 13%. A standard 175 millileter glass of 14% wine in the UK is 2.4 units. In the United States, a standard drink is 14 grams of alcohol, equal to 148 millilters of table wine.
I can only assume that the politicians who passed this law are actually secret agorists. This law, like all forms of alcohol prohibition before it, will result in more alcohol business going underground.
Anybody who has researched Prohibition in the United States is well aware of the fact that alcohol didn't cease to exist during that era. Alcohol actually flourish. People made their own bathtub gin, built their own stills, brewed their own beer, opened speakeasies, and found other ways to get the alcohol they desired in spite of the law. A lot of gangsters made a literal fortune from bootlegged alcohol.
People don't stop consuming alcohol when a bunch of government busybodies decide to ban it or make it prohibitively expensive. If legal alcohol becomes too expensive, people opt for tax-free illegal alcohol instead.
Benjamin Franklin in Poor Richard's Almanack wrote, "Three may keep a Secret, if two of them are dead." This quote rings true time and time again. The most recent example is the legal mess surrounding the now shuttered website Backpage:
Carl Ferrer, the co-founder of Backpage, the notorious and now-shuttered site that once hosted a vast quantity of prostitution-related ads, has pleaded guilty to conspiracy and money laundering charges.

[…]

Ferrer agreed, in combined plea deals with both Texas and California authorities, where he faced outstanding charges, that he will shut down Backpage "throughout the world," will aid authorities in ongoing prosecutions of his co-conspirators, and will make all Backpage data available to authorities.
This outcome is very common in cases involving multiple suspects. The first suspect to offer their services as a snitch against the others is usually handed a sweetheart deal.
Benjamin Franklin's point should be taken to heart by anybody performing illegal activities. For example, if you're an agorist who is selling cannabis, you probably don't want to enter a partnership with another cannabis dealer. You can't control the actions of another person. Even if you take every precaution to avoid being caught by the authorities, you can't guarantee that a partner will do the same. And if their mistake causes them to be arrested, there's a good chance that they'll offer you up in exchange for a sweetheart deal.
When people think of the counter-economic strategy advocated by Samuel Edward Konkin III they usually think about it in terms of toppling the State. While Agorism as a strategy can be useful for wounding the State I think its greatest feature is the establishment of enterprises divorced from the State.
So-called legitimate businesses are more often than not coupled to the State. Consider all of the technology companies that reside in the United States. The rely heavily on the State to defend their intellectual property. Patents and copyrights are an American technology company's bread and butter. Without the State to subsidize defending their intellectual property, technology companies would find themselves facing an even vaster sea of competition than they already do on the international market.
Above ground agricultural enterprises, likewise, have become dependent on the State. Without the State's crop and livestock subsidies many agricultural enterprises would likely collapse.
Statism isn't a permanent condition. There isn't a single chunk of land on this planet that has been ruled by the same state for all of human history. States come and go and with them the enterprises that rely on them. Agorist enterprises, however, can survive the collapse of states because they were never reliant on states to begin with. If anything, the collapse of a state will benefit an Agorist business.
Agorist enterprises can ensure goods and services continue to be provided when a state inevitably collapses. That is probably a greater overall contribution than its ability to injure states through counter-economics.
There is a belief among statists that laws can prevent undesirable behavior. But statists have been passing laws for thousands of year, which is the same amount of time that other people have been ignoring them. Any law that is found to be inconvenient is ignored or bypassed:
But in an effort to cut down on the drunken mayhem, the town imposed a public drinking ban over the holiday—a law that apparently didn't stop a few crafty, determined drinkers from setting up their own boozy sanctuary off the coast.

According to the BBC, the group spent Sunday building a makeshift private island off the Coromandel Peninsula, constructed out of sand, seashells, and a few wooden planks. The revelers set it up at low tide, and dragged out a picnic table and a cooler so they could get blasted out on "international waters," see some fireworks, and stay away from the cops.
Sometimes I think nobody learned from Prohibition. The government of the United States went so far as to amend its constitution to prohibit alcohol throughout the country and yet people continued to manufacturer, trade, and consume alcohol. The United States' War on (Some) Drugs is yet another example of undesirable laws being ignored. In fact the desire to ignore drug prohibitions is so strong that many individual states have announced that they're no longer bothering to enforce them for cannabis. And why should they? While cannabis may be illegal people are still using it.
Prohibiting an activity doesn't make that activity go away. At most it pushes that activity underground. But oftentimes a prohibition is blatantly ignored as is the case with these heroes who went so far as to construct a small sandbar in international waters.
I'm glad to see that other people are beginning to understand the need to decentralized the Internet:
Net neutrality as a principle of the federal government will soon be dead, but the protections are wildly popular among the American people and are integral to the internet as we know it. Rather than putting such a core tenet of the internet in the hands of politicians, whose whims and interests change with their donors, net neutrality must be protected by a populist revolution in the ownership of internet infrastructure and networks.

In short, we must end our reliance on big telecom monopolies and build decentralized, affordable, locally owned internet infrastructure. The great news is this is currently possible in most parts of the United States.
I've been saying this for years. If you want a feature like net neutrality, you have to control the infrastructure. Personally, I'd like to see a decentralized Internet that encrypts all traffic by default for both confidentiality and anonymity purposes. What people are calling net neutrality would be enforced by default on such a network because nobody could see the traffic to throttle or block it. However, it would come at a performance cost (TANSTAAFL).
One thing is certain, begging the Federal Communications Commission Fascist Communications Club (FCC) to enforce net neutrality isn't a longterm solution as we're seeing today. Under the Obama administration net neutrality was enforced by the FCC. Under the Trump administration it looks like it won't be enforced. When the next administration comes into power it could go either way. Begging Congress isn't any better because what one Congress passes a future Congress can eliminate.