Archive for the 'Things Having Nothing to do with Anything' tag
If anybody is still checking this feed, I want to let you know that I finally escaped the Twin Cities region. The misses and I bought a house on a few acres of land out in the country. While I wouldn't necessarily advise buying a house at the moment (with the way things are going you'll probably get some stellar deals in a few months if you're willing to buy during a time of major economic uncertainty), the housing and land prices out in the country aren't nearly as insane as they are in the metro area.
The only downside is that my Internet is much slower. Since this site is still hosting on a server in my home, the site's performance will probably be terrible, but I'm not making any money off of this site so I don't really care. With that said, that single trade-off is well worth all of the benefits (especially if shit keeps going downhill, I don't really want to deal with civil unrest in a major metropolitan area).
Now that my biggest project is crossed off of the list, I hope to get back to writing more frequently.
Yesterday news broke that "Mean" Gene Okerlund died. Okerlund had one of my dream jobs. In the absurdity that is professional wrestling he played the straight man. If a coked out man in a flamboyant costume said something batshit insane he wouldn't bat and eye and would continue his interview as if he were interviewing the CEO of a company. I'd say he managed to do what many people don't, he lived an interesting and entertaining life.
For those of us living in the United States, today is Thanksgiving. It's supposed to be a holiday where reflect what we're thankful for. So in the spirit of the holiday I will note that I'm thankful for the fact that scientists have made the single most important discovery in human history:
Scientists say they have uncovered how and why wombats produce cube-shaped poo – the only known species to do so.
The fact that people were paid to research this just proves that I'm in the wrong line of work.
I'm assuming these bombs that everybody is taking about are newsworthy because they were mailed instead of launch from a drone.
A bunch of conservatives threw a tantrum because Nike chose an individual who failed to stand during prayers to skycloth as its mascot. While a bunch of triggered snowflakes cutting up their socks and burning their shoes is mildly entertaining, this has the potential to be extremely entertaining:
Ford, (F)a sponsor of the National Football League, has voiced support for NFL players exercising their right to free speech and peaceful protest after President Donald Trump urged fans to consider a boycott.

"We respect individuals' rights to express their views, even if they are not ones we share," the company said on Monday. "That's part of what makes America great."
Queue a bunch of triggered conservatives burning their Ford F-150s.
Yeah, I know it won't happen. Virtue signalling only goes so far. Some people may be willing to cut up a $10 pair of socks or even burn an old pair of shoes to demonstrate their virtuousness, but few are willing to destroy a vehicle worth tens of thousands of dollars to show the world how much they love the skycloth.
Nike announced its new mascot, Colin Kaepernick. Since Kaepernick made a name for himself by failing to stand during prayers to skycloth, a lot of conservatives are upset with Nike and have chosen to make Nike feel their impotent rage:
Following the announcement, the hashtags #BoycottNike and #JustBurnIt started trending on Twitter and shares started falling. Some angry consumers even posted photos and videos of themselves burning their Nike shoes and other gear to protest the company using the divisive figure in its 30th anniversary ad campaign.
I ask you this, is there a more useless way to protest a company than destroying your own property? I can't think of one. If you purchase a pair of Nike shoes and later burned them, it doesn't hurt Nike one bit, the company already has your money.
With that said, I am glad that Nike chose Kaepernick as its mascot, not because I feel that a backup quarterback best represents the company but because the memes that have sprung forth have been solid gold! This one is my favorite so far: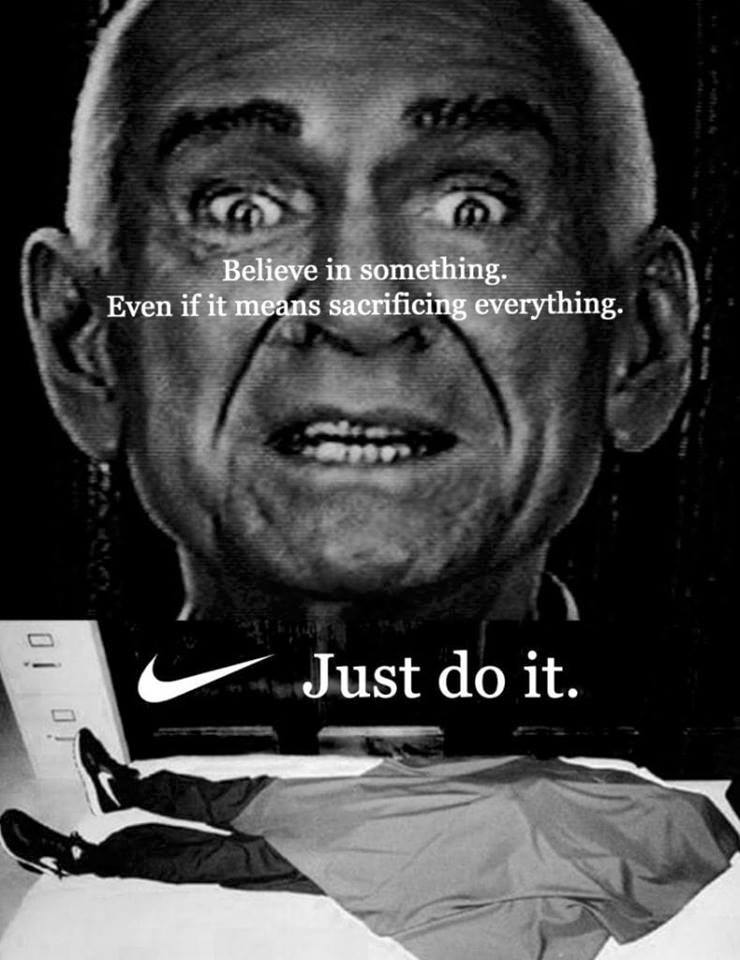 When an organization is named People for the Ethical Treatment of Animals (PETA) you might make the mistaken of assuming that it is an organization that focuses on fighting animals abusers, not how fictional animals are portrayed on a bag of snacks:
(AP) — After more than a century behind bars, the beasts on boxes of animal crackers are roaming free.

Mondelez International, the parent company of Nabisco, has redesigned the packaging of its Barnum's Animals crackers in response to pressure from People for the Ethical Treatment of Animals.

PETA, which has been protesting the use of animals in circuses for more than 30 years, wrote a letter to Mondelez in the spring of 2016 calling for a redesign.
Far be it for me to tell others what battle are or aren't important but the fictional conditions of fictional animals that represent what you're about to bite the head off of (because all normal people start by biting the head off of animal crackers) seems pretty insignificant to me.
One of the "wonders" of the modern United States is that you can just say any old shit and get away with it:
Bonafide patriot woman and "Fox & Friends" middle-seat host Ainsley Earhardt made an oopsie during a Thursday morning rallying cry for America when she made reference to the never-existent "communist Japan."

[…]

"You know, we defeated communist Japan, radical Islamists. We ask our men and women to go overseas to fight for our country and sacrifice so much for our country so we can be the land of the free, the land of the brave," the host said.
This is an example of a very prevalent phenomenon here in the United States, and from what I've seen the rest of the world, where people feel free to talk authoritatively about shit they know nothing about.
I'm currently reading a book on the history of Japan from the Meiji Restoration to modern times. I just got to the beginning of World War II. Although I was vaguely familiar with this aspect of Japanese history, after reading the chapters dealing with the 1920s through the 1930s I now understand just how anti-communist the Japanese government was at that time (and that attitude didn't stop in the 1940s). This doesn't surprise me since the Japanese government at the time was strongly focused on the emperor and communists hate emperors (the name specifically, they prefer the term chairman or premier).
Now that I've read that part of the book and have familiarity with the topic, I won't shy away from talking about it. However, before that I would have shied away from talking about the Japanese government at that time because I wasn't very familiar with it and I try to avoid talking authoritatively about things that I'm not familiar with. I also feel that I'm in the minority when it comes to that.
Spotify announced that it was going to implement a conduct policy, which would punish musicians who behaved poorly. Spotify is now backing away from that decision:
That didn't take long. After Spotify CEO Daniel Ek said it was working with civil rights groups and folks within the music industry to retool its "bad behavior" framework this week, the streaming service has scrapped it wholesale. "While we believe our intentions were good, the language was too vague, we created confusion and concern, and didn't spend enough time getting input from our own team and key partners before sharing new guidelines," a statement from the company reads.
When your business model is build on selling products produced by a group of individuals who have a higher than average tendency to act outlandishly in public, having a content policy is bad for business. Your customers aren't going to be happy with your service when you remove their favorite artist's discography after they were involved in a hookers and blow party that ended in a hotel burning to the ground.
Facebook has had a rough year. As a service with over two billion active users, it has been receiving a constant stream of mutually exclusive demands. Unfortunately, there is no way to please everybody when they want mutually exclusive things. For example, a lot of Facebook's users want the service to be a place that upholds the ideals of free speech while a lot of its other users want the service to regulate various forms of speech.
Facebook responded to these demands by enforcing "community standards." However, its enforcement of these "community standards" have seemed arbitrary because they've never actually been published. But the age of being punished for violating a secret set of rules is over. Facebook has finally publishing its community standards:
Facebook has released a lengthy 22-point document that explains more fully what its "community standards" are—in short, what is and isn't allowed on the platform.
Now that the age of being punished for violating a secret set of rules is over, the age of having to interpret the published rules can being!
There is no winning condition when it comes to community rules. If you enforce a secret set of rules, your users become upset because they feel arbitrarily punished. If you enforce a public set of rules, your users still become upset because they feel arbitrarily punished whenever their interpretation of the rules differs from an enforcer's interpretation.
Anybody who has had the task of enforcing rules in a community knows that the devil is in the details. A rule that states, "racism is prohibited," may seem straight forward but it's not. Race isn't a concrete idea. Americans generally tie race to external appearances. Judaism, for example, wouldn't normally be considered a race by American standards. However, Judaism is considered a race by Nazism. If somebody posts something anti-Semitic, does the rule against racism apply? If you decide it does and ban the user, they will likely argue that the rule doesn't apply because Judaism isn't a race, it's a religion. Simple enough, just create a rule against religious discrimination, right? Discrimination, like race, also lacks a concrete definition. For example, if I call Christianity barbaric because most sects of Christianity oppose same-sex marriage, am I being discriminatory? Some may interpret my statement as discriminatory, others may interpret my statement to be a valid criticism.
There is no way to satisfy 2.2 billion users. For most communities, being unable to satisfy everybody usually leads to a healthy split. For a service like Facebook that relies on having billions of users to make itself appealing to advertisement buyers, a community split is dangerous. However, it is also unavoidable because there is literally no way to win.