Archive for the 'Gun Rights' tag
While politicians in Washington DC have been discussing gun control, denizens on the Internet have been busy evolving the 3D printed handgun. The WASHBEAR is a newly released 3D printed .22LR revolver: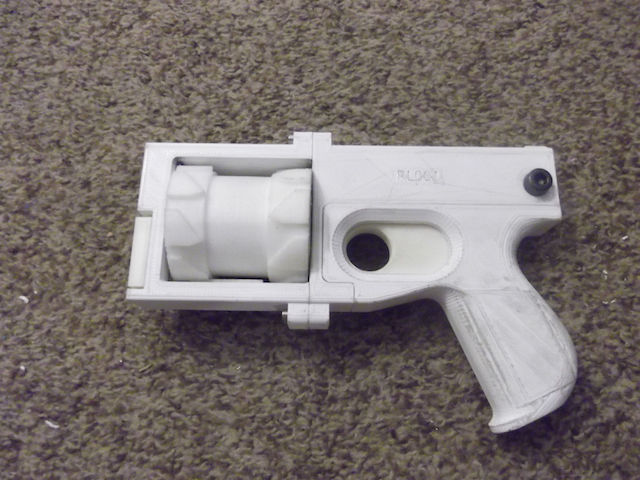 It looks very similar to numerous Nerf guns. Like the Pepperbox handgun created by Hexen, the WASHBEAR has steel sleeves inserted into the chambers to reduce stress on the plastic. While this means that the entire gun isn't 3D printable, steel inserts can be had at any hardware store.
Politicians and advocates of gun control can continue wasting their time but the truth is gun control is a fantasy. Granted, it has always been a fantasy but now we're at the point where a person with even modest means can acquire everything necessary to build firearms. Gun control is dead. Technology killed it.
The governments of the countries in the European Union aren't known for their respect of gun rights. It seems like most of them would prefer if their citizens were completely disarmed. There is one exception though. The Czech Republic. While other governments in the European Union have been steadily disarming their citizens the government of the Czech Republic has been slowly expanding the gun rights of its citizens:
The lower house of the Czech parliament has agreed to alter the constitution so that firearms can be held legally when national security is threatened.

The amendment gives Czechs the right to use firearms during terrorist attacks.

It was passed by the lower house by a big majority, and is likewise expected to be approved by the upper house.

The move by parliament is a challenge to EU gun control rules which restrict civilians from possessing certain kinds of semi-automatic weapons.
While allowing firearms to be held legally when national security is threatened is such a vague standard that it could turn out to be useless, it's a step in the right direction. It's also nice to see some politicians realize that the solution to decentralized attackers is decentralized force.
Asymmetrical warfare is notable, in part, by the fact that there is no front line. Soldiers amassed on a border are fairly useless when the opposition is infiltrating individual fighters behind your front lines to commit isolated attacks. Under such circumstances the only solution is to have a good number of armed individuals behind enemy lines that aren't easily identifiable by the infiltrating attackers (if they are easily identifiable, the infiltrators will be able to identify them and avoid them). While having a good number of armed unidentified individuals won't necessarily dissuade the infiltrator, it will greatly reduce the time it takes for force to be brought against them, which can cut down the number of people they can kill.
The National Rifle Association (NRA) has a history of supporting gun rights when its convenient but throwing gun rights under the buss when its politically expedient. That being the case, it probably came as no surprise that the organization expressed support for legal restrictions on bump stocks:
The National Rifle Association has called for "additional regulations" on bump-stocks, a rapid fire device used by the Las Vegas massacre gunman.

The group said: "Devices designed to allow semi-automatic rifles to function like fully-automatic rifles should be subject to additional regulations."
It would have been nice if the NRA would have at least waited until the fight began before capitulating. Not surprisingly, the Republicans have expressed a willingness to implement such a restriction. Despite their rhetoric, like the NRA, Republicans have a tendency to support gun control whenever opposing it becomes politically inconvenient.
Defense Distributed, Cody Wilson's enterprise that proves the fallacy of gun control, released the Ghost Gunner, a computer numerically controlled (CNC) machine that specializes in milling AR-15 lower receivers, to the chagrin of gun control advocates. The Ghost Gunner made it simple for individuals with relatively little skill to manufacture an AR-15 lower receiver, the part of the gun that is serialized and therefore regulated. Now Defense Distributed has entered the handgun market:
Today, that scope widens: Wilson and Defense Distributed are now in the handgun business, too.

Defense Distributed will offer two of the most common handgun "80 percent" receivers—for Glocks and single-stack M1911s—for interested customers to complete using the Ghost Gunner. "What we've done for ARs we're going to do for handguns now," Wilson tells Ars. Defense Distributed's store now carries new fixtures, frames, and tooling to create these two handguns, in addition to its previously offered AR-15 lower receivers and jig sets.
Building a firearm isn't rocket science. Anybody with basic machining knowledge and competency in firearm design can do it. This fact has always made gun control a pipe dream. But as technology improves so does the ease of manufacturing. CNC machines reduced the machining knowledge necessary to manufacture a great many goods, which made controlling those goods even less feasible.
I'm sure gun control advocates will demand that the Ghost Gunner be prohibited but it's nothing more than a specialized CNC machine and there is no way gun control advocates are going to get CNC machines banned. Likewise, CNC machines will continue to drop in price and increase in capabilities. In a few years it will be easy to pick up a general CNC machines that is as affordable as the Ghost Gunner and even more capable.
Gun control is effectively dead. Technology killed it just as it ultimately kills all restrictions.
Many gun control advocates believe that access control technology should be mandatory on every firearm. The fact that reliable access control technology doesn't exist is actually part of their strategy since it would act as a de facto gun prohibition. However, the technology does current exist in an unreliable form, which I would argue is as useless as not having access control technology at all:
At the Defcon hacker conference later this week, a hacker who goes by the pseudonym Plore plans to show off a series of critical vulnerabilities he found in the Armatix IP1, a smart gun whose German manufacturer Armatix has claimed its electronic security measures will "usher in a new era of gun safety." Plore discovered, and demonstrated to WIRED at a remote Colorado firing range, that he could hack the gun with a disturbing variety of techniques, all captured in the video above.

[…]

But Plore showed that he can extend the range of the watch's radio signal, allowing anyone to fire the gun when it's more than ten feet away. He can jam the gun's radio signals to prevent its owner from firing it—even when the watch is inches away and connected. And most disturbingly, he can mechanically disable the gun's locking mechanism by placing some cheap magnets alongside its barrel, firing the gun at will even when the watch is completely absent.
What good is access control technology if it can be easily used to prevent authorized users from using it and fail to prevent unauthorized users from using it?
As I said above, supporters of mandatory firearm access control technology know that the technology currently doesn't exist in a reliable form and likely won't for a very long time. To them it's just a way to prohibit gun ownership. But there is also legitimate interest in the technology and, unfortunately, it will likely go unfulfilled because of several factors.
The first factor is size. A firearm, especially a handgun, doesn't offer a lot of room to add reliable access control mechanisms. The second factor is how a firearm operates. A firearm has to contain a small explosion to propel a piece of lead out of a barrel. On modern firearms the firearm then has to have a way to reliably remove the brass casing that held the explosive material and bullet. Reliably removing the brass casing on a semi-automatic firearm usually requires a pretty violent mechanism. So you have a device that is designed around contained explosions and often violent operating mechanisms. It's not an environment that's conducive to finicky and fragile parts, which mechanical access control technology, especially of the form that can fit into a firearm, generally involves. The third factor is legal. New Jersey, for example, has a law that will mandate access control technology on all firearms as soon as one firearm is released to market with it. Firearm manufacturers aren't in a hurry to kick that requirement into play because it would upset their customer base (while access control technology may be desirable by some it's not desirable by all).
I'm glad Plore demonstrated how ineffective the Armatix gun's access control mechanism is. There are few things I hate more than unreliable or falsely advertised features on devices. If a gun advertises itself as having access control technology then I want it to work reliably. The Armatix solution obviously doesn't work reliably and buyers should be aware of that so they can give their money to somebody else.
I, unlike some gun owners, actually believe that gun ownership is a right that should be exercisable by everybody, which is why I was happy to read this story:
Up to 59 percent of African-American households now view owning a gun as a "necessity," according to a recent study from the Pew Research Center released this month, and African-American women have outpaced all other races and genders in terms of securing concealed carry permits in Texas between 2000 and 2016, according to demographic information released by the state. It wasn't always this way — as recently as 2012, Pew had found that less than a third of black families saw gun ownership as a positive. Philip Smith, the founder of the National African American Gun Association, says that politics — and police shootings such as the recent slaying of Philando Castile — have caused the sudden upswing in gun ownership. And, in his opinion, owning a gun is perhaps the only way that African-American men and women can truly protect themselves.
Unless one is willing to ignore a lot of data, it's difficult to claim that law enforcers here in the United States aren't disproportionately targeting blacks (both for arrests and summary executions). Likewise, it's difficult to argue that racists aren't acting more boldly. Those two points should make any black individual consider owning a firearm.
Laws are an ineffective way of dealing with violent crime. But the cost of committing violent crime, by both governmental and non-governmental criminals, can be increased, which is a far more effective deterrent than words on a piece of paper. Minority groups are generally targeted because they're at a significant disadvantage compared to their aggressors. Blacks in the United States are a minority population and therefore are seen as an easy target by some. The Black Panthers knew this and armed themselves to make themselves a costlier target to aggress against. Anybody who is in a minority population today; whether it be due to their skin color, religious beliefs, sexual orientation, or sexual identity; should consider making themselves harder targets by arming themselves to dissuade aggressors. While a law won't protect you and a police officer may kill you, a firearm will do what you will it to do and is therefore the best defense one can have against aggression.
The Dark Web, which is a sinister sounding label given to hidden services usually available through Tor or I2P, has become a major thorn in the side of the State. By combining technologies that allow users to interact anonymously with cryptocurrencies that allow transactions to be complete anonymously, the Dark Web has established a peaceful marketplace for goods and services declared illegal by the State. For example, a recent study, which is likely bullshit but I digress, found that the Dark Web has allowed people in repressive countries to acquire firearms:
Another revelation is that the weapons available are far newer, and are of a far higher quality, than would have been available on the analog black market. As New Scientist points out, "lax gun laws in the US are undermining stricter rules elsewhere," especially in Europe. In addition to guns and ammunition, people can buy tutorials explaining how to make bombs or convert or reactivate replica and deactivated firearms.
What they really should have said is that lax gun laws in the US are undermining efforts to more thoroughly disarm serfs elsewhere. And, of course, the article should point out that those tutorials explaining how to make bombs can be found in even basic chemistry books (fun fact, making bombs is little more than combining chemistry with a small amount of mechanical or electronic engineering).
Of course, the article tries to drum up fear of the Dark Web by saying that, queue the sinister music, terrorists are using it to acquire weapons. They can only point to a single incident of this happening but facts are unimportant when writing propaganda. The point is that you're supposed to be scared of the Dark Web and be thankful to your government for defending you against it even though, at least if you live in the United States, your government is one of the biggest arms dealers to terrorist organizations in the world. Moreover, the effectiveness of terrorist attacks is reduced if the population they're targeted at is able to defend itself. Since the Dark Web enables people living in repressive regimes, such as many of the countries in Europe, to arm themselves in spite of the law it is actually offers to increase the cost of perpetrating terrorist attacks against civilian populations.
We should all take a moment to thank the Dark Web for its effectiveness against gun control and for offering a mechanism to make it costlier for terrorists to perpetrate attacks against civilian populations.
Yesterday I was involved in a rather lengthy debate on gun rights. The debate started, as many debates surrounding gun rights currently start, with the shooting of Philando Castile and the National Rifle Association's (NRA) almost complete lack of comment on the matter until very recently (which was, to put it generously, a very lukewarm comment).
As the debate went on the fact that Castile had tetrahydrocannabinol (THC) in his system, which indicates that he had used cannabis prior to being pulled over, came up. A few individuals were saying that Castile's permit was invalid because he was illegally using cannabis while the other side was pointing out that the NRA should have been raising Cain over the fact that a carry permit can be revoked over using cannabis. That sparked a debate over whether or not the NRA should stick strictly to guns or venture into areas that intersect with guns as well.
This probably won't surprise anybody but I'm of the opinion that the battle for gun rights cannot be won by focusing strictly on gun issues alone. Whenever the gun issue intersects with another issue gun rights advocates should get involved. I believe this because the issues that intersect with gun rights but are necessarily strictly related to gun rights are currently being used to expand an already massive backdoor confiscation system.
Outside of a few states like California and New York there isn't a lot of push for legal firearm confiscation programs. There are pushes for prohibitions against purchasing firearms with certain features but, with the exception of California, these pushes have all grandfathered in currently owned firearms. However, there is a mechanism already in place that allows the State to both confiscate currently owned firearms and prohibit individuals from owning firearms again. That mechanism is expanding the number of laws otherwise unrelated to guns that prohibit gun ownership.
For example, users of prohibited drugs cannot own firearms. Felons, including nonviolent felons, cannot own firearms. The latter is especially concerning when you consider that the average working professional commits three felonies a day. If you're a working professional you're likely committing a few felony crimes unknowingly. Confiscating your firearms would only require a prosecutor to bring charges against you and prove your guilt in a court. On the surface most of those felony crimes are entirely unrelated to guns yet they can be used as a backdoor confiscation mechanism.
Therein lies the problem with sticking strictly to the gun issue. So long as gun rights advocates and organizations are unwilling to involve themselves in issues that intersect with firearm ownership they will leave the biggest gun confiscation mechanism untouched and gun control advocates will continue to expand the number of crimes that revoke gun ownership privileges.
Pop quiz. Who said, "I love a man in uniform?" The answer is… the National Rifle Association (NRA). The NRA makes no secret about having a fetish for cops. However, its worship of law enforcers puts it at odds with guns rights:
This is about par for the course for the NRA. This is the group that claims to be the only thing preventing the government from obliterating the Second Amendment, yet they're noticeably quiet about the people doing the most violence to the Second Amendment — the armed, badge-wearing government employees we call law enforcement officers. For all the NRA's dire warnings about government gun confiscation, the real, tangible threat to gun-owning Americans today comes not from gun-grabbing bureaucrats but from door-bashing law enforcement officers who think they're at war — who are too often trained to view the people they serve not as citizens with rights but as potential threats. Here, the NRA just doesn't want to get involved.

[…]

In short, the NRA seems to think we're at risk of creeping tyranny and abuse of power from all sectors of government except from the men and women armed, badged and entrusted with the power to kill. That's a problem, because if armed agents who enforce the laws on the ground aren't required to respect our rights, our rights don't really exist.
Gun rights activists often forget that politicians are only a minor part of the problem. Politicians write words on paper and declare those words law but law enforcers are the ones who actually enforce those words. If law enforcers refused to enforce laws then it wouldn't matter what the politicians declared to be law because there would be no consequences for ignoring their declarations. Any gun rights organization should be just as critical of law enforcers who enforce bad laws as they are of politicians who write and pass bad laws.
No organization that claims to fight for individual rights of any sort that is also worshipful of law enforcers can be effective. Law enforcers, at the end of the day, are the ones who are directly violating the rights of individuals.