Archive for the 'Gun Rights' tag
I guess even the most incompetent, loathsome bastards do something right once in a while:
The Republican-controlled chamber passed the bill by 231-198, in their first major gun legislation since a 2012 Connecticut school massacre.

Republicans said the bill would allow gun owners to travel without having to worry about conflicting state laws.
Just kidding! We're getting fucked over by this as well:
To make the Concealed Carry Reciprocity Act more palatable, Republicans have included measures to strengthen the national background check system.
Never underestimate the Republicans' willingness, even with majority control over Congress and the presidency, to snatch defeat from the jaws of victory.
These are rookie numbers but at least they're increasing:
There are nearly twice as many guns in the average gun-owning household today as there were 20 years ago, according to new Wonkblog estimates based data from surveys and the Bureau of Alcohol, Tobacco, Firearms and Explosives. In 2013, there were an estimated 8.1 firearms in the typical gun-owning household, according to these data. In 1994, the average gun-owning household owned 4.2 guns.
I wonder how much that number has increased since 2013.
Establishing gun ownership numbers in the United States, thankfully, is very difficult. For the longest time gun control advocates have been claiming that gun ownership rates are declining. When National Instant Criminal Background Check System (NICS) checks, a number that is released by the Federal Bureau of Investigations (FBI), shows record numbers the gun control advocates claim that it's just the same gun owners buying more guns. When it's pointed out that there is a record number of new carry permits being issued and record attendance at shooting competitions the gun control advocates cover their ears and start screaming, "I can't hear you," over and over again.
My point is that by almost every metric gun ownership rates in the United States are increasing. This is good for many reasons. Politically it is becoming more expensive for politicians to attack gun rights. While politicians don't care what they're constituents they are naturally lazy bums who would rather chase an easy victory than one that will result in them having to listen to a bunch of plebs complain to them.
I was involved in yet another debate about gun control that lead to the inevitable question of why I need and AR-15. This has to be one of the most entitle and pointless questions one can ask.
First, where do they get off thinking that they're in a position where I have to justify anything to them? Nobody has declared them emperor as far as I know.
Second, why does it matter? Humans need food, water, clothing, and shelter to survive. Beyond that everything else is a luxury. You don't need a television, cell phone, couch, bed, etc. They're damned nice to have but you won't die with out them. So asking why somebody else needs something is pointless because need is obviously not a criteria for legality.
There was a mass shooting this weekend in Texas, which means the gun control advocates are screaming about all of the new restrictions we need to put into place to punish the gun owners who had nothing to do with the shooting. Besides banning "assault weapons," whatever that made up category means, the gun control advocates are also screaming about the need for universal background checks. However, I can say with authority that universal background checks wouldn't have stopped the Texas shooting. How can I say such a thing authoritatively? Because the government dropped the ball:
ATLANTA (AP) — The gunman who slaughtered 26 people at a Texas church was able to buy weapons because the Air Force failed to report his domestic-violence conviction to the federal database that is used to conduct background checks on would-be gun purchasers, authorities said Monday.
The very same government that's supposed to handle universal background checks can't even get its shit together enough to maintain its database properly. Why am I supposed to have faith in it again?
I make not effort to hide the fact that I believe gun ownership should be expanded to everybody, which is why I was happy to read this article:
ROCHESTER, N.Y.—The former pacifist pumped a shotgun at the firing line.

Lore McSpadden never touched a gun before the Trigger Warning Queer & Trans Gun Club started this past year. Now McSpadden is among the shooters routinely yelling, "Pull!" and blasting at clay pigeons angling over a mowed field near Rochester.

Trigger Warning members are anxious about armed and organized extremists who seem increasingly emboldened. Their response has a touch of symmetry to it: They started a club to teach members how to take up arms.

"It's a way to assert our strength," said Jake Allen, 27, who helped form the group. "Often, queer people are thought of as being weak, as being defenceless, and I think in many ways this pushes back against that. And I want white supremacists and neo-Nazis to know that queer people are taking steps necessary to protect themselves."

Trigger Warning members meet once a month to shoot still targets and saucer-shaped pigeons. The 18 dues-paying members are all LGBTQ, many just learning about guns.
Traditionally individuals who fall under the LGBT banner have been tagged as anti-gun progressives. This has lead quite a few curmudgeons in gun owner circles to see LGBT individuals as opponents, which has established a rather nasty circle where LGBT individuals are put off by gun owners who are put off by LGBT individuals being put off by gun owners and so on. But necessity is the mother of invention. Feeling threatened is usually a good motivator for people to learn how to defend themselves.
Although Trigger Warning is a small group at the moment, which isn't surprising since it currently exists in a state ruled by a very anti-gun government, I hope its ranks expand quickly and new groups like it spring up all around the country. The stereotype of LGBT individuals being anti-gun has made violent individuals who wish to prey on them see them as easy targets. If more LGBT individuals become open gun owners, that stereotype will hopefully fade with time. If that stereotype fades away, it will likely dissuade a lot of predators who are looking for easy targets.
While politicians in Washington DC have been discussing gun control, denizens on the Internet have been busy evolving the 3D printed handgun. The WASHBEAR is a newly released 3D printed .22LR revolver: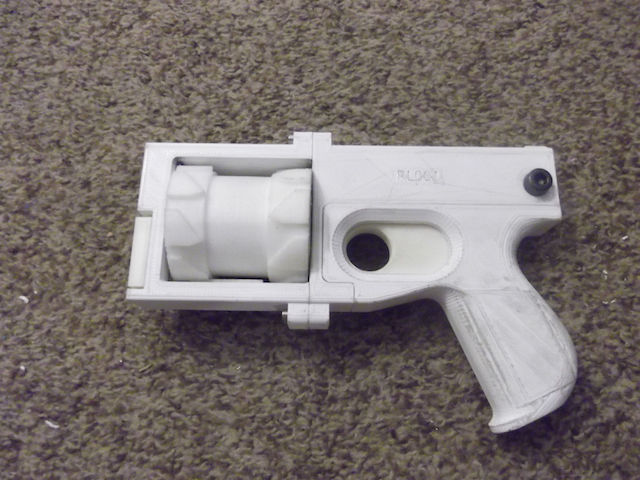 It looks very similar to numerous Nerf guns. Like the Pepperbox handgun created by Hexen, the WASHBEAR has steel sleeves inserted into the chambers to reduce stress on the plastic. While this means that the entire gun isn't 3D printable, steel inserts can be had at any hardware store.
Politicians and advocates of gun control can continue wasting their time but the truth is gun control is a fantasy. Granted, it has always been a fantasy but now we're at the point where a person with even modest means can acquire everything necessary to build firearms. Gun control is dead. Technology killed it.
The governments of the countries in the European Union aren't known for their respect of gun rights. It seems like most of them would prefer if their citizens were completely disarmed. There is one exception though. The Czech Republic. While other governments in the European Union have been steadily disarming their citizens the government of the Czech Republic has been slowly expanding the gun rights of its citizens:
The lower house of the Czech parliament has agreed to alter the constitution so that firearms can be held legally when national security is threatened.

The amendment gives Czechs the right to use firearms during terrorist attacks.

It was passed by the lower house by a big majority, and is likewise expected to be approved by the upper house.

The move by parliament is a challenge to EU gun control rules which restrict civilians from possessing certain kinds of semi-automatic weapons.
While allowing firearms to be held legally when national security is threatened is such a vague standard that it could turn out to be useless, it's a step in the right direction. It's also nice to see some politicians realize that the solution to decentralized attackers is decentralized force.
Asymmetrical warfare is notable, in part, by the fact that there is no front line. Soldiers amassed on a border are fairly useless when the opposition is infiltrating individual fighters behind your front lines to commit isolated attacks. Under such circumstances the only solution is to have a good number of armed individuals behind enemy lines that aren't easily identifiable by the infiltrating attackers (if they are easily identifiable, the infiltrators will be able to identify them and avoid them). While having a good number of armed unidentified individuals won't necessarily dissuade the infiltrator, it will greatly reduce the time it takes for force to be brought against them, which can cut down the number of people they can kill.
The National Rifle Association (NRA) has a history of supporting gun rights when its convenient but throwing gun rights under the buss when its politically expedient. That being the case, it probably came as no surprise that the organization expressed support for legal restrictions on bump stocks:
The National Rifle Association has called for "additional regulations" on bump-stocks, a rapid fire device used by the Las Vegas massacre gunman.

The group said: "Devices designed to allow semi-automatic rifles to function like fully-automatic rifles should be subject to additional regulations."
It would have been nice if the NRA would have at least waited until the fight began before capitulating. Not surprisingly, the Republicans have expressed a willingness to implement such a restriction. Despite their rhetoric, like the NRA, Republicans have a tendency to support gun control whenever opposing it becomes politically inconvenient.
Defense Distributed, Cody Wilson's enterprise that proves the fallacy of gun control, released the Ghost Gunner, a computer numerically controlled (CNC) machine that specializes in milling AR-15 lower receivers, to the chagrin of gun control advocates. The Ghost Gunner made it simple for individuals with relatively little skill to manufacture an AR-15 lower receiver, the part of the gun that is serialized and therefore regulated. Now Defense Distributed has entered the handgun market:
Today, that scope widens: Wilson and Defense Distributed are now in the handgun business, too.

Defense Distributed will offer two of the most common handgun "80 percent" receivers—for Glocks and single-stack M1911s—for interested customers to complete using the Ghost Gunner. "What we've done for ARs we're going to do for handguns now," Wilson tells Ars. Defense Distributed's store now carries new fixtures, frames, and tooling to create these two handguns, in addition to its previously offered AR-15 lower receivers and jig sets.
Building a firearm isn't rocket science. Anybody with basic machining knowledge and competency in firearm design can do it. This fact has always made gun control a pipe dream. But as technology improves so does the ease of manufacturing. CNC machines reduced the machining knowledge necessary to manufacture a great many goods, which made controlling those goods even less feasible.
I'm sure gun control advocates will demand that the Ghost Gunner be prohibited but it's nothing more than a specialized CNC machine and there is no way gun control advocates are going to get CNC machines banned. Likewise, CNC machines will continue to drop in price and increase in capabilities. In a few years it will be easy to pick up a general CNC machines that is as affordable as the Ghost Gunner and even more capable.
Gun control is effectively dead. Technology killed it just as it ultimately kills all restrictions.