Archive for the 'Radical Individualism' tag
I'm happy that computer technology (for the purpose of this post, I mean any device with a computer in it, not a traditional desktop or laptop) has become ubiquitous. An individual who wants a computer no longer has to buy a kit and solder it together. Instead they can go to the store and pick up a device that will be fully functional out of the box. This has lead to a revolution in individual capabilities. Those of us who utilize computers can access a global communication network from almost anywhere using a device that fits in our pocket. We can crank out printed documents faster than any other time in human history. We can collect data from any number of sources and use it to perform analysis that was impractical before ubiquitous access to computers. In summary life is good.
However, the universe is an imperfect place and few things are without their downsides. The downside to the computer revolution is that there are, broadly speaking, different classes of users. They are often divided into technical and non-technical users, but I prefer to refer to them as users and used. My categorization isn't so much based on technical ability (although there is a strong correlation) as by whether one is using their technology or being used by it.
Before I continue, I want to note that this categorization, like all attempts to categorize unique individuals, isn't black and white. Most people will fall into the gray area in between the categories. The main question is whether they fall more towards the user category of the used.
It's probably easiest to explain the used category first. The computing technology market is overflowing with cheap devices and free services. You can get a smartphone for little or even nothing from some carriers, an Internet connected doorbell for a pittance, and an e-mail account with practically unlimited storage for free. On the surface these look like amazing deals, but they come with a hidden cost. The manufacturers of those devices and providers of those services, being predominantly for-profit companies, are making their money in most cases by collecting your personal information and selling it to advertisers and government agencies (both of which are annoying, but the latter can be deadly). While you may think you're using the technology you're actually being used through it by the manufacturers and providers.
A user is the opposite. Instead of using technology that uses them, they use technology that they dominate. For example, Windows 10 was a free upgrade for users of previous versions of Windows. Not surprisingly, Windows 10 also collects a lot of personal information. Instead of using Windows 10, users of that operating system are being used by it. The opposite side of the spectrum is something like Linux from Scratch, where a user creates their own Linux distro from the ground up so they know every component that makes up their operating system. As I stated earlier most people fall into the gray area between the extremes. I predominantly run Fedora Linux on my systems. As far as I'm aware there is no included spyware and the developers aren't otherwise making money by exploiting my use of the operating system. So it's my system, I'm using it, not being used through it.
Another example that illustrates the user versus the used categories is online services. I sometimes think everybody on the planet has a Gmail account. Its popularity doesn't surprise me. Gmail is a very good e-mail service. However, Gmail is primarily a mechanism for Google to collect information to sell to advertisers. People who use Gmail are really being used through it by Google. The opposite side of the spectrum (which is where I fall in this case) is self-hosting an e-mail server. I have a physical server in my house that runs an e-mail server that I setup and continue to maintain. I am using it rather than being used by it.
I noted earlier in this article that there is a strong correlation between technical people and users as well as non-technical people and those being used. It isn't a one-to-one correlation though. I know people with little technical savvy who utilize products and services that aren't using them. Oftentimes they have a technical friend who assists them (I'm often that friend), but not always. I would actually argue that the bigger correlation to users and those being used is those who are curious about technology versus those who aren't. I know quite a few people with little technical savvy who are curious about technology. Their curiosity leads them to learn and they oftentimes become technically savvy in time. But before they do they often make use of technology rather than be used by it. They may buy a laptop to put Linux on it without having the slightest clue at first how to do it. They may setup a personal web server poorly, watch it get exploited, and then try again using what they learned from their mistakes. They may decide to use Signal instead of WhatsApp not because they understand the technical differences between the two but because they are curious about the "secure communications app" that their technical friends are always discussing.
Neither category is objectively better. Both involve trade-offs. I generally encourage people to move themselves more towards the user category though because it offers individuals more power over the tools they use and I'm a strong advocate for individual power. If you follow an even slightly radical philosophy though, I strongly suggest that you to move towards the user category. The information being collected by those being used often finds its way into the hands of government agents and they are more than happy to make use of it to suppress dissidents.
How I miss the halcyon days of the Internet when perceived slights were commonly forgotten after a short period of inconsequential shitposting. Today perceived slights often result in real-world consequences. The most recent example of this is ThotAudit, the result of a bunch of pathetic sexless whiners perceiving women slighting them. In response to their inability to get laid, they have decided to sic the Internal Revenue Service (IRC) and third-part payment processors on online sex workers:
The campaign is called the "ThotAudit," in reference to the derogatory term "thot," which stands for "that ho over there." It began over the Thanksgiving holiday as a grassroots effort to intimidate sex workers and women who sell access to private pornographic social media accounts by reporting them to the Internal Revenue Service for tax evasion—without evidence of wrongdoing. But it quickly morphed into a battle over who has the right to make money on the internet.

The harassers are taking advantage of user reporting tools made available by companies like PayPal, Venmo, and CirclePay, in an attempt to force their targets offline and freeze their finances. The tactic has far-reaching implications beyond adult entertainment. Foreign governments and other groups have abused the policies to silence opponents on platforms like Twitter and Facebook for years. Attacking through the payment processors is a new wrinkle on that approach.
What kind of lowlife piece of shit sics revenuers on people? I mean, come on! That's below the belt, guys!
Back to the story at hand. There are two aspects that I want to discuss in this post.
The first is the extent individuals will go to avoid acknowledging and accepting their faults. When I was young, I wasn't exactly drowning in pussy. I didn't blame women for that though. I acknowledged and accepted my faults, namely my socially awkward nature. I worked to overcome those faults. By the time I hit my mid 20's, I was still socially awkward but I was at least capable of schmoozing a room full of people and was capable of gaining the attention of members of the opposite sex. While I'm still a bit socially awkward today, I have a smoking hot wife and have little trouble meeting new people and entertaining people at a party (entertaining people is commonly seen as an attractive quality and thus a skill worth cultivating).
The key to my transformation was accepting my flaws and working to overcome them. Most people who call themselves incels suffer from a lack of self-awareness and an unwillingness to overcome their faults. The reason they're not getting laid isn't because women are conspiring against them, it's because they have a number of flaws that make them unattractive. Instead of working to improve themselves, they're taking actions that make them even less attractive. They're actually going so far as to exacerbate their faults to avoid acknowledging their faults.
The second thing I want to discuss is something I harp on a lot, the dangers of being dependent on third-parties. Those making themselves part of ThotAudit are trying to convince third-party payment processors to stop processing payments for targeted online sex workers. By doing this, they're destroying the livelihood of those workers. However, this tactic is only feasible because those workers are dependent on third-party payment processors. The fewer third-parties you depend on, the fewer dependencies exist that can be weaponized against you. While it's trendy to recommend cryptocurrencies for sex workers, that's not the only option. Online sex workers could try pooling their resources and establishing a payment processor for their industry, which is a suggestion I made to gun stores that were being blacklisted by third-party payment processors. You might not be able to control the infrastructure yourself but if you have to rely on a third-party, it's better to rely on one that specifically caters to your industry. After all, if your business is porn, Tumblr might cast you overboard but Pornhub probably won't.
I'm always interested in cultural differences. For example, here in the United States people generally love the smell of a new car. It's easy to think that since people here love that smell that the love of that smell is universal but that isn't the case. Chinese in general apparently hate that smell. In fact they hate it so much that Ford developed a method of getting that smell out of new cars:
In the US, "new car smell" is a beloved scent. People even try to make their cars smell new with after-market cleaning products. But in China, customers find the same odor repulsive. As the Chinese auto market grows, car makers are looking for a way to make the aroma of their new vehicles more amenable to Chinese taste

Early this month, Ford filed a patent to reduce the odor of some of the adhesive, leather, and other materials that produce Volatile Organic Compounds (VOCs) that contribute to new car smell. The patent appears to include software that senses the car's location and the weather it's experiencing, then it possibly detects whether the owner has "requested volatile organic compound removal from the vehicle." Next, on a sunny day, the car will roll down a window and turn on the engine, the heater, and a fan in order to bake off the VOCs and their accompanying smell.
Often individuals make the mistake of believing that since they like something, it is universally liked. I learned at a young age that even smell, which is nothing more than a neurological response to stimuli and thus would seem to be a good candidate for being common amongst most humans, differs from person to person. My grandfather introduced me to sardines, which I enjoy to this day. I don't find their smell repulsive but most people I know do. Likewise, I don't find the smell of sauerkraut repulsive but most of the people I know do. Meanwhile, many of the body sprays and perfumes that people claim to like are repulsive to me.
When referring to communicable diseases, it's common to say that they're spreading.
Considering that, I think the phrase "spreading democracy" is particularly apt.
A somewhat esoteric laugh courtesy of Egoistball.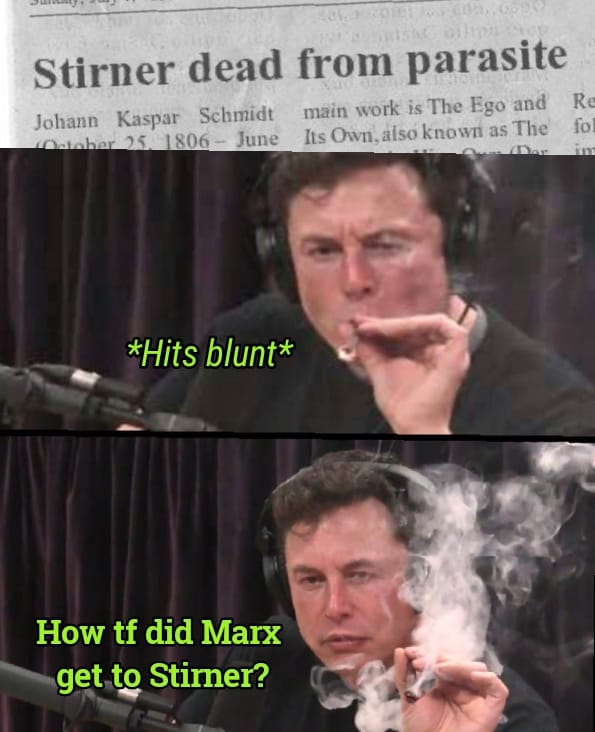 I lamented about living in a postliterate society when the Supreme Court ruled in favor of Jack Phillips. Nobody read the fucking article so they decided that the Supreme Court ruled in favor of religious rights when it actually ruled in regards to procedural shenanigans. The American Institute for Economic Research has a good summary of what the ruling entails:
Reading this case literally, we can conclude the following. If you want to exercise property rights and behave as if you are free, according to the Supreme Court, you need to get religion right away and hope that the bureaucrats adjudicating your case put you down as a monster for that very reason. Then you can narrowly escape prosecution.

Otherwise you must comply. If you take the majority opinion on face value, had the deliberations in Colorado been undertaken with no invidious discrimination against the faith of the baker, the decision would have gone the other way.
In other words, you don't have any rights.
I've discussed this matter before but it's worth repeating. Questions regarding rights, such as whether or not you have the right to refuse to provide a good or service due to your personal religious convictions, are pointless. Why? To pull out one of my favorite George Carlin quotes, "Folks I hate to spoil your fun, but there's no such thing as rights. They're imaginary. We made them up. Like the boogie man. Like Three Little Pigs, Pinocchio, Mother Goose, shit like that. Rights are an idea. They're just imaginary."
You can claim that you have the right to freely express yourself or the right to own firearms or the right to not incriminate yourself but you only actually have those rights if you can exercise them. Consider Jack Phillips's case. He believed that he had the right to refuse to bake a cake for a same-sex marriage because his religious beliefs are at odds with such a union. When he tried to exercise his perceived right, government goons came down on him. Even after his Supreme Court victory, he doesn't have the right to refuse to bake cakes for same-sex weddings because he failed to convince the Supreme Court, and by extent the various levels of government in the United States, that he had such a right. When (and it will be a matter of when, not if, because it's human nature to push boundaries) another same-sex couple comes into his bakery wanting a cake for their wedding and he refuses, he'll find himself in court all over again.
You only have the rights you can take and hold. How you take and hold them is irrelevant. If you are able to convince a group to respect your perceived rights, then you have taken and held those rights. If you have enough firepower at hand to scare people away from infringing on your perceived rights, then you have taken and held those rights. But if you can't take and hold them, even if they're written down on a fancy piece of paper, they don't exist.
Every political argument seems to eventually boils down to polls. It makes sense since polls indicate what the majority wants and the majority should be listened to, right? If, for example, the majority of Minnesotans support stricter gun laws, then the politicians should respect their desires, right?
A majority of Minnesotans support stricter gun laws in the United States, including wide backing for a ban on military-style rifles and for raising the age for gun purchases from 18 to 21, a new Star Tribune Minnesota Poll has found.
This is usually the point where I would point out the way polls are manipulated to get desired results. For example, if you poll urban individuals about gun control, you're likely to get a different result than if you poll rural individuals. Likewise, if I'm a publication with a predominantly Democratic readership, the results of my poll about gun control laws are going to differ from the poll results achieved by a publication with a predominantly Republican readership.
Instead of focusing on why polls are irrelevant due to ease of manipulation, I'm going to focus on an even lower level assumption made by people who cite polls: that a majority is right. Take it away, Mises!
Stating that the majority supports a law is irrelevant because there is no inherent wisdom in the majority. For example, if a majority favored a law that required the first born son of every family to be sacrificed to Beelzebub, would you agree that a law requiring that be passed? I'm guessing most people wouldn't because it's an awful idea. I'm also guessing that some proponent of democracy will dismiss my example and by extent my argument as being ridiculous, which it is because I chosen it specifically to illustrate my point in the most hyperbolic manner possible. To appease those individuals though, I will present a more realistic example.
Let's say a few individuals own businesses in a poor neighborhood. The majority of people living in the town decide that they want to revitalize that neighborhood. To accomplish this they demand that the city government pass a new property tax to raise funds for revitalization efforts. Interestingly enough, the demanded property tax is high enough that it would force the poor businesses in that neighborhood to close shop. Should the will of the majority be followed even though it's obvious that their idea of revitalizing the neighborhood is to use the city's tax code to run poor individuals out of town?
The premise of democracy, that the will of a majority should become the policy of the State, is flawed at its very foundation because it necessarily assumes that what a majority wants is correct. This is why I dismiss arguments based on the will of a majority outright. Saying that a majority supports something is no different than saying that you personally support something. Saying that you or a majority support something isn't an argument in support of that thing, it's merely an expression of personal preference. And, unfortunately for you, I don't give a shit about your personal preference.
Culture, like society, is something that exists exclusively in the human imagination. It's an abstract concept that doesn't exist in the real world. That being the case, I find stories like this one to be ridiculous:
TAIPEI, Taiwan — When Keziah Daum wore a Chinese-style dress to her high school prom in Utah, it set off an uproar — but not because of its tight fit or thigh-high slit.

After Ms. Daum, 18, shared pictures on social media of her prom night, a Twitter user named Jeremy Lam hotly responded in a post that has been retweeted nearly 42,000 times.

[…]

"My culture is NOT" your prom dress, he wrote, adding profanity for effect.

"I'm proud of my culture," he wrote in another post. "For it to simply be subject to American consumerism and cater to a white audience, is parallel to colonial ideology."
Something that only exists in your imagination can only be yours in your imagination. But for a moment let's assume that culture is a real thing that can be appropriated. Where do people who throw around accusations of cultural appropriation get off thinking that they're the ultimate authority over what is or isn't the proper use of a culture? Because while Jeremy Lam may be upset that Daum wore a Chinese dress, Snail Trail and Zhou Yijun believe quite the opposite:
"I am very proud to have our culture recognized by people in other countries," said someone called Snail Trail, commenting on a post of the Utah episode by a popular account on WeChat, the messaging and social media platform, that had been read more than 100,000 times.

"It's ridiculous to criticize this as cultural appropriation," Zhou Yijun, a Hong Kong-based cultural commentator, said in a telephone interview. "From the perspective of a Chinese person, if a foreign woman wears a qipao and thinks she looks pretty, then why shouldn't she wear it?"
This illustrates one of the biggest problems with treating imaginary concepts as if they were real objects. An imaginary concept may exist in the heads of multiple individuals but each of those individuals will put their own spin on it. The concept of Chinese culture, for example, exists in the heads of billions of individuals but none of those individuals likely agree entirely on what constitutes Chinese culture. Sure, most of them will likely agree to a few major concepts. For example, most people will likely agree that the Chinese language is part of Chinese culture. However, diving into the minute will quickly reveal that no two individuals share the exact same concept.
One of the disagreements over the imaginary concept of culture is who has authority over it. If one Chinese individual tells a white girl that she can't wear a Chinese dress but another Chinese individual says that she can, who is correct? Which of the two individuals has the authority to dictate whether or not the white girl's behavior is appropriate? Feel free to answer the question in the comment box if you want but I will require that you show your work.
I recently came across an image on Facebook that sums up the true nature of rights.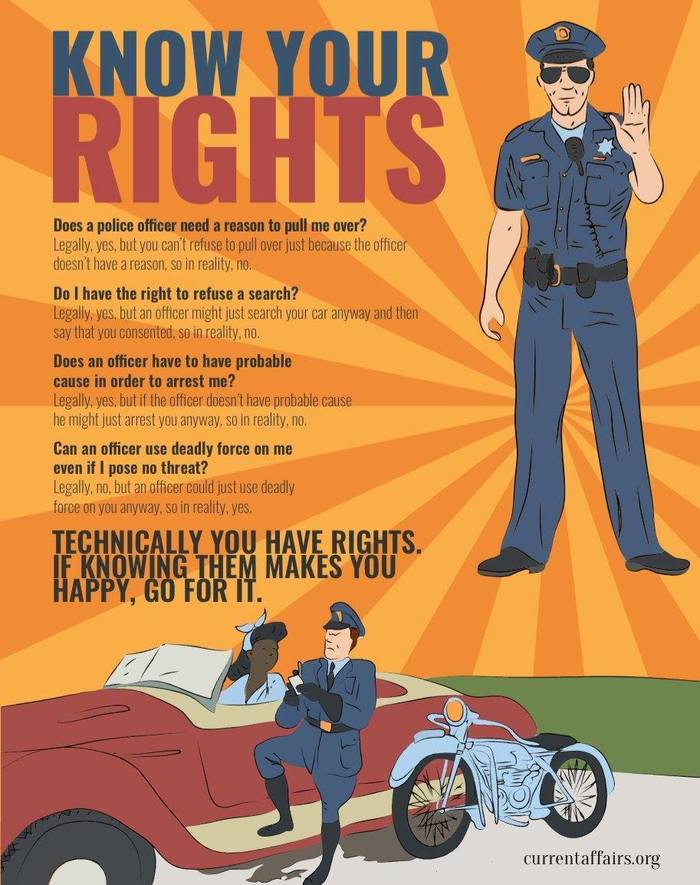 To quote George Carlin, "Folks I hate to spoil your fun, but there's no such thing as rights. They're imaginary. We made them up. Like the boogie man. Like Three Little Pigs, Pinocchio, Mother Goose, shit like that. Rights are an idea. They're just imaginary."
If you ask 10 different people to list the rights every human being has, you'll almost certainly end up with 10 different lists. This is because rights are a concept that exist solely in our heads. One person may believe that each individual has a right to keep and bear arms. Another person may believe that each individual has a right to safety, which they may also believe trumps any claims that there is a right to keep and bear arms.
I'm fond of saying that you have what rights you can convince others to acknowledge. You only have a "right" to free speech if you can convince others not to interfere with your speech. You only have a "right" to a refuse a search if you can convince others not to search you. When proponents of the Second Amendment write or call politicians, they're trying to convince those politicians to agree with the concept that each individual has a right to keep and bear arms. While most proponents of the Second Amendment won't admit that there really isn't a right to keep and bear arms, they acknowledge this fact through their actions of requesting that politicians not violate their right (any further). Less a gun control advocate jump up and scream, "Ah ha," let me also point out that proponents of the First Amendment, which many gun control advocates claim to be, acknowledge the fact that they don't have a right to free speech every time they request that politicians not violating their right (any further).
Rights, like laws, may exist on paper but their existence stops there. If you can convince others to respect your concept of rights, then your concept of rights perhaps won't be violated. But if you fail to convince others to respect your rights, your concept of rights will be violated.
How much are you willing to put up with from your employer? Apparently Facebook's and Google's employees are willing to put up with a lot:
For low-paid contractors who do the grunt work for big tech companies, the incentive to keep silent is more stick than carrot. What they lack in stock options and a sense of corporate tribalism, they make up for in fear of losing their jobs.

One European Facebook content moderator signed a contract, seen by the Guardian, which granted the company the right to monitor and record his social media activities, including his personal Facebook account, as well as emails, phone calls and internet use. He also agreed to random personal searches of his belongings including bags, briefcases and car while on company premises. Refusal to allow such searches would be treated as gross misconduct.

Following Guardian reporting into working conditions of community operations analysts at Facebook's European headquarters in Dublin, the company clamped down further, he said.

Contractors would be questioned if they took photographs in the office or printed emails or documents. "On more than one occasion someone would print something and you'd find management going through the log to see what they had printed," said one former worker.
Socialists are quick to blame working conditions described in the article on capitalism. However, the paranoia demonstrated by government owned and operating factories in socialist nations indicates that this behavior isn't unique to capitalist employers. I believe that working conditions like those described in the article are a product employees not recognizing their own worth and that they're not the company for which they work.
Let's address the first part, an employee's worth. The employer-employee relationship under capitalism is far more balanced than socialists like to admit publicly. While socialists won't publicly admit that the employer-employee relationship is balanced they do acknowledge it in their strategies because their strategies are built on employee actions such as strikes and, in the case of more radical socialists, sabotage. Strikes rely entirely on the fact that an employer is reliant on their employees.
If a large percentage of Google's and Facebook's employees quit, both companies would suffer a great deal. Facilities deteriorate without maintenance personnel. Software can't be written without developers. Web infrastructure tends to fail without information technology personnel to maintain it. Without employees to perform all the daily tasks that keep Google and Facebook running, both companies would grid to a halt.
An employee's worth extends beyond the confines of whatever company they're working for at a given moment. If they're even mediocre at performing their job, they can generally find employment elsewhere, especially if they have a big name like Google or Facebook on their resume. Many employees let themselves become psychologically reliant on their employer. It's like they believe that their the skills they've developed can be seized by their employer if they leave. Skills are something you take with you when you leave an employer, which is why employees shouldn't be afraid to walk away from an employer.
If your employer is treating you poorly, take your skills to another employer or use them to start your own business.
Now let's address the second part, the fact that an employee is not the company for which they work. I think I can best summarize this with a meme.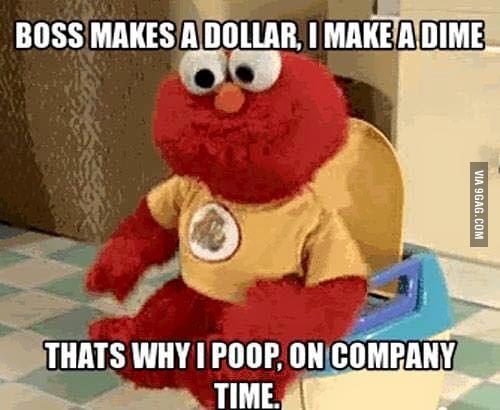 If the company an employee works for makes major profits, they may not see any additional pay. The profits go to the person who is taking the risks, the employer. On the surface this may look like a raw deal for employees but it offers them a great deal of freedom. If the company goes bust, the employer goes broke but the employees get to walk away with any money they've made and skills they've developed. In other words the success of an employee isn't dependent on the success of any single employer. That being the case, employees should recognize that they're effectively mercenaries and that their loyalty should be first and foremost to themselves.
If your employer is treating you poorly, don't let a sense of loyalty to them stop you from abandoning ship. Instead let your sense of loyalty to yourself motivate you to abandon ship and either seek a better employer or start your own business.
I believe if employees recognized their own worth and that they're not the company for which they work, employers would be far more hesitant to establish working conditions like those described in the article due to the fear of pissing off their employees enough to convince them to leave.