Archive for the 'Crypto-Anarchism' tag
I'm glad to see that other people are beginning to understand the need to decentralized the Internet:
Net neutrality as a principle of the federal government will soon be dead, but the protections are wildly popular among the American people and are integral to the internet as we know it. Rather than putting such a core tenet of the internet in the hands of politicians, whose whims and interests change with their donors, net neutrality must be protected by a populist revolution in the ownership of internet infrastructure and networks.

In short, we must end our reliance on big telecom monopolies and build decentralized, affordable, locally owned internet infrastructure. The great news is this is currently possible in most parts of the United States.
I've been saying this for years. If you want a feature like net neutrality, you have to control the infrastructure. Personally, I'd like to see a decentralized Internet that encrypts all traffic by default for both confidentiality and anonymity purposes. What people are calling net neutrality would be enforced by default on such a network because nobody could see the traffic to throttle or block it. However, it would come at a performance cost (TANSTAAFL).
One thing is certain, begging the Federal Communications Commission Fascist Communications Club (FCC) to enforce net neutrality isn't a longterm solution as we're seeing today. Under the Obama administration net neutrality was enforced by the FCC. Under the Trump administration it looks like it won't be enforced. When the next administration comes into power it could go either way. Begging Congress isn't any better because what one Congress passes a future Congress can eliminate.
Signal is my favorite messaging application. It offers very good confidentiality and is easy to use. I also appreciate the fact that a desktop client was released, which meant I didn't have to pull out my phone every time I wanted to reply to somebody. What I didn't like though was the fact that the Signal desktop client was a Chrome app. If you use a browser besides Chrome you had to install Chrome just to use Signal's desktop client. Fortunately, Google announced that it was deprecating Chrome apps and that forced Open Whisper Systems to release a standalone desktop client.
Now you can run the Signal desktop client without having to install Chrome.
When the Federal Bureau of Investigations (FBI) isn't pursuing terrorists that it created, the agency tends to have a pretty abysmal record. The agency recently announced, most likely as propaganda against effective encryption, that it has failed to obtain the contents of 7,000 encrypted devices:
Agents at the US Federal Bureau of Investigation (FBI) have been unable to extract data from nearly 7,000 mobile devices they have tried to access, the agency's director has said.

Christopher Wray said encryption on devices was "a huge, huge problem" for FBI investigations.

The agency had failed to access more than half of the devices it targeted in an 11-month period, he said.
The lesson to be learned here is that effective cryptography works. Thanks to effective cryptography the people are able to guarantee their supposed constitutional right to privacy. The restoration of rights should be celebrated but politicians never do because our rights are directly opposed to their goals. I guarantee that this announcement will lead to more political debates in Congress that will result in more bills being introduced to ban the plebs (but not the government, of course) from having effective cryptography. If one of the bills is passed into law, the plebs will have to personally patch their devices to fix the broken cryptography mandated by law (which, contrary to what politicians might believe, is what many of us plebs will do).
If you don't want government goons violating your privacy, enable the cryptographic features on your devices such as full disk encryption.
While politicians in Washington DC have been discussing gun control, denizens on the Internet have been busy evolving the 3D printed handgun. The WASHBEAR is a newly released 3D printed .22LR revolver: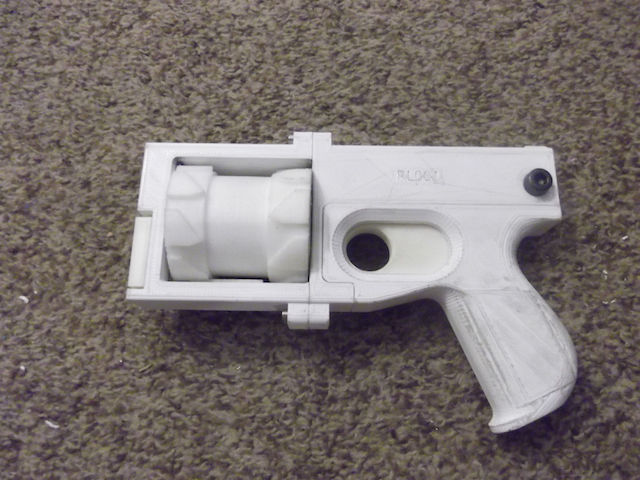 It looks very similar to numerous Nerf guns. Like the Pepperbox handgun created by Hexen, the WASHBEAR has steel sleeves inserted into the chambers to reduce stress on the plastic. While this means that the entire gun isn't 3D printable, steel inserts can be had at any hardware store.
Politicians and advocates of gun control can continue wasting their time but the truth is gun control is a fantasy. Granted, it has always been a fantasy but now we're at the point where a person with even modest means can acquire everything necessary to build firearms. Gun control is dead. Technology killed it.
I guess today is the annual Save the Internet celebration. What I mean by that is that a bunch of websites have gotten together in a bid to once again circlejerk about saving net neutrality. I call it a circlejerk because, like the last several years, this year the websites participating in this "action" are urging people to contract various government officials and beg them to enforce net neutrality. Of course, since this "action" has taken place so many times I have my doubts about the effectiveness of pleading with government officials.
Instead of urging you to waste your time by contacting people who don't give a shit about you I'm going to offer an alternate idea. Unfortunately, I already know that this proposal will be unpopular because it requires people to take actual action. TANSTAAFL. If you want a neutral Internet you're going to have to work for it.
Longtime readers probably already know what I'm going to propose because I've proposed it before. The only way to enjoy a neutral Internet is to own the infrastructure and enjoy the ability to run it however you goddamn please. So my proposal is to build out small interconnected mesh networks. Why mesh networks? First, they're relatively cheap to build. You don't have to bury a bunch of fiber optic cable or build expensive cellular towers. All you need is off-the-shelf hardware loaded with freely available firmware. Second, mesh nodes are controlled by the individuals who own them, not a single entity. This makes it difficult to enforce undesirable rules on the mesh network because there isn't a single entity to buy off or coerce. Third, large scale mesh networks are a proven technology. Catalonia has one called Guifi.net, which has been operating and expanding since 2009.
Obviously this proposal will initially rely on the currently established Internet to interconnect geographically separated mesh networks. If this proposal took off though this condition would be temporary because eventually the meshes would grow numerous enough and large enough where they could be directly interconnected. Once that happens the need for the currently centralized Internet would cease along with the centralized control that is the root of the net neutrality problem.
If you really want to "save the Internet" don't wasted your time by pleading with government officials, take some direct action and start learning about building your own infrastructure.
A writer at The Guardian, which seems to be primarily known for propagating left-wing statist propaganda, has shown a slight glimmer of understanding. While neoconservatives and neoliberals fight for power over other people, crypto-anarchists have been busy working in the shadows to develop technology that allows individuals to defend themselves from the State:
The rise of crypto-anarchism might be good news for individual users – and there are plenty working on ways of using this technology for decent social purposes – but it's also bad news for governments. It's not a direct path, but digital technology tends to empower the individual at the expense of the state. Police forces complain they can't keep up with new forms of online crime, partly because of the spread of freely available encryption tools. Information of all types – secrets, copyright, creative content, illegal images – is becoming increasingly difficult to contain and control. The rash of ransomware is certainly going to get worse, exposing the fragility of our always connected systems. (It's easily available to buy on the dark net, a network of hidden websites that are difficult to censor and accessed with an anonymous web browser.) Who knows where this might end. A representative from something called "Bitnation" explained to Parallel Polis how an entire nation could one day be provided online via an uncontrollable, uncensorable digital network, where groups of citizens could club together to privately commission public services. Bitnation's founder, Susanne Tarkowski Tempelhof, hopes Bitnation could one day replace the nation state and rid us of bureaucrats, creating "a world of a million competing digital nations", as she later told me.
The biggest threat to statism is individual empowerment. While technology is a two-edged sword, serving both the State and individuals without concern for either's morality, it is difficult to argue that it hasn't greatly helped empower individuals.
A combination of Tor hidden services and cryptocurrencies have done a great deal to weaken the State's drug war by establishing black markets where both buyers and sellers remain anonymous. Weakening the drug war is a significant blow to the State because it deprives it of slave labor (prisoners) and wealth (since the State can't use civil forfeiture on property it can't identify).
Tor, Virtual Private Networks (VPN), Hypertext Transfer Protocol Secure (HTTPS), Signal, and many other practical implementations of encryption have marvelously disrupted the State's surveillance apparatus. This also cuts into the State's revenue since it cannot issue fines, taxes, or other charges on activities it is unaware of.
3D printers, although still in their infancy, are poised to weaken the State's ability to restrict objects. For example, the State can't prohibit the possession of firearms if people are able print them without the State's knowledge.
But if the State disables the Internet all of these technologies fall apart, right? That would be the case if the Internet was a centralized thing that the State could disable. But the Internet is simply the largest network of interconnected networks. Even if the State shutdown every Internet Service Provide (ISP) in the world and cut all of undersea cables, the separated networks will merely have to be reconnected. That is where a technology like mesh networking could come into play. Guifi.net, for example, is a massive mesh network that spans Catalonia. According to the website, there are currently 33,191 operating nodes in the Guifi.net mesh. Shutting down that many nodes isn't feasible, especially when they can be quickly replaced since individual nodes are usually cheap off-the-shelf Wi-Fi access points. Without the centralized Internet a span of interconnected mesh networks could reestablish global communications and there isn't much the State could do about it.
Statism has waxed and waned throughout human history. I believe we're at a tipping point where statism is beginning to wane and I believe advances in individual empowering technologies are what's diminishing it. Voting won't hinder the State. The Libertarian Party won't hinder the State. Crypto-anarchists, on the other hand, have a proven track record of hindering the State and all signs point to them continuing to do so.
Keybase.io started off as a service people could use to prove their identity using Pretty Good Privacy (PGP). I use it to prove that I own various public accounts online as well as this domain. Back in February the Keybase team announced a chat client. I hadn't gotten around to playing with it until very recently but I've been impressed enough by it that I feel the need to post about it.
Keybase's chat service has a lot of similarities to Signal. Both services provided end-to-end encrypted communications, although in slightly different ways (Keybase, for example, doesn't utilize forward secrecy except on "self-destructing" messages). However, one issue with Signal is that it relies on your phone number. If you want to chat on Signal with somebody you have to give them your phone number and they have to give you theirs. This reliance on phone numbers makes Signal undesirable in many cases (such as communicating with people you know online but not offline).
Keybase relies on your proven online identities. If you want to securely talk to me using Keybase you can search for me by using the URL for this website since I've proven my ownership of it on Keybase. Likewise, if you want to securely talk to somebody on Reddit or Github you can search for their user names on those sites in Keybase.
Another nice feature Keybase offers is a way to securely share files. Each user of the Keybase client gets 10GB of storage for free. Any data added to your private folder is encrypted in such a way that only you can access the files. If you want to share files amongst a few friends the files can be encrypted in a way that only you and those designated friends can access them.
On the other hand, if you're into voice and video calls, you're out of luck. Keybase, unlike Signal, currently supports neither and I have no idea if there are plans to implement them in the future. I feel that it's also important to note that Keybase, due to how new it is, hasn't undergone the same level of rigorous testing as Signal has so you probably don't want to put the same level of trust in it yet.
Reality Leigh Winner (who, despite her name, was not a winner in reality) is currently sitting in a cage for the crime of leaking classified National Security Agency (NSA) documents. Unlike Edward Snowden, Reality didn't purposely go public. But she made a series of major mistakes that allowed the NSA to identify her after she leaked the documents. Her first mistake was using a work computer to communicate with The Intercept:
Investigators then determined that Ms Winner was one of only six people to have printed the document. Examination of her email on her desk computer further revealed that she had exchanged emails with the news outlet, the indictment said.
By using a work computer to communicate with The Intercept, she made hard evidence against her easily available to her employer.
Her second mistake was physically printing the documents:
When reporters at The Intercept approached the National Security Agency on June 1 to confirm a document that had been anonymously leaked to the publication in May, they handed over a copy of the document to the NSA to verify its authenticity. When they did so, the Intercept team inadvertently exposed its source because the copy showed fold marks that indicated it had been printed—and it included encoded watermarking that revealed exactly when it had been printed and on what printer.
Most major printer manufacturers watermark any pages printed by their printers. The watermarks identify which printer printed the document. In addition to the physical printer, the watermark on the document posted by The Intercept also included a timestamp of when the document was printed.
Reality's third mistake was trusting a third-party to guard her anonymity. Because of The Intercept's history of working with leakers it's easy to assume that the organization takes precautions to guard the identities of its sources. However, a single mistake, posting the printed document without editing out the watermark, gave the NSA enough evidence to narrow down who the leaker could be.
The lesson to be learned from this is that you alone are responsible for maintaining your anonymity. If you're leaking classified materials you need to do so in a way that even the individual or organization you're leaking them to is unable to identify you.
I greatly appreciate Bitcoin. By enabling pseudonymous transactions it has made many forms of commerce, specifically those deemed illegal by various governments, easier. It also offers an opportunity for individuals to conceal at least some of their wealth from the State. However, Bitcoin exists in a market environment, which means a superior competing product could come along at any moment and topple it.
When Bitcoin first came on the scene its community promised low transaction fees. They often compared the transaction fees of, say, Western Union to the miner fees of Bitcoin for sending money across the globe. At the time sending money via Bitcoin was significantly cheaper.
Fast forward to today. The price of sending Bitcoin has skyrocketed. If you want a Bitcoin transaction to clear in a reasonable amount of time you're looking at a transaction fee of over $2.00 (as of this writing). Why is this? It's because the Bitcoin network is running into a block size ceiling problem. This problem has created an environment where more transaction are being made then can be processed so convincing miners to process your transaction requires offering a significant reward. No problem, right? It's just the market at work after all.
It's true, Bitcoin's current state is an example of supply and demand. Demand has exceeded the supply of miners so the price to get transactions cleared has increased. But markets are finicky things. If enough people decide that they're unwilling to spend $2.00 on a transaction fee for a $5.00 coffee they're going to look for a better solution. Bitcoin isn't the only cryptocurrency in town so failing to address the block size ceiling problem will likely encourage consumers to find an alternate cryptocurrency.
Considering this you would think that the Bitcoin community is working diligently to solve the problem, right? As it turns out, not so much. Now a lot of the Bitcoin community is changing its tune. Instead of addressing the issue they are denying the fact that low transaction fees were a selling feature of Bitcoin not too long ago. In addition to denying the past they're trying to explain how high transaction fess are acceptable. I highly doubt most consumers see the "wisdom" in paying a $2.00 transaction fee to buy a $5.00 espresso at Starbucks. And that's the thing, for a cryptocurrency to succeed it needs to be useful.
I can hear some Bitcoin advocate saying, "But, Chris, Bitcoin will simply become the new gold while another cryptocurrency will become its silver!" Gold and silver run into a divisibility problem. You can only divide gold so far until it becomes difficult to use. Nobody is going to pay for a coffee using gold dust because it's a pain in the ass. Instead they use a less valuable metal, silver, for smaller payments. Cryptocurrencies don't have this problem. You can divide a cryptocurrency down to as many decimal places as you want and it'll be equally easy to use. Whether a cup of coffee costs me 1 Bitcoin or 0.000001 Bitcoin doesn't make a usability difference to me. This means that any cryptocurrency that takes over Bitcoin's current task of handling small transactions will likely rise to dominance overall.
Governments have been unable to destroy Bitcoin but the unwillingness of its community to address technical problems very well could lead to its destruction.
For those of you who don't know, CryptoPartyMN is a group that focuses on teaching individuals how to utilize secure communication tools. We meet every other week and host a few hands-on workshops each year. With the sudden concern about privacy as it related to Internet Service Providers (ISP) tonight's meeting will discuss Virtual Private Networks (VPN).
If you're interested in learning about defending your privacy against your ISP please feel free to join us.