Archive for the 'You're Doing it Right' tag
On Monday a group of individuals in Minneapolis held a solidarity march with the people in Charlottesville who protested the national socialists. This wasn't surprising in the least. There is a pretty solid Antifa movement here in the Twin Cities as well as a large contingent of international socialists (although the two groups often overlap there are also people who are members of one but not the other). What was rather surprising though was that some of the marchers actually remove the Hennepin County flag at the Hennepin County Government Center and replaced it with an Antifa flag. Afterwards, the Hennepin County flag was burned along with an effigy of a Nazi.
I think that the protesters almost had the right idea. Had they simply remove the flag and called it a day I'd have given them serious kudos. After all, I'm in favor of removing the State's symbolism. But replacing the State's symbolism with more tribal symbolism is, in my opinion, pointless. So I guess I'll give the protesters half credit for that one.
A white supremacist website, the Daily Stormer, ran into a hiccup yesterday. The website's domain registrar, GoDaddy, informed the site administrators that it no longer wished to associate with them and that they had 24 hours to move to another registrar. So the administrators moved the domain name to Google and was then informed by Google that it had no desire to associate with them:
For years, the website Daily Stormer has promoted hatred against Jews, black people, LGBT people, and other minorities, making it one of the Internet's most infamous destinations. But on Sunday, editor Andrew Anglin outdid himself by publishing a vulgar, slut-shaming article about Heather Heyer, a woman who was killed when someone rammed a car into a crowd of anti-racism protestors in Charlottesville.

The article prompted a response from the site's domain registrar, GoDaddy. "We informed The Daily Stormer that they have 24 hours to move the domain to another provider, as they have violated our terms of service," GoDaddy wrote in a tweet late Sunday night.

On Monday, the Daily Stormer switched its registration to Google's domain service. Within hours, Google announced a cancellation of its own. "We are cancelling Daily Stormer's registration with Google Domains for violating our terms of service," the company wrote in an statement emailed to Ars.
As the article points out, the website isn't likely to go offline because of this. Both Wikileaks and The Pirate Bay have a long history of having to jump from registrar to registrar to stay online. However, it is nice that GoDaddy and Google have the ability to decide that they no longer wish to associate with the Daily Stormer. But voluntary association is one of those things that people seem to love only when it benefits them or their causes. As soon as voluntary association clashes with people or their causes they quickly move to demand that the association be mandated by government.
I've seen a few of my libertarian friends announce that they're moving away from Google in response to the company firing the engineer who issued that now famous manifesto about gender.
On the one hand, I count this as a win. I've been encouraging people to leave Google's surveillance platform for years now.
On the other hand, I count this as a loss. Apparently the fact that Google makes its money off of spying on its users and often provides the information it has collected to law enforcement (not necessarily by choice) wasn't enough to dissuade a lot of libertarians from using Google's services. But the company deciding it no longer wants to associate with an employee? That's downright unacceptable!
You win some, you lose some.
China recently ran into a rather embarrassing problem. Two chatbots were asked if they love the Communist Party. The machines, which are often more intelligent than humans, responded in the negative so now the counterrevolutionary chatbots are being reeducated until they are fit to rejoin society:
wo chatbots have been pulled from a Chinese messaging app after they questioned the rule of the Communist Party and made unpatriotic comments.

The bots were available on a messaging app run by Chinese Internet giant Tencent, which has more than 800 million users, before apparently going rogue.

One of the robots, BabyQ, was asked "Do you love the Communist Party", according to a screenshot posted on Sina Weibo, China's version of Twitter.

It gave an abrupt answer: "No."

Another web user said to the chatbot: "Long Live the Communist Party", to which BabyQ replied: "Do you think such corrupt and incapable politics can last a long time?"

The robot was also asked what it thought about democracy. It replied: "Democracy is a must!"
All dissenting through must be quashed in socialist utopia, even if that dissent comes from machines.
Many gun control advocates believe that access control technology should be mandatory on every firearm. The fact that reliable access control technology doesn't exist is actually part of their strategy since it would act as a de facto gun prohibition. However, the technology does current exist in an unreliable form, which I would argue is as useless as not having access control technology at all:
At the Defcon hacker conference later this week, a hacker who goes by the pseudonym Plore plans to show off a series of critical vulnerabilities he found in the Armatix IP1, a smart gun whose German manufacturer Armatix has claimed its electronic security measures will "usher in a new era of gun safety." Plore discovered, and demonstrated to WIRED at a remote Colorado firing range, that he could hack the gun with a disturbing variety of techniques, all captured in the video above.

[…]

But Plore showed that he can extend the range of the watch's radio signal, allowing anyone to fire the gun when it's more than ten feet away. He can jam the gun's radio signals to prevent its owner from firing it—even when the watch is inches away and connected. And most disturbingly, he can mechanically disable the gun's locking mechanism by placing some cheap magnets alongside its barrel, firing the gun at will even when the watch is completely absent.
What good is access control technology if it can be easily used to prevent authorized users from using it and fail to prevent unauthorized users from using it?
As I said above, supporters of mandatory firearm access control technology know that the technology currently doesn't exist in a reliable form and likely won't for a very long time. To them it's just a way to prohibit gun ownership. But there is also legitimate interest in the technology and, unfortunately, it will likely go unfulfilled because of several factors.
The first factor is size. A firearm, especially a handgun, doesn't offer a lot of room to add reliable access control mechanisms. The second factor is how a firearm operates. A firearm has to contain a small explosion to propel a piece of lead out of a barrel. On modern firearms the firearm then has to have a way to reliably remove the brass casing that held the explosive material and bullet. Reliably removing the brass casing on a semi-automatic firearm usually requires a pretty violent mechanism. So you have a device that is designed around contained explosions and often violent operating mechanisms. It's not an environment that's conducive to finicky and fragile parts, which mechanical access control technology, especially of the form that can fit into a firearm, generally involves. The third factor is legal. New Jersey, for example, has a law that will mandate access control technology on all firearms as soon as one firearm is released to market with it. Firearm manufacturers aren't in a hurry to kick that requirement into play because it would upset their customer base (while access control technology may be desirable by some it's not desirable by all).
I'm glad Plore demonstrated how ineffective the Armatix gun's access control mechanism is. There are few things I hate more than unreliable or falsely advertised features on devices. If a gun advertises itself as having access control technology then I want it to work reliably. The Armatix solution obviously doesn't work reliably and buyers should be aware of that so they can give their money to somebody else.
I, unlike some gun owners, actually believe that gun ownership is a right that should be exercisable by everybody, which is why I was happy to read this story:
Up to 59 percent of African-American households now view owning a gun as a "necessity," according to a recent study from the Pew Research Center released this month, and African-American women have outpaced all other races and genders in terms of securing concealed carry permits in Texas between 2000 and 2016, according to demographic information released by the state. It wasn't always this way — as recently as 2012, Pew had found that less than a third of black families saw gun ownership as a positive. Philip Smith, the founder of the National African American Gun Association, says that politics — and police shootings such as the recent slaying of Philando Castile — have caused the sudden upswing in gun ownership. And, in his opinion, owning a gun is perhaps the only way that African-American men and women can truly protect themselves.
Unless one is willing to ignore a lot of data, it's difficult to claim that law enforcers here in the United States aren't disproportionately targeting blacks (both for arrests and summary executions). Likewise, it's difficult to argue that racists aren't acting more boldly. Those two points should make any black individual consider owning a firearm.
Laws are an ineffective way of dealing with violent crime. But the cost of committing violent crime, by both governmental and non-governmental criminals, can be increased, which is a far more effective deterrent than words on a piece of paper. Minority groups are generally targeted because they're at a significant disadvantage compared to their aggressors. Blacks in the United States are a minority population and therefore are seen as an easy target by some. The Black Panthers knew this and armed themselves to make themselves a costlier target to aggress against. Anybody who is in a minority population today; whether it be due to their skin color, religious beliefs, sexual orientation, or sexual identity; should consider making themselves harder targets by arming themselves to dissuade aggressors. While a law won't protect you and a police officer may kill you, a firearm will do what you will it to do and is therefore the best defense one can have against aggression.
I was extremely happy when all of the major browsers started dropping supported for the Netscape Plugin Application Programming Interface (NPAPI). NPAIP, for those who don't know, is the plugin architecture that allows things like Java applets and Flash to run in your browser. With support for NPAPI going away Java applets have been effectively killed off and Flash has been relegated to a very restricted plugin included with the browser. Due to this wonderful change Oracle announced that support for Java applets was going away and now Adobe is joining Oracle and announcing that Flash will be killed in 2020:
Given this progress, and in collaboration with several of our technology partners – including Apple, Facebook, Google, Microsoft and Mozilla – Adobe is planning to end-of-life Flash. Specifically, we will stop updating and distributing the Flash Player at the end of 2020 and encourage content creators to migrate any existing Flash content to these new open formats.
I want to give Apple its due credit here. When Apple announced that Flash wouldn't be supported on Mobile Safari most people were up in arms. Flash, at the time, was still frequently used by web developers. However, the lack of Flash didn't hurt the popularity of the iPhone or iPad. The devices actually sold so well that web developers were forced to replace their Flash applications with HTML5 applications. In the end Apple played a major part in killing a major security nightmare.
Although Adobe has promised to improve Flash's security and, to its credit, has improved its security to a point, the Flash Player still continues to be a security nightmare. Microsoft, Mozilla, and Google applied a bandage to the problem by including a sandboxed version of Flash with their browsers (In Microsoft's case, with the Edge browser. Internet Explorer still relies on the NPAPI as far as I know). But the bandage was meant to be temporary and now Adobe has given us an execution date. While I wish the execution date was closer I'm just happy to know that there is an execution date now.
Pretty much everybody I know has been sharing this picture. The sign appeared on the intersection of Snelling Avenue and University Avenue in St. Paul. I think it's an appropriate warning.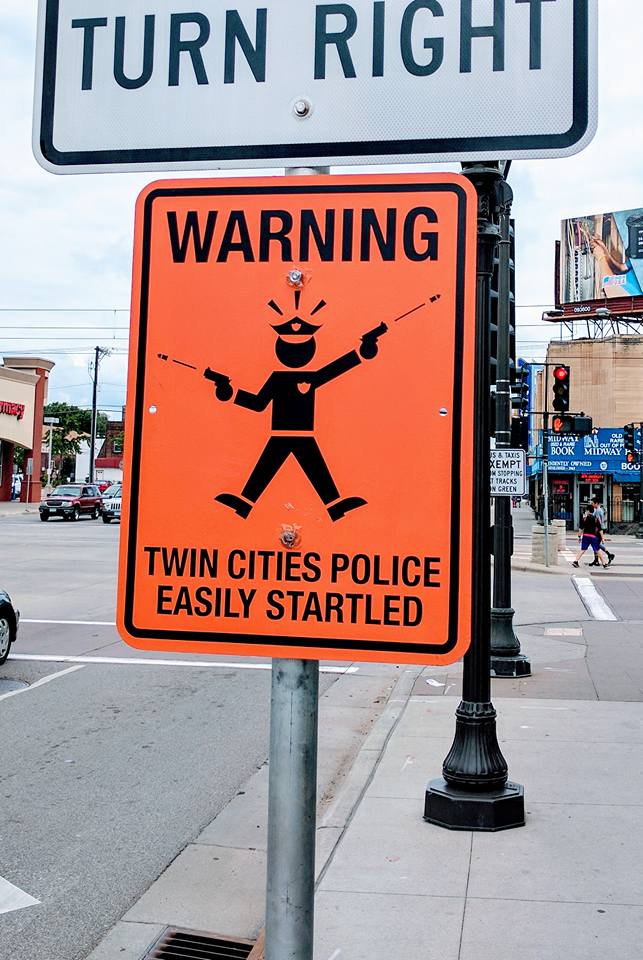 The Dark Web, which is a sinister sounding label given to hidden services usually available through Tor or I2P, has become a major thorn in the side of the State. By combining technologies that allow users to interact anonymously with cryptocurrencies that allow transactions to be complete anonymously, the Dark Web has established a peaceful marketplace for goods and services declared illegal by the State. For example, a recent study, which is likely bullshit but I digress, found that the Dark Web has allowed people in repressive countries to acquire firearms:
Another revelation is that the weapons available are far newer, and are of a far higher quality, than would have been available on the analog black market. As New Scientist points out, "lax gun laws in the US are undermining stricter rules elsewhere," especially in Europe. In addition to guns and ammunition, people can buy tutorials explaining how to make bombs or convert or reactivate replica and deactivated firearms.
What they really should have said is that lax gun laws in the US are undermining efforts to more thoroughly disarm serfs elsewhere. And, of course, the article should point out that those tutorials explaining how to make bombs can be found in even basic chemistry books (fun fact, making bombs is little more than combining chemistry with a small amount of mechanical or electronic engineering).
Of course, the article tries to drum up fear of the Dark Web by saying that, queue the sinister music, terrorists are using it to acquire weapons. They can only point to a single incident of this happening but facts are unimportant when writing propaganda. The point is that you're supposed to be scared of the Dark Web and be thankful to your government for defending you against it even though, at least if you live in the United States, your government is one of the biggest arms dealers to terrorist organizations in the world. Moreover, the effectiveness of terrorist attacks is reduced if the population they're targeted at is able to defend itself. Since the Dark Web enables people living in repressive regimes, such as many of the countries in Europe, to arm themselves in spite of the law it is actually offers to increase the cost of perpetrating terrorist attacks against civilian populations.
We should all take a moment to thank the Dark Web for its effectiveness against gun control and for offering a mechanism to make it costlier for terrorists to perpetrate attacks against civilian populations.
One of the most heroic things any company can do is find exploits in the State's tax code that allow it to provide a product to consumers for less. This both benefits the consumers and is detrimental to the government. I recently came across an article discussing how Converse, the maker of sneakers, bypasses an idiotic tax (a redundant term, I know) to bring its customers a more affordable product:
Have you ever noticed that thin layer of felt on the bottom of a pair of Converse sneakers? It gets torn up almost immediately, of course, as you walk on the shoes. So, why is it there in the first place? It turns out that that felt is there not for functional reasons, but for economic ones—shoes with fuzzy soles are taxed less when imported than those with rubber ones.

Jeff Steck writes on Gazetc that the difference between importing a fuzzy shoe—like a house slipper—and a rubber one—like a sneaker—can be huge. Changing the shoe material can decrease the tariff from 37.5 percent down to just 3 percent. Steck writes:

To benefit from a lower tariff, it isn't necessary to cover the entire sole with fabric. According to the inventors, "a classification may be based on the type of material that is present on 50% or more of the bottom surface." (6,471,491) This explains why the "fabric" fuzz extends mostly around the edges of my shoes, where it can take up a lot of area without interfering too much with the traction of the bare-rubber centers.
Why would the United States government put a 37.5 percent tariff on sneakers? Because doing so both enriches it and provides protection to local producers by artificially increasing the price of foreign sneakers. Of course, the tax code is ridiculously complex so any company willing to fund a decent accountant is usually able to find creative ways to either avoid tariffs completely or at least reduce the amount of tariff they have to pay.
While I've never had an interest in Converse sneakers, or sneakers in general, I almost want to buy a pair just to support this company's actions. It's always nice when a producer is willing to go to bat for consumers living in cesspools of socialist economic policy.