Archive for the 'Miscellaneous Gun Stuff' tag
I'm sure a good percentage of my readers are aware of the drop safety issue with the Sig P320. For those of you who aren't aware, the P320 appears to have a problem when the gun will fire if it's dropped on its ass end. Sig has announced a free trigger upgrade (which is a nice way of saying voluntary recall), which will likely resolve the problem.
But here's something I've found amusing about this entire fiasco. I've heard more than a few P320 owners claim that this issue isn't a problem because they don't drop their guns. What makes this funny is that quite a few of those individuals are also range safety Nazis. Don't get me wrong, being strict about range safety rules is something to strive for. But to say that range safety rules are absolute while claiming that a malfunctioning drop safety isn't an issue sends mixed signals. Can you violate the rule against sweeping other people at the range with a loaded gun if you know that you always keep your finger off of the trigger when doing it? Of course not because everybody screws up, which is why range safety rules are create in a way where screwing up isn't likely to lead to serious injury.
While you may have never dropped a gun before that doesn't mean you never will. Having a reliable drop safety is important because if you do screw up, and there's always the possibility that you will, it won't lead to you or fellow range member taking a bullet.
I often find myself two steps behind the real geniuses of this world. For example, I never thought of setting up a fake website for a nonexistent law enforcement department to get the federal government to ship me military weapons:
If you're not a US military or police buff, you probably have never heard of the 1033 Program. It essentially provides a bureaucratic means to transfer excess military grade weapons to local law enforcement agencies. Sure, you may not like local police departments having all types of military gear, such as grenade launchers, helicopters, boats, M14s, M16s, and so on.

And you probably won't like how the agency seemingly doles out the weapons to anybody. All you have to do is apply, create a fake website, and the Defense Logistics Agency (DLA) will oblige. Law enforcement experience is not required. There doesn't seem to be a requirement that the requesting agency actually be real, either.

That's according to a new Government Accountability Office report. The government auditing agency created a fake website of a fake police department and applied for the surplus goods. The fake agency was handed $1.2 million in weapons, including night-vision goggles, simulated rifles, and simulated pipe bombs. The simulated rifles and pipe bombs could have been turned into "potentially lethal items if modified with commercially available items," according to the report. Simulated weapons are used for training purposes.
And here I thought that the Bureau of Tobacco, Firearms, and Explosives (ATF) was the only agency that doled out military hardware to any criminal gang that asked. Apparently you don't even need a legitimate criminal gang to get military hardware from the Department of Defense (DoD). Unfortunately, now that the Government Accountability Office (GOA) has made a stink about this the DoD will likely start exercising slightly more diligence in verifying that the organization requesting military hardware is, in fact, a legitimate criminal organization. If only I had thought about this first, I too could be cruising around in a Bearcat like my local police department.
I know that I've beaten this horse to death but people still call for gun control so I have to keep pulverizing the equine's carcass. Today we're going to travel to Brazil, where gun control laws are pretty strict.
The reason gun control is futile is because a gun is something that can be easily built with a few modest tools. Police in Brazil recently confiscated a homemade machine gun. Unlike a lot of homemade guns, this one is actually pretty nicely finished and decently designed:
The pistol shown above, chambered to the .380ACP round, has an unusually decent overall finish and came with a very large capacity (30-round +?) box magazine. The tubular receiver extends to a muzzle area extension made of a brass-like material. The magazine housing just ahead of the trigger guard is a box-like structure, the ejection port being vertically-located there. Since no fire-selector or applied safety devices are visible, it would seem that the contrivance is a full-auto-only gun (confirmed in one of the videos), as it's often the case with such DIYs. Sights? Who needs them?
Truth be told, guns aren't unique in being impossible to control. Anything that has been created can be copied. But the simple the device is the more easily it can be copied. Trying to control the spread of any technology is futile and it only becomes more futile with simpler technologies.
I'm lead to believe that the author of this article left off a bunch of zeros:
Capt. Troy Balcar of the San Antonio Fire Department said a family member found a sealed box with about 75 rounds of decades-old ammunition underneath the house. He said the rounds were about 40 years old, based on a date written on the box. Half a dozen nearby homes were evacuated for about three hours.
Perhaps the author meant 7,500,000 rounds of ammunition? Honestly, I'd expect less overreactions from Texas than this. That state seems to have its head mostly screwed on right when it comes to firearms.
Where do criminals get their guns? From other criminals:
Police are searching for the person who broke into an unmarked Ramsey County, Minn., sheriff's car and stole an AR-15 rifle with a loaded magazine.

St. Louis Park police and the Ramsey County sheriff's office are both very tight lipped about this unusual theft, executed Friday night by someone who seems to have known exactly what they were after and just how to steal it.
It amuses me that either the police or the author of this story saw fit to make the crime look more complex than it was. By "…someone who seems to have known exactly what they were after and just how to steal it." the author means that the thief knew how to break open a car door and pry a firearm from a cheap locking mount. When criminals do that to a nongovernment car it's usually referred to as a smash and grab. When criminals do that to a government car it's referred to as an unusual theft executed by a highly cunning individual.
I know two people who have had firearms stolen from their vehicles (ironically, in both cases, the guns were in their vehicles because they had to enter a gun-free zone). In both cases the individuals did their due diligence to secure the gun but one can only do so much when it comes to securing something in an automobile. And in both cases the individuals called the police who showed up and spent most of their time giving a sermon about not leaving valuable items in plain site (which they hadn't done). It amuses me that the police don't appear to be giving themselves a stern talking to about leaving valuables in plain sight.
Just as the Austrian school of economics has a business cycle I have a data cycle. The Public Private Data Cycle (catchier web 3.0 buzzword compliant name coming later) states that all privately held data becomes government data with a subpoena and all government data becomes privately held data with a leak.
The Public Private Data Cycle is important to note whenever somebody discusses keeping data on individuals. For example, many libertarians don't worry much about the data Facebook collects because Facebook is a private company. The very same people will flip out whenever the government wants to collect more data though. Likewise, many statists don't worry much about the data the government collects because the government is a public entity. The very same people will flip out whenever Facebook wants to collect more data though. Both of these groups have a major misunderstanding about how data access works.
I've presented several cases on this blog illustrating how privately held data became government data with a subpoena. But what about government data becoming privately held data? The State of California recently provided us with such an example:
Our reader Tom emailed me after he had been notified by the state of California that his personal information had been compromised as a result of a California Public Records Act. Based on the limited information that we have at this time, it appears that names, the instructor's date of birth, the instructor California driver's license number and/or their California ID card number.

When Tom reached out to the CA DOJ he was informed that the entire list of firearms trainers in California had been released in the public records act request. The state of California is sending letters to those affected with the promise of 12 months or identity protection, but if you are a CA firearms instructor and haven't seen a letter, might bee a good idea to call the DOJ to see if you were affected.
This wasn't a case of a malicious hacker gaining access to California's database. The state accidentally handed out this data in response to a public records request. Now that government held data about firearm instructors is privately held by an unknown party. Sure, the State of California said it ordered the recipient to destroy the data but as we all know once data has be accessed by an unauthorized party there's no way to control it.
If data exists then the chances of it being accessed by an unauthorized party increases from zero. That's why everybody should be wary of any attempt by anybody to collect more data on individuals.
Amen!
"Hey, Chris, don't you carry a Glock?"
You shut your goddamn whore mouth!
Hoping everybody will forgive it for the R51 fiasco, Remington has unveiled two newly designed handguns, the RP9 and RP45.
The RP9 and RP45 are Remington's entry into the striker fired polymer framed handgun market. Here are two renders borrowed from the linked Firearm Blog post. Tell me if you notice anything.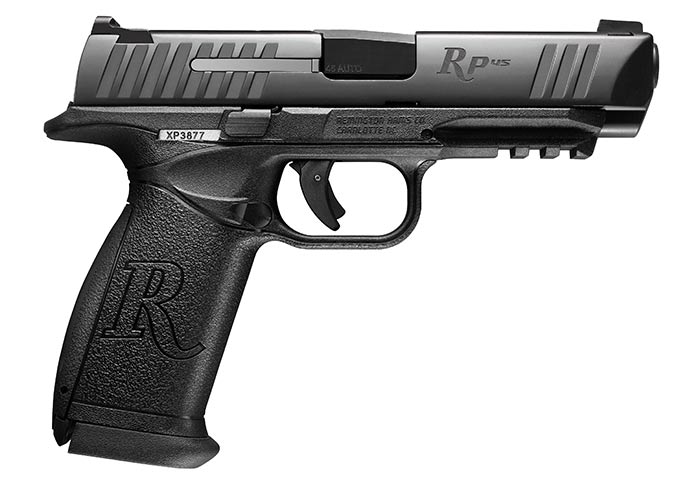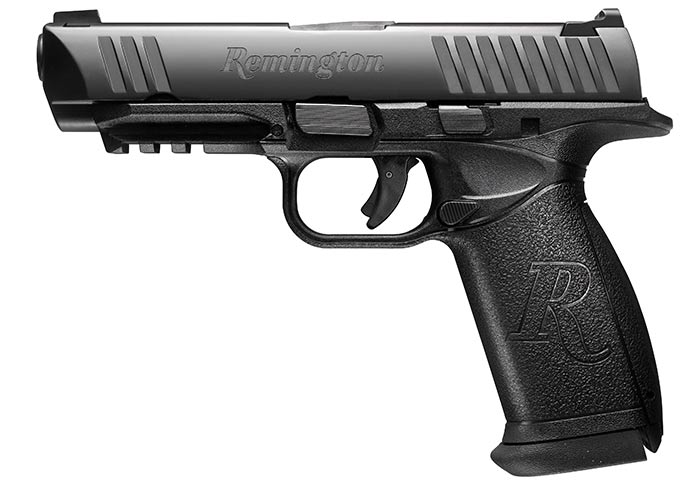 Remington appears to be worried that users of its RP9 and RP45 pistols will forget who made it because the company's branding appears to cover every single available surface. Big Remington logo on both sides of the grip? Check. A big Remington logo on the right side of the slide? Check. The word Remington on the left side of the slide? Check. Even the magazine floor plats have the Remington logo imprinted into them. I wouldn't be surprised if they engraved the word Remington on the inside of the slide as well.
Compare the RP9 and RP45 to either a Glock or Smith and Wesson M&P pistol. Glock engraves its logo on the front lefthand of the slide and imprints a small logo on the lefthand side of the grip. Smith and Wesson is slightly more pretentious in that it imprints a small company logo on both sides of the grip and also engraves the company's name on the righthand side of the slide. Still, the logos aren't huge and gaudy. Remington, on the other hand, seemed to have some mandate that every available surface must be as covered as possible by either the company name or logo. I'm almost shocked that they didn't just forego slide serration so more logos could be engraved on the slide.
Gaudy branding is a particular pet peeve of mine. When I was building my AR-15 I actually had a somewhat difficult time finding parts that weren't covered in the manufacturer's branding. BCM and Fail Zero (and others whose names escape me at the moment), for example, have their logos printed on the front of their bolt carrier groups (so everybody is sure of what brand of bolt carrier group you're using when its locked forward).
I get it, companies need to advertise. But if you expect me to be a walking billboard for your company then I want something in return. For example, if a gun manufacturer did something similar to Amazon with its Kindle line where it charges you slightly more to not display ads (which is what company branding is) plastered everywhere on the gun I'd consider paying (or, more likely, going with a less pretentious manufacturer). Or the company could pay me a minute monthly or yearly fee to use the gun I purchased as a billboard.
I greatly appreciate companies that keep their branding on their products to a tasteful minimum.
Kai Kloepfer's fingerpint based firearm access control system is back in the news:
Presented at the 2016 International San Francisco Smart Gun Symposium (ironic, considering the city shuttered its last gun shop in 2015), then 18-year-old Kai Kloepfer presented a new handgun design that incorporates a fingerprint reader. Young Mr. Kloepfer is sponsored by angel investor Ron Conway, who's Smart Tech Challenges Foundation is spending $1.5 million for the development of "firearms safety technology." Kloepfer is one of about 15 start-ups that Conway is sponsoring.

The design has been in skunk-works for over four years. Kloepfer's start-up, Biofire, is "just a few months from a live-firing prototype, which assuming it works, will be the first gun to unlock like an iPhone." This is untrue, as multiple finger-print reader base firearms have existed before, specifically Kodiak Industries with their Intelligun
Needless to say, the Internet gun community is flipping its shit again (in the comments sections of gun sites). A lot of valid criticisms have been made against Kloepfer's technology. Some of those criticisms are the fact that his prototype isn't lefthand friendly, people don't always grip guns in the same way, fingerprint readers aren't 100 percent reliable, batteries die, etc. I won't go into detail on those. What I will go into detail on is the fact fingerprint sensors suck for access control.
As far back as 2013 the Chaos Computer Club (CCC) was bypassing Apple's TouchID by obtaining a photograph of an authorized user's fingerprint from a glass surface. No big deal, right? After all, somebody would have to find something you touched to lift your fingerprint from to bypass Kloepfer's authentication system. That would require either breaking into your home or following you around in the hopes that you will touch something that your fingerprint can be reliably lifted from. Of course you also have the fact that in 2014 a member of the CCC was able to replicate a politician's fingerprint from a photograph. You don't need to follow somebody around to lift their fingerprint. You can just take a high resolution photograph of their hand when they're out and about. And unlike Touch ID, which allows you to use any finger for authentication, the position of Kloepfer's sensor means you know exactly what fingerprint you need to bypass the mechanism.
I've said this before but it bears repeating, fingerprints suck as authentication mechanisms. There are two reasons for this. First, you leave your fingerprints everywhere. Second, if your fingerprints are obtained by somebody you can't change them.
With that said, I think criticisms against Kloepfer have been unnecessarily harsh. While his product is defective he should receive credit for trying to create something new. I know many gun owners like to scream "Never!" whenever somebody mentions firearm authentication systems but I believe there is a market for such products. Households with small children or mentally disturbed individuals, for example, could benefit from firearms with authentication systems (I know, people should lock up their firearms, but shit happens and having another barrier between a child or mentally disturbed individual and a functional firearm isn't a bad thing). Kloepfer shouldn't receive a bunch of hatred for exploring a market. And I say this as somebody who isn't even in that market (I have no interest in complicating my firearms with access control technology but different strokes for different folks).
This is where some gun owner usually brings up New Jersey's law that will mandate all firearms sold in the state be equipped with access control mechanisms once the technology is available. In response I will point out that the anger should be directed at the government of New Jersey, not Kloepfer and other people trying to bring access control technology to firearms. They're building a product that may be useful to people even in the absence of such a law, they didn't pass the law and aren't sending goons out to enforce it.
In summary Kloepfer's technology sucks but he shouldn't feel bad for developing it. Also, governments suck but that's more of a summary of this entire blog than this specific post.
Without divine intervention it's obvious that Hillary Clinton will be the next president. Between Trump and Clinton I have no preference but there will be one annoyance with a Clinton presidency: a shortage of everything gun related. A gun store in Las Vegas has sent out an advertisement that has been getting a bit of attention:
The Las Vegas gun store Westside Armory is predicting a Hillary Clinton victory in November, and it has a message for customers: Buy now, because things are going to get expensive.

In an advertisement over the weekend in the Las Vegas Review-Journal, Westside Armory said it was holding a "Pre-Hillary Sale" on tactical rifles, warning of a price surge if the Democratic nominee wins the election next month.

"Don't wait!" the advertisement reads. "Prices will skyrocket after Crooked Hillary gets in."
While the advertisement is playing off of fear it also isn't wrong. Panic buying has already started. Most gun stores are sorely depleted of AR-15s, AK-47s, and most of modern rifles. When the election results are announced and Clinton is the new president the panic buying will likely kick into high gear.
And it's fucking stupid. Clinton won't even take office until January. She will literally have no presidential powers until then. So panic buying immediately after the election results are announced is stupid. Furthermore, once in office she won't be able to wave a magic wand and make all of the guns go away. She'll have to wait for Congress to pass her legislation that she can sign. As of now Congress is split between the two parties so the likelihood of her receiving such legislation is low. At most she can continue Obama's tactic of demanding that the Bureau of Alcohol, Tobacco, Firearms, and Explosives (ATF) tweak regulations to make them more annoying to gun owners and buyers.
What I'm trying to point out is that there's no reason to start panic buying. But I also know any plea I make will be futile. Fear makes people do stupid things. Once somebody is afraid logic tends to go from moderately useful to mostly useless. And gun owners, by and large, are petrified of Clinton.
I'm sur there are a few gun control advocates laughing their asses off about this. To them I will point out that their cackling is also stupid because the panic buying will flood guns into circulation quickly, which means a lot more grandfathered modern rifles if a ban is ever signed by Clinton. It also means standard capacity magazines, ammunition, and modern rifle parts will flood into circulation. Basically, everything the gun control advocates are trying to prevent comes to fruition during a panic buy.
In the end nobody wins during a panic buy.