Archive for the 'Irrelevancy the Anti-Gunner's Other Nightmare' tag
Advocates for gun control like to scream, "Guns kill," and gun rights advocates like to respond by screaming, "Guns salve lives!"
I tend to give gun control advocates a bit more leeway in this case because I understand that their entire platform is built upon make-believe. If you believe in unicorns, it's not inconsistent to argue for unicorn rights. But many gun rights advocates seem to want to have their cake and eat it too. On the one hand, gun rights advocates rightly point out that guns are inanimate objects and are therefore incapable of killing. However, an inanimate object is also incapable of saving lives.
To my fellow gun rights advocates, I urge you to be consistent in your arguments. If you rightly point out that guns are inanimate objects incapable of taking a life, don't follow up by saying that guns save lives. Don't restrict yourself to arguing inside of the gun control advocates' fantasy land where guns are animate objects capable of acting.
Politicians have been quick to descend on the corpse in Florida to push their gun control agenda. A flurry of gun control bills have been introduced throughout the United States. Many of these bills are a hodgepodge of restrictions that gun control advocates have been drooling over but have lacked the body count necessary to make a strong emotional appeal. One of these restrictions is a ban on bump fire stocks. Why would a ban on bump fire stocks be introduced after a shooting that didn't involve a bump fire stock? Because there is a tragedy to exploit and everything on the wish list is introduced.
But a ban on bump fire stocks is meaningless at this point because anybody with a 3D printer can fabricate one:
My Google search of "3D printed bump fire stock" revealed exactly what I expected: a YouTube video of the test firing of a 3D printed bump-fire stock, which was posted by SilkyDionysus4 in April of this year. On October 10, 2017, gun rights advocate, The Jack News, published an article called "Here's How to 3D Print Your Own Bump Stock Before Congress Bans Them. The article links to a collection of FOSSCAD digital blueprints for a variety of AR-15 parts, including a bump-fire stock.
We live in an age where firearm prohibitions are pointless. Although manufacturing firearms and firearm accessories has always been doable by anybody with a modest shop and a decent amount of knowledge, technology has advanced to the point where even individuals without a shop or a decent amount of knowledge can manufacturer firearms and firearm accessories. 3D printers can print up any number of firearm accessories. Products like the Ghost Gunner allow individuals to finish 80% receivers without any metal working skills.
And it's not just firearms, prohibiting anything has become pointless. The same technology that enables individuals to easily manufacture firearms and firearm accessories also allows them to manufacturer almost anything else. I'll reiterate once again that laws are irrelevant and the only thing keeping individuals safe the choice of other individuals to not to bring harm against them.
The shooting in Florida is the 18th school shooting in 2018! Or not. It turns out that the statistic that is being mindless regurgitated by much of the Internet is, like most such mindless regurgitations, malarkey. The statistic, not surprisingly, originates from Everytown for Gun Safety, which is an organization known for massaging definitions to fit its narrative:
Everytown has long inflated its total by including incidents of gunfire that are not really school shootings. Take, for example, what it counts as the year's first: On the afternoon of Jan. 3, a 31-year-old man who had parked outside a Michigan elementary school called police to say he was armed and suicidal. Several hours later, he killed himself. The school, however, had been closed for seven months. There were no teachers. There were no students.

Also listed on the organization's site is an incident from Jan. 20, when — at 1 a.m. — a man was shot at a sorority event on the campus of Wake Forest University. A week later, as a basketball game was being played at a Michigan high school, someone fired several rounds from a gun in the parking lot. No one was injured, and it was past 8 p.m., well after classes had ended for the day, but Everytown still labeled it a school shooting.

Everytown explains on its website that it defines a school shooting as "any time a firearm discharges a live round inside a school building or on a school campus or grounds."
To borrow a phrase popularized by Mark Twain, there are three kinds of lies: lies, damned lies, and statistics. The beauty of analyzing numbers is that you can whatever result you want if you use the proper definitions. If, for example, you want to maximize the number of school shootings in the United States, you merely need to define a school shooting as any incident where a firearm was discharged on school grounds. It doesn't matter if the discharge happened at a school that has been closed for seven months or if the discharge was caused by a law enforcer's lack of awareness of their surroundings.
Details matter but most people ignore them. When they see a headline that confirms their bias, they post it, usually without bothering to read the cited source. This is why most discourse is pointless. Facts aren't being debated, confirmation bias is.
These are rookie numbers but at least they're increasing:
There are nearly twice as many guns in the average gun-owning household today as there were 20 years ago, according to new Wonkblog estimates based data from surveys and the Bureau of Alcohol, Tobacco, Firearms and Explosives. In 2013, there were an estimated 8.1 firearms in the typical gun-owning household, according to these data. In 1994, the average gun-owning household owned 4.2 guns.
I wonder how much that number has increased since 2013.
Establishing gun ownership numbers in the United States, thankfully, is very difficult. For the longest time gun control advocates have been claiming that gun ownership rates are declining. When National Instant Criminal Background Check System (NICS) checks, a number that is released by the Federal Bureau of Investigations (FBI), shows record numbers the gun control advocates claim that it's just the same gun owners buying more guns. When it's pointed out that there is a record number of new carry permits being issued and record attendance at shooting competitions the gun control advocates cover their ears and start screaming, "I can't hear you," over and over again.
My point is that by almost every metric gun ownership rates in the United States are increasing. This is good for many reasons. Politically it is becoming more expensive for politicians to attack gun rights. While politicians don't care what they're constituents they are naturally lazy bums who would rather chase an easy victory than one that will result in them having to listen to a bunch of plebs complain to them.
Proving once again that there is no way to actually control the proliferation of simple mechanical devices, law enforcers in Brazil discovered a factory that was producing illegal submachine guns:
Coincidentally, the day before TFB published Part 1 of a photo report on DIY weapons seized in Brazil (http://www.thefirearmblog.com/blog/2017/10/17/bunch-diy-weapons-seized-brazil-part/), news broke that the São Paulo State Civil Police had just busted a small – but very active – illegal weapons factory in the Ferraz de Vasconcellos suburb of São Paulo, the capital city. Although clandestine firearms manufacture is not something unusual in the country, this particular facility called the attention not only due to the fact that its main product, a 9x19mm stockless submachine gun, shows a somewhat decent general finish and apparent (hand-operated by agents) smooth functioning of components, but also that the type has for long (four years, at least) been found in criminal hands in different parts of Brazil.
Some anti-gunners will probably point out that the discovery and shut down of the factory by law enforcers shows that gun control does work. While they desperately grasp at straws I will point out that this factory has either been running for four years, isn't the only factory producing illegal submachine guns, or both because the article notes that the type of submachine gun that was being manufactured at the factory has been found in criminal hands for at least that long.
If you follow the link, you'll find that the submachine guns, although crude, are actually pretty decent looking for a gun that is probably manufactured largely by hand. This shouldn't come as a surprise though. If the model has been manufactured for at least four years, there has been a lot of time to improve and polish the design. More refined versions of these submachine guns are likely to crop up as other illegal factories continue to crank them out in spite of the law.
I make not effort to hide the fact that I believe gun ownership should be expanded to everybody, which is why I was happy to read this article:
ROCHESTER, N.Y.—The former pacifist pumped a shotgun at the firing line.

Lore McSpadden never touched a gun before the Trigger Warning Queer & Trans Gun Club started this past year. Now McSpadden is among the shooters routinely yelling, "Pull!" and blasting at clay pigeons angling over a mowed field near Rochester.

Trigger Warning members are anxious about armed and organized extremists who seem increasingly emboldened. Their response has a touch of symmetry to it: They started a club to teach members how to take up arms.

"It's a way to assert our strength," said Jake Allen, 27, who helped form the group. "Often, queer people are thought of as being weak, as being defenceless, and I think in many ways this pushes back against that. And I want white supremacists and neo-Nazis to know that queer people are taking steps necessary to protect themselves."

Trigger Warning members meet once a month to shoot still targets and saucer-shaped pigeons. The 18 dues-paying members are all LGBTQ, many just learning about guns.
Traditionally individuals who fall under the LGBT banner have been tagged as anti-gun progressives. This has lead quite a few curmudgeons in gun owner circles to see LGBT individuals as opponents, which has established a rather nasty circle where LGBT individuals are put off by gun owners who are put off by LGBT individuals being put off by gun owners and so on. But necessity is the mother of invention. Feeling threatened is usually a good motivator for people to learn how to defend themselves.
Although Trigger Warning is a small group at the moment, which isn't surprising since it currently exists in a state ruled by a very anti-gun government, I hope its ranks expand quickly and new groups like it spring up all around the country. The stereotype of LGBT individuals being anti-gun has made violent individuals who wish to prey on them see them as easy targets. If more LGBT individuals become open gun owners, that stereotype will hopefully fade with time. If that stereotype fades away, it will likely dissuade a lot of predators who are looking for easy targets.
While politicians in Washington DC have been discussing gun control, denizens on the Internet have been busy evolving the 3D printed handgun. The WASHBEAR is a newly released 3D printed .22LR revolver: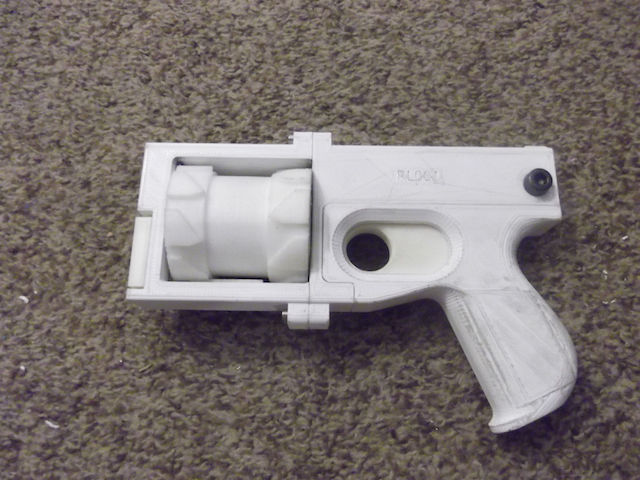 It looks very similar to numerous Nerf guns. Like the Pepperbox handgun created by Hexen, the WASHBEAR has steel sleeves inserted into the chambers to reduce stress on the plastic. While this means that the entire gun isn't 3D printable, steel inserts can be had at any hardware store.
Politicians and advocates of gun control can continue wasting their time but the truth is gun control is a fantasy. Granted, it has always been a fantasy but now we're at the point where a person with even modest means can acquire everything necessary to build firearms. Gun control is dead. Technology killed it.
Defense Distributed, Cody Wilson's enterprise that proves the fallacy of gun control, released the Ghost Gunner, a computer numerically controlled (CNC) machine that specializes in milling AR-15 lower receivers, to the chagrin of gun control advocates. The Ghost Gunner made it simple for individuals with relatively little skill to manufacture an AR-15 lower receiver, the part of the gun that is serialized and therefore regulated. Now Defense Distributed has entered the handgun market:
Today, that scope widens: Wilson and Defense Distributed are now in the handgun business, too.

Defense Distributed will offer two of the most common handgun "80 percent" receivers—for Glocks and single-stack M1911s—for interested customers to complete using the Ghost Gunner. "What we've done for ARs we're going to do for handguns now," Wilson tells Ars. Defense Distributed's store now carries new fixtures, frames, and tooling to create these two handguns, in addition to its previously offered AR-15 lower receivers and jig sets.
Building a firearm isn't rocket science. Anybody with basic machining knowledge and competency in firearm design can do it. This fact has always made gun control a pipe dream. But as technology improves so does the ease of manufacturing. CNC machines reduced the machining knowledge necessary to manufacture a great many goods, which made controlling those goods even less feasible.
I'm sure gun control advocates will demand that the Ghost Gunner be prohibited but it's nothing more than a specialized CNC machine and there is no way gun control advocates are going to get CNC machines banned. Likewise, CNC machines will continue to drop in price and increase in capabilities. In a few years it will be easy to pick up a general CNC machines that is as affordable as the Ghost Gunner and even more capable.
Gun control is effectively dead. Technology killed it just as it ultimately kills all restrictions.
Many gun control advocates believe that access control technology should be mandatory on every firearm. The fact that reliable access control technology doesn't exist is actually part of their strategy since it would act as a de facto gun prohibition. However, the technology does current exist in an unreliable form, which I would argue is as useless as not having access control technology at all:
At the Defcon hacker conference later this week, a hacker who goes by the pseudonym Plore plans to show off a series of critical vulnerabilities he found in the Armatix IP1, a smart gun whose German manufacturer Armatix has claimed its electronic security measures will "usher in a new era of gun safety." Plore discovered, and demonstrated to WIRED at a remote Colorado firing range, that he could hack the gun with a disturbing variety of techniques, all captured in the video above.

[…]

But Plore showed that he can extend the range of the watch's radio signal, allowing anyone to fire the gun when it's more than ten feet away. He can jam the gun's radio signals to prevent its owner from firing it—even when the watch is inches away and connected. And most disturbingly, he can mechanically disable the gun's locking mechanism by placing some cheap magnets alongside its barrel, firing the gun at will even when the watch is completely absent.
What good is access control technology if it can be easily used to prevent authorized users from using it and fail to prevent unauthorized users from using it?
As I said above, supporters of mandatory firearm access control technology know that the technology currently doesn't exist in a reliable form and likely won't for a very long time. To them it's just a way to prohibit gun ownership. But there is also legitimate interest in the technology and, unfortunately, it will likely go unfulfilled because of several factors.
The first factor is size. A firearm, especially a handgun, doesn't offer a lot of room to add reliable access control mechanisms. The second factor is how a firearm operates. A firearm has to contain a small explosion to propel a piece of lead out of a barrel. On modern firearms the firearm then has to have a way to reliably remove the brass casing that held the explosive material and bullet. Reliably removing the brass casing on a semi-automatic firearm usually requires a pretty violent mechanism. So you have a device that is designed around contained explosions and often violent operating mechanisms. It's not an environment that's conducive to finicky and fragile parts, which mechanical access control technology, especially of the form that can fit into a firearm, generally involves. The third factor is legal. New Jersey, for example, has a law that will mandate access control technology on all firearms as soon as one firearm is released to market with it. Firearm manufacturers aren't in a hurry to kick that requirement into play because it would upset their customer base (while access control technology may be desirable by some it's not desirable by all).
I'm glad Plore demonstrated how ineffective the Armatix gun's access control mechanism is. There are few things I hate more than unreliable or falsely advertised features on devices. If a gun advertises itself as having access control technology then I want it to work reliably. The Armatix solution obviously doesn't work reliably and buyers should be aware of that so they can give their money to somebody else.
The Dark Web, which is a sinister sounding label given to hidden services usually available through Tor or I2P, has become a major thorn in the side of the State. By combining technologies that allow users to interact anonymously with cryptocurrencies that allow transactions to be complete anonymously, the Dark Web has established a peaceful marketplace for goods and services declared illegal by the State. For example, a recent study, which is likely bullshit but I digress, found that the Dark Web has allowed people in repressive countries to acquire firearms:
Another revelation is that the weapons available are far newer, and are of a far higher quality, than would have been available on the analog black market. As New Scientist points out, "lax gun laws in the US are undermining stricter rules elsewhere," especially in Europe. In addition to guns and ammunition, people can buy tutorials explaining how to make bombs or convert or reactivate replica and deactivated firearms.
What they really should have said is that lax gun laws in the US are undermining efforts to more thoroughly disarm serfs elsewhere. And, of course, the article should point out that those tutorials explaining how to make bombs can be found in even basic chemistry books (fun fact, making bombs is little more than combining chemistry with a small amount of mechanical or electronic engineering).
Of course, the article tries to drum up fear of the Dark Web by saying that, queue the sinister music, terrorists are using it to acquire weapons. They can only point to a single incident of this happening but facts are unimportant when writing propaganda. The point is that you're supposed to be scared of the Dark Web and be thankful to your government for defending you against it even though, at least if you live in the United States, your government is one of the biggest arms dealers to terrorist organizations in the world. Moreover, the effectiveness of terrorist attacks is reduced if the population they're targeted at is able to defend itself. Since the Dark Web enables people living in repressive regimes, such as many of the countries in Europe, to arm themselves in spite of the law it is actually offers to increase the cost of perpetrating terrorist attacks against civilian populations.
We should all take a moment to thank the Dark Web for its effectiveness against gun control and for offering a mechanism to make it costlier for terrorists to perpetrate attacks against civilian populations.